The COVID-19 crisis has prompted governments to adopt strict measures to contain the virus which include enforced quarantines, citywide lockdowns, curfews, limitations on economic activities and public life. Although some argue that this has contributed to a drop in reported street crimes and an increased police presence at borders would perhaps dissuade crime – the United Nations Office on Drugs and Crime (UNODC) warned that this situation may also drive human trafficking further underground. 
According to the UNODC's recent report titled 'Impact of the COVID-19 Pandemic on Trafficking In Persons' – in the case of human trafficking, criminals are adjusting their business models to the 'new normal' created by the pandemic, especially through the abuse of modern communications technologies. 
"Traffickers may become more active and prey on people who are even more vulnerable than before, because they have lost their source of income due to measures to control the virus," explained Ilias Chatzis, chief of the UNODC's Human Trafficking Section to the media.
"We know that human traffickers prey upon the most vulnerable and look for opportunities to exploit them," said United States (US) Secretary of State Mike Pompeo. "Instability and lack of access to critical services caused by the pandemic mean that the number of people vulnerable to exploitation by traffickers is rapidly growing," he added.
Southeast Asia is a region that has long battled with human trafficking. Despite ASEAN's numerous efforts in working together to end trafficking in persons, the problem still persists to this day.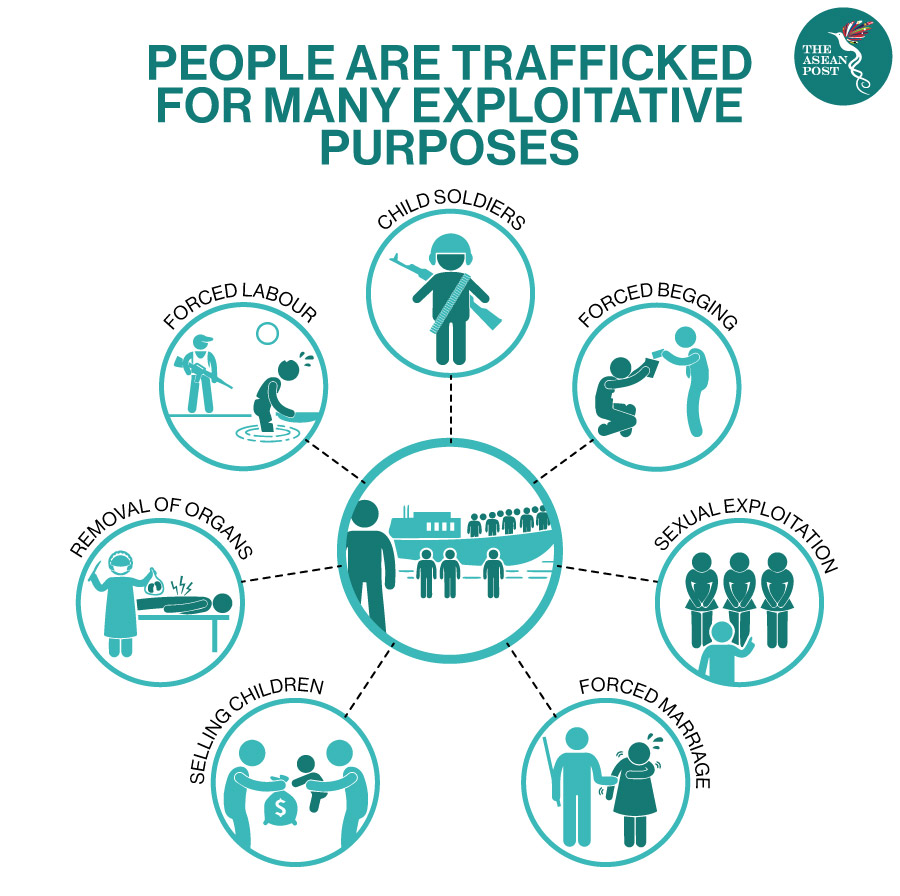 According to the 2016 Global Slavery Index by Walk Free, some 25 million people are trapped in modern slavery in the Asia Pacific region. This accounts for 62 percent of the estimated global total. Within the region, Thailand is the main destination for trafficking victims from Cambodia, Lao and Myanmar, whereas Malaysia has been a destination for victims from Indonesia, the Philippines and Vietnam.
Victims During COVID-19
Even under normal circumstances, identifying victims of human trafficking is a difficult task. Nevertheless, experts fear that the current pandemic is making the situation even more difficult. The reasons include the fact that trafficked victims are often exploited in illegal, informal or unregulated sectors such as the sex industry, domestic settings and drug cultivation; and the capacity of organised crime to hide its operations in plain sight is not helping either. Other reasons include the lack of willingness by victims themselves to come forward and report their plight and the limited capacities of law enforcement to detect this crime, noted the UNODC in its report. 
The pandemic has negatively affected livelihoods and the economy in general. Countries around the world have seen a rise in unemployment and reduction of income, especially for low wage and informal workers. Millions of people working in industries such as the garment sector, agriculture and farming, to manufacturing and domestic work have lost their sources of income. The UNODC believes that those who continue to work in these sectors – where trafficking is frequently detected – may also face more exploitation because of the need to lower production costs due to economic shocks.
As for victims still in confinement by their traffickers, "COVID-19 measures may make their desperate situation even worse," said the UNODC. In recent months, a number of countries including ASEAN member states Malaysia and Indonesia have reported a rise in domestic violence as citizens are urged to stay at home over virus fears. Victims of abuse are trapped inside their homes with their abusers, and have nowhere to go. This is a worrying indicator of the living conditions of many human trafficking victims, such as those in domestic servitude or sex slavery – forms of exploitation that disproportionately affect women and girls.
Victims of human trafficking are also more exposed to the COVID-19 virus, less equipped to prevent it and have less access to healthcare should they require testing and treatment. 
Other than that, as countries went under lockdown during the pandemic and non-governmental organisations (NGOs) and government offices were shuttered temporarily, victims faced additional obstacles to accessing services, assistance and support. 
"With the reduction of government services and changes in the way they are administered, identified victims who were already being supported by government services or community groups may face challenges," stated the UNODC report.
Isolation and social distancing can also exacerbate mental health issues and disrupt any access to informal support networks.
"Human trafficking is the result of the failure of our societies and economies to protect the most vulnerable and enforce rights under national laws. They should not be additionally 'punished' during times of emergency."
Related Articles: