Southeast Asia's appetite for pirated content via TV boxes or illicit streaming devices (ISDs) is an increasing concern for governments, content creators and the broadcasting industry.
Faced with hefty monthly fees, repetitive content and poor services, more and more consumers have made the switch from traditional broadcasters to ISDs – where they can get access to thousands of channels providing copyrighted content for a fraction of the price.
Easily found in shopping malls or on e-commerce sites and requiring relatively low bandwidth to operate, it is easy to see the appeal of ISDs.
However, as opposed to legal Internet Protocol Television (IPTV) providers such as Netflix, Hulu and Amazon Prime, none of the fees for ISDs are channelled back to the content's creators.
A series of surveys commissioned by the Asia Video Industry Association's (AVIA) Coalition Against Piracy (CAP) found that 45 percent of Thais use ISDs, followed by the Philippines (28 percent), Malaysia (25 percent) and Singapore (15 percent).
The surveys which were conducted from last November to February 2019, also found that 69 percent of Thais who purchased an ISD said that they had cancelled all or some of their subscription to legal pay TV services. The number was 60 percent in Malaysia, 28 percent in Singapore and 18 percent in the Philippines.
'A victimless crime'
The London-based Digital TV Research estimates online TV and movie piracy will cost the industry US$31.8 billion in global revenue this year, reaching US$51.6 billion by 2022.
"Today in the context of video piracy, the problem has become so ubiquitous…that the term piracy has lost its sting. So many people pirate that it's no longer a dirty word. So, let's use a different word. It's theft," said Louis Boswell, the CEO of AVIA during the Kuala Lumpur Digital Content Anti-Piracy Summit in Malaysia earlier this month.
"There is no difference between walking into a shop and stealing a chocolate bar and streaming a stolen video service in your home. The only difference today is that for the stolen video, there is no shopkeeper, no security camera and the perpetrators very mistakenly view it as a victimless crime."
Malware, ransomware and spyware
Apart from damaging the creative content industry and eating into broadcasters' revenue, piracy is also intricately linked to malware, ransomware and spyware – a fact which most consumers may not necessarily be aware of.
Piracy websites and applications have been found to contain increased risks of malware infection, and a study by the European Union (EU) Intellectual Property Office in September 2018 found that most of the malware found on piracy sites could cause financial damage, data theft and other risks of unwanted access and control. Some malware includes remote access trojans which allow hackers to activate and record from a device's webcam.
Titled 'Identification and analysis of malware on selected suspected copyright infringing websites,' the research concluded that "the threat landscape for malware distributed via copyright-infringing websites is more sophisticated than it might appear at first glance".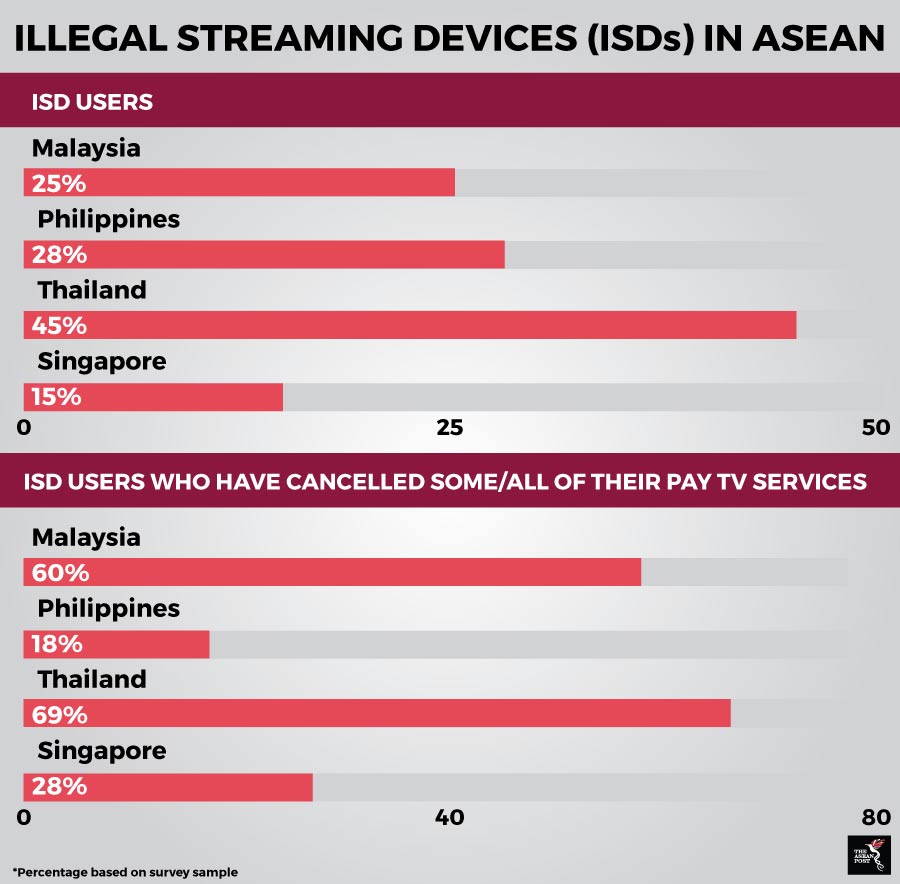 Outdated laws
As many countries do not have regulatory frameworks to deal specifically with ISDs, its legality is unclear.
In Singapore, amendments to the Copyright Law are to be tabled in Parliament this year to ban the sale of TV boxes which allow consumers to access pirated content. Ranked third in the world and top in Asia for having the best Intellectual Property (IP) protection in the World Economic Forum's Global Competitiveness Report 2018, Singapore spent three years reviewing copyright laws relating to ISDs.
In Malaysia, the Malaysian Communications and Multimedia Commission (MCMC) and the Ministry of Domestic Trade and Consumer Affairs (KPDNHEP) are discussing a ban on ISDs and expect to complete a study on it by the end of the year. Malaysia already bans some TV boxes as they do not meet certain technical standards.
While ISDs are a complex and multi-jurisdictional issue, Pay TV services have to acknowledge their weaknesses and start offering consumers the right mix of content, convenience and cost – or continue to get left behind.
While a combination of consumer education, watermarking and law enforcement will help curb the problem, at the end of the day, Southeast Asians have to stop regarding piracy as a socially accepted behaviour if they are to switch off ISDs.
Related articles:
Singapore piracy prompts Hollywood lobby for crackdown