The State of Global Islamic Economy Report 2018/2019 states that fashion consumption among Muslims across the world is currently valued at US$270 billion and is projected to continue to increase at a growth rate of five percent. By 2023, the consumption will be worth US$361 billion.
A little over a year ago, United States (US)-based business magazine, Fast Company, noted that despite the fact that the Muslim fashion industry is worth hundreds of billions of dollars, top brands such as Burberry, Dolce & Gabbana, DKNY have been unable to penetrate that market. The magazine quoted Islamic Fashion and Design Council (IFDC) founder Alia Khan – who is based in New York – as saying that she felt it was, instead, many of the emerging designers who were more in tune with their target audience than the fashion bigwigs. Designers like Blue Meets Blue's Shahd Alasaly, for instance, are Muslim women themselves and since Alasaly is based in Chicago, her tastes are also inflected with American culture and fashion.
The United Arab Emirates (UAE) is currently the world's largest producer of Muslim fashion, but ASEAN's own Indonesia is targeting to emerge as the world's leading Muslim fashion mecca by 2020. At the opening of the recent 2019 Muslim Fashion Festival, Indonesian Industry Minister Airlangga Hartarto said that the market for Muslim wear is big, both outside and inside the country, and that "it needs to be dominated" by the Indonesian Muslim fashion industry.
Current status
Indonesia is currently home to the largest number of Muslims in the world. This should put it in a good position to become the leader for Muslim fashion but the Thomson Reuters' State of the Global Islamic Economy Report 2017/18 seems to suggest otherwise. 
Indonesia's large population has helped it in terms of ensuring it has a strong market size. According to the report, it currently holds fifth place for market size at US$13.5 billion after Turkey, UAE, Nigeria and Saudi Arabia. Unfortunately, Indonesia does not even make the top 10 when it comes to having the best developed Islamic economy for fashion.
The report measures countries by looking at the amount of clothing exported to the Organisation of Islamic Cooperation (OIC), awareness of modest fashion through news and events, and social factors such as pricing and labour fairness. The two ASEAN countries which did make the top 10, in fact, were Malaysia and Singapore which earned scores of 31 and 33, respectively.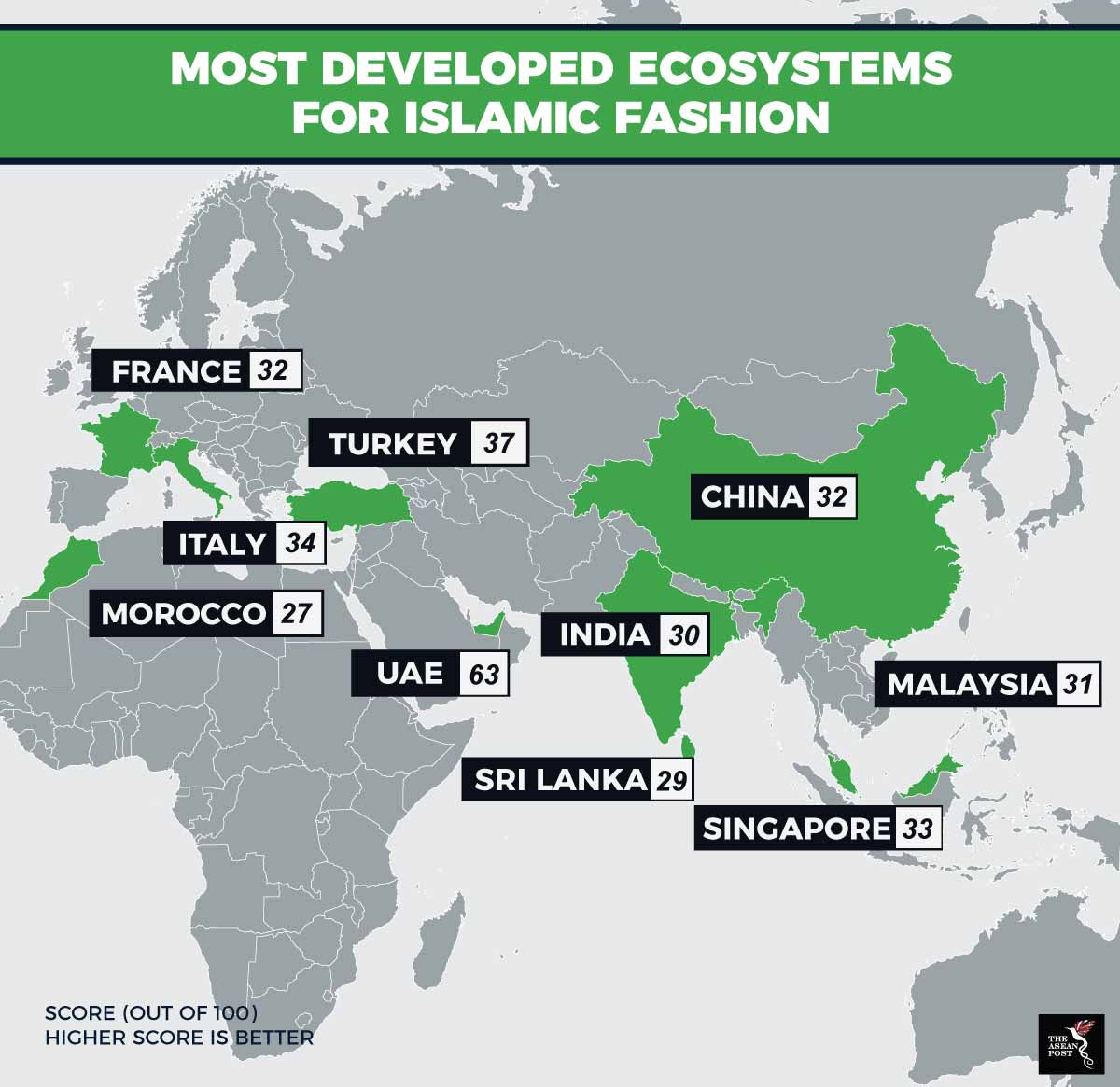 Source: Thomson Reuters
Opportunities
Nevertheless, there are also several factors that could work in Indonesia's favour towards its target of becoming the centre for Islamic fashion, apart from its large population and significantly huge market.
Despite the fact that other countries may have better developed economies for the Islamic fashion industry, Indonesia; along with Bangladesh, Turkey, Morocco, and Pakistan; still holds a spot for one of the largest clothing producers and exporters within the OIC.
According to a 2016 report from the Islamic Chamber of Commerce, Industry and Agriculture (ICCIA), entitled "Textiles and Ready-made Garments: Sector Overview for the OIC Countries", in 2015, Indonesia exported US$12.3 billion worth of textiles, and US$7.3 billion worth of ready-made garments.
Something else working in favour of Indonesia is the sheer demand of modest wear, especially in Southeast Asia. This was apparent following a study conducted by J Walter Thompson's (JWT) creative think tank, Innovation Group.
In the 2017 study, some 1,000 Indonesian and Malaysian Muslim women were surveyed. The majority polled in the study were defined as millennials (77 percent) aged between 18 to 39 and 23 percent were aged 40 and over; most respondents (90 percent) lived in urban and suburban areas. The study found that young Southeast Asian Muslim women were not only more religious, they were also more progressive. 
In the study, religion is cited as a key aspect of life for most women, with many saying Islam is "very" important to them (94 percent). About a third of the women say they travel outside their country at least once a year, and nearly all felt that there are many more opportunities available for women now than in the past. However, many surveyed also felt that young women should have more freedoms than they now do, and also a stronger voice in their communities and in local and national government.
It would be safe to assume that among the things that religious and progressive Southeast Asian women may be interested in is modern albeit modest fashion. Indonesia, being placed in Southeast Asia and boasting the largest Muslim population in the world, would be in a good position to take advantage of this demand. 
While there are certainly obstacles in the way of Indonesia becoming the mecca of Muslim fashion, there are also many opportunities for it to achieve its goals by 2020. The question is, how badly does the country want it.  
Related articles:
Islamic finance: A lucrative opportunity