Indonesia's elections are right around the corner and many observers are looking to the country's youth. Comprising a significant portion of the population, whether or not the youth are voters, votes will go towards determining their future. Indonesia, unlike some other ASEAN-member countries, belongs to its youth. 
According to Syafiq Hasyim, a visiting fellow at the Indonesia Programme of the S. Rajaratnam School of International Studies (RSIS), Singapore; the millennial population in Indonesia currently forms about 34.5 percent to 50 percent of the total population. Syafiq defines millennials as those aged between 15 to 35 years old. The voting age in Indonesia is 17, although, anyone with a Kartu Tanda Penduduk (identification card) can vote.
Unfortunately, it may also be true that the youth are largely disenfranchised and disinterested in politics. This is a global phenomenon and many political pundits have pointed to the fact that today's youths live in a social media bubble and not so much in the real world.
In Indonesia's case, internal research carried out by presidential candidate Prabowo Subianto's campaign team showed that half of the country's millennials are unlikely to vote because they see politics as what Prabowo's running mate, Sandiaga Uno refers to as "too dirty and too boring."
"About 50 percent of millennials are pretty much disengaged, they are disenfranchised and not too interested in politics. We need to continue to work hard and pound the issues that are relevant to them and we need to convince them, otherwise, they won't come to the voting booth," Sandiaga was quoted as saying late last year.
Taking a cue from Sandiaga's message, the question then is: what issues are relevant to the country's youth? The answer to that may be more obvious and simpler than some may have thought.
Hijrah movement
Another global phenomenon is the fact that the world is becoming increasingly conservative, whether in the Christian world in the West, or the Islamic world in the Middle East. Even India, under Prime Minister Narendra Modi, has shown a more conservative slant. In Indonesia, this rise in conservatism has not bypassed its youth.
The Hijrah movement, known simply as Hijrah (migration), has taken Indonesia's youth by storm where it influences them the most – on social media.
The movement became popular nearly a decade ago among Indonesia's urban underground punks and skaters who began to identify with straight-edge Islam. Instagram accounts like Punk Hijrah and Pemuda Hijrah have gained tremendous popularity, featuring women dressed in Hijabs and riding skateboards, and memes quoting Quranic verses.
Islamic cleric and fellow millennial Hanan Attaki started Pemuda Hijrah and its media house, Shift, with the motto "play hard, be useful, be plentifully rewarded, sin less." Attaki himself is an "Insta-preacher" with 6.9 million followers of his own and is a favourite of the alternative scene in Bandung, Indonesia's second-largest city.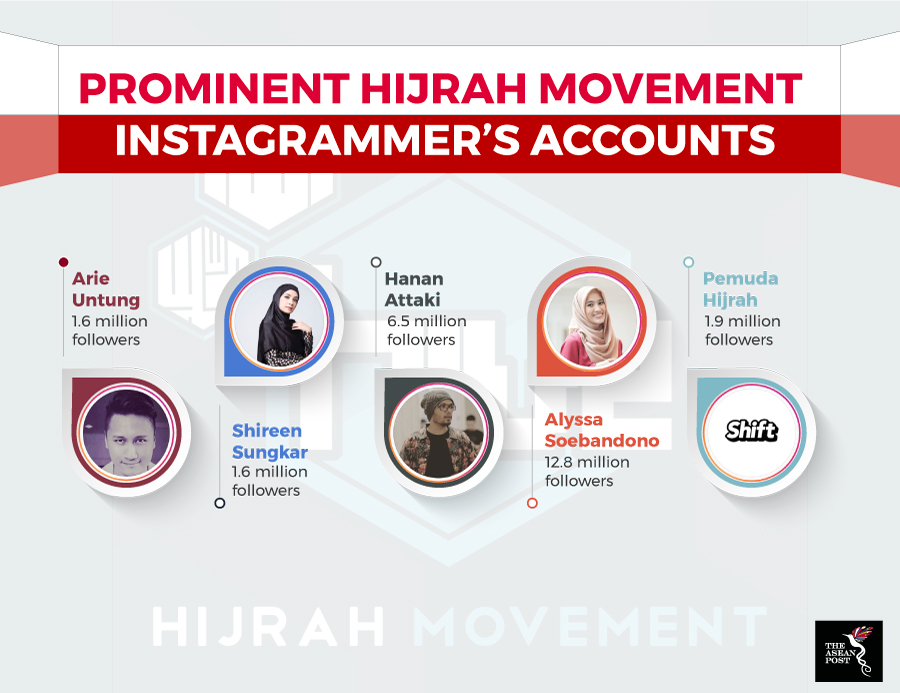 Source: Instagram
Out of the Hijrah movement, a three-day festival in Jakarta called HijrahFest has also grown in popularity since it first launched in 2018. The festival is managed by an event company owned by Arie Untung, a former MTV video jockey who is now more focused on the afterlife as opposed to "worldly achievements".
Untung says that social media plays an important role in today's preaching and Quranic learning for the masses. He has 1.6 million Instagram followers.
HijrahFest is the pious equivalent of the United States' (US) South by Southwest Film Festival (SXSW). Instead of music, 12,000 attendees get to network, explore a Muslim-themed trade show featuring modest fashion and halal (permitted by Islam) cosmetics, get free tattoo removal services, and attend Quranic studies guided by the Hijrah community's top preachers. Appearances by the Hijab Squad, Indonesian female celebrities who promote a Sharia (Islamic law) lifestyle, as well as the Hijrah Squad male version, are also a highlight.
While the Hijrah movement has not shown to harbour any sinister nor extreme agendas, it does call the youth to a more Islamic way of life and that call is being heeded. The question now is whether more Islam is what Indonesia's youth want. And if so, are we going to see more religious rhetoric as we enter into the final days before Indonesia's elections? 
Related articles:
Indonesia's disenchanted youth