As the world moves into the era of the Fourth Industrial Revolution or Industry 4.0, governance at regional and global levels is a key issue to contend with. Effective governance is necessary to adequately manage public issues that cut across national borders such as cybersecurity, cross-border terrorism, international trade and climate change.
In the face of geopolitical threats and pushbacks against globalisation that is increasingly felt in the Southeast Asian region, effective governance is essential in order to secure long-term economic growth as well as a peaceful and prosperous society to undergird it.
Enter, the Association of Southeast Asian Nations (ASEAN).
For over 50 years, the success stories of ASEAN have centred mainly on the organisation's ability to create a community of nations committed to peace. The resultant peace in the political domain has allowed the organisation to evolve beyond its mandate of regional security to a period of sustained economic growth.
Regional gross domestic product (GDP) has more than doubled from US$1.3 trillion in 2007 to US$2.8 trillion in 2017 within the span of a decade. A dramatic reduction in incidences of poverty has been observed as the regional population with an annual income above US$5,000 is expected to surge from 300 million in 2015 to 400 million in 2020. The growth of a more affluent ASEAN middle class is set to make the region one of the most important emerging consumer markets globally.
Sharing his views on how ASEAN can better respond to Industry 4.0 at the recently concluded World Economic Forum on ASEAN in Hanoi, Singapore's Prime Minister and ASEAN chair Lee Hsien Loong remarked that the region is in a strategic position to make the best use of opportunities from the Fourth Industrial Revolution.
"The Fourth Industrial Revolution is a dynamic and continuing process," he said. "We cannot predict how exactly it will unfold, but I am optimistic about ASEAN's future because ASEAN has its own competitive strengths, and by pooling our ideas and resources and integrating our economies, we will be in a strong position to ride on this fourth wave to bring tangible benefits to our economies and our peoples."
Room for improvement
At ASEAN's core is a unique approach to regional governance, called the ASEAN Way – a commitment to the principles of non-interference in domestic affairs of member states, utmost respect for national sovereignty as well as an informal decision-making process between ASEAN leaders. However, the system of "decision by consensus" has come increasingly under scrutiny in the era of Industry 4.0.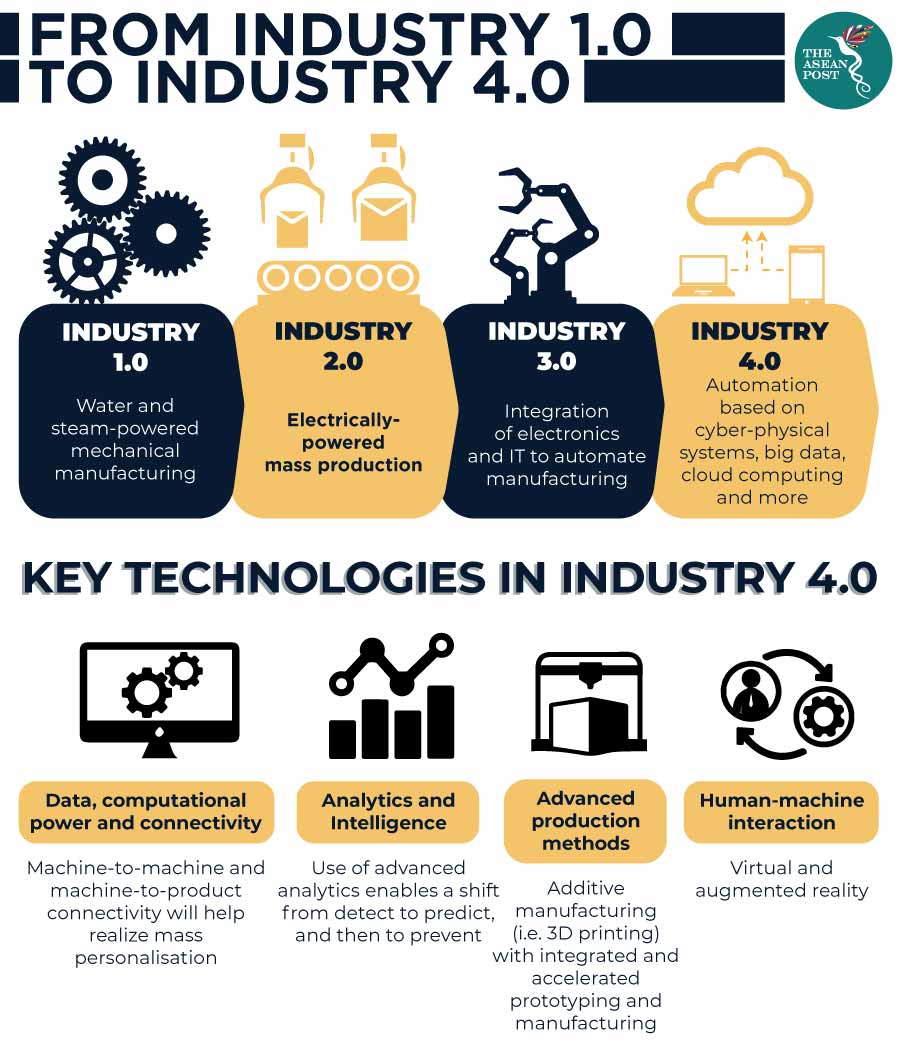 On the one hand, the ASEAN Way has managed to keep the association from falling apart because member states cannot be forced to comply with any binding agreements that may be construed as a threat to national sovereignty. On the other, its slow process and the association's strict adherence to the principle of non-interference can relegate it to an ineffectual talk shop with no real capacity for action which could become a hindrance to progress in this new era.
The future holds the promise of accelerated disruption and the birth of new technologies that would revolutionise our daily lives. ASEAN must get ahead of such changes or risk falling behind. On top of that, it is critical for member states to smoothen out their differences and work as a collective in responding to these transformations.
The adage that the whole is greater than the sum of its parts rings especially true here. Technologies of the future like blockchain, artificial intelligence (AI) and quantum computing cannot be constrained by borders drawn on a map and require a concerted effort by all member states in order to fully capitalise on them.
A people-centred solution
To first improve the quality of regional governance, ASEAN must shed its inherent elitist mindset in order to better serve its constituents – the ASEAN people. One way of doing so is to engage with civil society organisations (CSO) which is currently a dormant and underused cog within the ASEAN machinery. A review of CSO engagement released by the ASEAN People's Forum (APF) last year concluded that "the level of commitment of ASEAN is perceived to be only on the level of rhetoric, and not as intentional, owing to the fact that enabling environments are not present to facilitate people participation."
Thematically, ASEAN values its people's contribution as part of its attempt to be more "people-centric," in line with the aspirations enshrined within the principles of the ASEAN Socio-Cultural Community (ASCC). However, given that the reality is undoubtedly different, the onus falls on ASEAN to be more open and inclusive to the ideas of CSOs when they make regional-level decisions.
Besides that, it isn't as if ordinary ASEAN citizens aren't interested in regional-level issues. Although there is still plenty of work to be done to improve ASEAN awareness, the younger generation is fast realising the organisation's importance in their daily lives.
A survey of 2,170 respondents from universities around ASEAN found that 76.8 percent felt like they were indeed "ASEAN citizens." 68.8 percent felt that their country's membership in ASEAN has personally benefited them. Besides that, 51.3 percent of respondents felt that the issue of regional identity and solidarity was an important one to the Southeast Asian region.
The numbers – more than anything else – demonstrates potential for a cohesive, cross border ASEAN society. For example, the ASEAN Smart Cities Network (ASCN) is one such initiative in which the human element is indispensable to its success. The ASCN relies heavily on knowledge transfer between partner cities – which in itself is a growing list. As more of Southeast Asia begins to urbanise, the sharing of data and knowhow between multiple smart cities can only run smoothly when it is done against a strong backbone of trust.
The Fourth Industrial Revolution is a clarion call for ASEAN to relook its policymaking and regulatory processes. No longer can the old ways of crafting policy be relied upon as they are too rigid, slow and ineffective. Governance of the future in ASEAN must embody a dynamic approach – becoming more agile, iterative and experimental.
Related articles:
ASEAN is like a great jazz ensemble