While the COVID-19 pandemic has affected workers from almost all walks of life – some are hit harder than others. For domestic workers, waste pickers and street vendors among others who earn a wage on a day-to-day basis, 2020 has been anything but difficult as they struggle to make ends meet. When the coronavirus hit, and lockdowns and other preventive measures were introduced during the first wave of the crisis – many were left earning nothing.
According to the International Labour Organization (ILO), an estimated 62 percent, or over two billion people in the global workforce are classified as being informally employed. 
A report titled, "Employment in the informal economy: implications of the COVID-19 pandemic" published in the International Journal of Sociology and Social Policy, notes that there are two categories of informal employment. The first is being self-employed in informal enterprises, such as workers in small unregistered enterprises including employers, own-account operators and unpaid family workers. 
The second is being wage employed in informal jobs or informal employees such as workers in formal or informal firms who do not have access to secure formal contacts, statutory workers' benefits, social protection or employees with no fixed employer and other informal wage workers such as casual or day labourers.
Informal workers can be seen anywhere around the world. However, the International Monetary Fund (IMF) stated that informal workers in the Asia-Pacific region account for nearly 60 percent of nonfarm employment, higher than in other regions of the world such as in Latin America and Eastern Europe.
"Informal workers on average have incomes 19 percent lower than formal workers and have limited savings," states the World Bank. They are also less likely to qualify for government programmes to help people and businesses through the crisis.
Informal workers are also less likely to have their own financial cushion leaving them with stark choices on whether "to die from hunger or from the virus," noted the World Bank.
'Zero Earnings'
A recent study from an international non-governmental organisation (NGO), Women in Informal Employment: Globalising and Organising (WIEGO) shows how the first wave of lockdowns devastated earnings among informal workers in 12 cities around the world.
"Our data paints a grim global picture of workers reporting they were completely out of work, with zero earnings at the height of their cities' lockdowns," said Dr Sally Roever, WIEGO's International Coordinator. 
"In places like Ahmedabad, India, we see almost 100 percent of certain sectors in the study sample entirely out of work, like domestic workers, home-based workers, street vendors and waste pickers. In Bangkok, Thailand, massage workers were completely out of work as social distancing measures came into force," she added.
WIEGO's "COVID-19 Crisis and the Informal Economy Study" interviewed over 2,200 workers in the informal economy in various cities including in developing nations such as Bangkok in Thailand, India's Ahmedabad, Delhi and Tiruppur, and also developed nations such as New York City in the United States (US).
The initial wave of lockdowns severely disrupted markets and supply chains in March and April, and the shockwaves immediately hit workers' earnings. In Thailand's capital city where restrictions were less severe compared to other cities surveyed, the extent of immediate disruption varied more across worker groups.
For example, massage workers in Bangkok were put out of work entirely as physical distancing measures were put into place. Tourism industry workers in Thailand were also hit severely. Nevertheless, for some other sectors the experience was more mixed, with some street vendors, waste pickers and domestic workers reporting at least some earnings.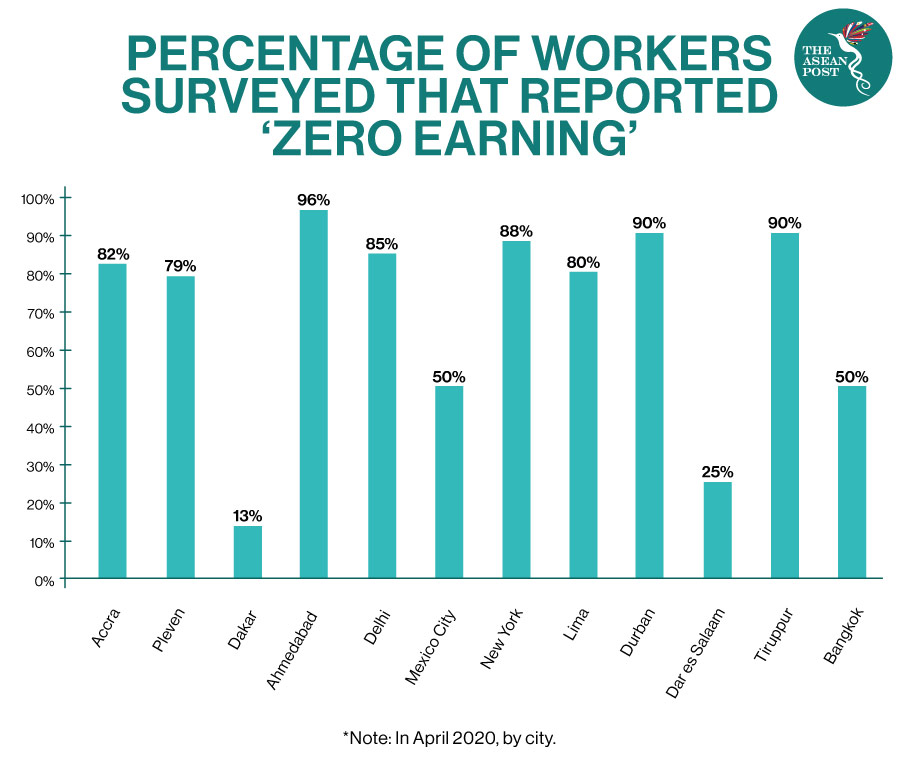 Loans And Debts
As these informal workers experienced a severe drop in income amid the pandemic, many had no option but to take up exploitative loans.
In Cambodia, salaries declined by around 30 percent between January and April 2020. A report released by think tank Future Forum, and Angkor Research and Consulting found that those working in entertainment as well as sex workers reported an 85 percent decrease in income. The study also revealed that one in four workers did not receive any salary in April.
This led to some Cambodians turning to microfinance loans or even loan sharks. 
The private and informal lending industry has long been a complicated problem in the ASEAN member state but with the coronavirus pandemic, "the situation has gotten worse," said Dorm Deam, a local village chief. 
"Borrowing money leads informal workers even deeper into this vicious cycle. Just over 40 percent of respondents said they resorted to taking on debt," said Dr Roever referring to the WIEGO study. 
"Not only will this complicate their recovery as they start repaying these newly-acquired debts, but many people may have entered exploitative arrangements they will find tremendously difficult to get out from under," she continued.
Other than borrowing money to cope with the losses, many informal workers dipped into savings and even pawned off their assets to survive. Unfortunately, getting these assets back is a long-term challenge.
Related Articles:
Saving Thailand's Virus-Hit Economy