With approximately 840 million people still without electricity access, the world is failing to meet energy targets in the United Nations' (UN) Sustainable Development Goals (SDGs) for 2030. Globally, it was deemed as one of the most important indicators for measuring livelihood quality with the world aiming to ensure universal access to affordable, reliable, and modern energy services by 2030.  
As one of the fastest-growing regions in the world, ASEAN is also aiming for improved electricity access as one of the key goals under the ASEAN Plan of Action of Energy Cooperation (APAEC) 2016-2025 to achieve energy security, accessibility, affordability, and sustainability for all. Despite a noticeable disparity and different challenges faced by Member States, huge efforts are being made to ensure electricity access. Subsequently, there is a significant reduction from 190 million in 2005 to only 100 million people in 2019 left without electricity access. 
However, more development challenges appear as we move deeper into rural areas. Significantly bigger investments and focus are needed to address these challenges. As resources are being divided into multiple sectors which also aim to improve livelihood quality, questions are now being raised on whether providing electricity access is the key.
In the last few years, global experts have debated on how electrification is improving livelihood, especially in rural areas. In a battle of differing opinions, several experts have taken jabs at how the impact of electricity access is being simplified as an automatic upgrade of people's livelihood. On the other hand, several others have mentioned how electricity is one of the key ingredients of improvement as it provides more opportunities and options for people to further develop. With these debates on-going and compelling evidence being provided to support different perspectives, it is now down to the countries themselves to justify the huge investments in providing electricity access. 
In ASEAN, one of the country closest to total electrification is Indonesia. Through years of rapid development, Indonesia reached 98.3 percent in 2017 and aims to electrify roughly another one million households before the end of 2019. As the biggest and most populous Member State, Indonesia made huge investments to fulfil this target, significantly larger than other Member States. While total electrification is projected to be reached before 2030, Indonesia needs to address the next step to ensure improved livelihoods, to justify the investment made and to set an example for other ASEAN countries. 
It was reflected in Indonesia's situation according to data provided by Perusahaan Listrik Negara (PLN), Indonesia's state-owned single electricity off-taker, the National Statistical Bureau (BPS), and the Ministry of Energy and Mineral Resources (KESDM) that better electricity access is improving livelihoods to some extent. Several indicators – from health status, development index, and poverty rate – are improving alongside the electrification ratio in the last few years.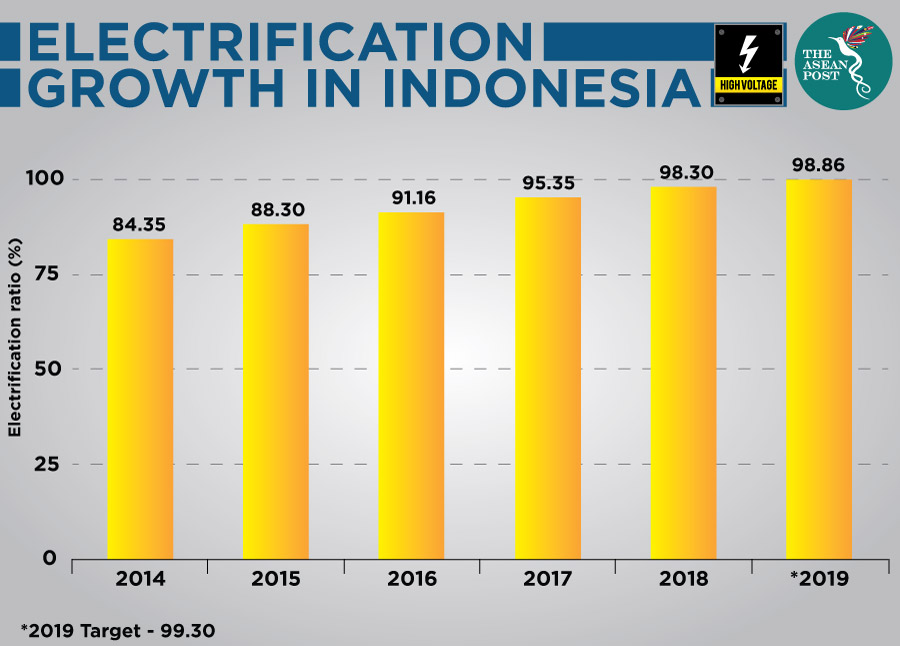 However, despite the improvements, provinces with better electrification ratios are not necessarily faring better in terms of poverty rate and human development index. West Papua and Maluku, for example, both currently sit within the range of five provinces with the highest poverty rates despite having 99.9 percent and 89.9 percent electrification ratios, respectively. 
Similarly, several provinces with comparatively lower electrification ratios account for a higher human development index (HDI) as opposed to North Maluku, West Sulawesi, and West Papua which are already 99 percent electrified yet listed with lower HDIs. This situation is pointing to one commonly agreed notion in most global debates; while it is almost certain that electricity access is a factor that improves the quality of livelihood, it is never the sole factor.
Currently in Indonesia, access from PLN's grid, Non-PLN, and even solar home systems (LTSHE) are counted in determining electricity status without any measurement for quality and reliability. The range of activities with a positive impact on livelihood quality can only be achieved with proper electricity access.
Diverse electrical tools that are easily obtainable can certainly help people to improve their daily efficiency as exemplified by how processing tools can multiply a rural farmer's total production and television can increase the quality of leisure time. Therefore, the government needs to start moving from only addressing the availability of electricity access to focusing on improving its quality and reliability. 
Resources are limited and this will only add another layer of investment on top of what is already being spent on providing electricity throughout the country. Access to electricity was never the silver bullet in improving livelihood quality, but it is nonetheless a good starting point. 
A proper environment must be built around the accessibility to energy to support the whole system. Improved local production, access, and mobility must be balanced by holistic support mechanisms. If the goal is to improve livelihood quality, many supplementing measures are needed. For example, those that aim to increase production need an established market demand to eventually improve local income thus ensuring the sustainability even further. 
Following closely is access to financial instruments, which will be crucial in supporting new activities and initiatives. Furthermore, another equally important part is the capacity building process as different skillsets will be needed to answer renewed challenges. 
Eventually, coordination from stakeholders is needed to capitalise on Indonesia's admirable initiatives to improve electricity access. The activities mentioned above – from financial services inclusion to human capacity development – provide opportunities for stakeholders to contribute. 
As a new market emerges, investment possibilities will rise; the government will not be able to capitalise on this alone and everyone needs to join forces to improve the quality of livelihood tailored along power lines.
Yudiandra Yuwono is a research analyst under the ASEAN – German Energy Programme at the ASEAN Centre for Energy (ACE) in Jakarta. Established in 1999, ACE is an intergovernmental organisation within the ASEAN structure that represents the 10 ASEAN Member States' (AMS) interests in the energy sector.
Related articles:
Surging forward with the ASEAN Power Grid