The Japanese Ministry of Foreign Affairs said in a statement released earlier this week that it has notified ASEAN countries that it had completed the legal procedures to amend the First Protocol of the ASEAN-Japan Comprehensive Economic Partnership (AJCEP). The original partnership took effect in 2008 and was Japan's first multilateral trade agreement. 
The first protocol was signed by Japan in February 2019 and in March and April of the same year by the ASEAN member states. It includes provisions on trade in services, movements of business persons and investment that were not contemplated in the 2008 protocol. 
Following earlier similar notifications by Thailand, Singapore, Lao and Myanmar, the revised agreement will come into effect on 1 August, 2020 and will allow for more cross-border flow of investment and services between Japan and the 10-member bloc. 
On 1 August the amended AJCEP will only enter into force among the five countries that have completed the necessary internal procedures and have notified the other members. The remaining six member states, Brunei, Cambodia, Indonesia, Malaysia, the Philippines and Vietnam, are expected to complete procedures and join by the end of the year. 
The revised AJCEP is a landmark step forward in the relationship between Japan and ASEAN, Japan's third-largest trading partner (as a bloc) after China (including Hong Kong) and the United States (US). 
The Japanese Foreign Ministry said in the statement that the aim of the amended AJPEC is to further promote trade and investment between Japan and the fast-developing ASEAN and to strengthen the Japan-ASEAN cooperative relationship.
According to data compiled by the Japan External Trade Organization (JETRO), trade between Japan and ASEAN stood at US$214 billion in 2019, with imports (US$108 billion) slightly exceeding exports (US$106 billion), down from a total of US$226.5 billion in 2018.   
Trade with China (including Hong Kong) stood at US$334 billion in 2019 and commercial exchange with the US was worth US$219 billion.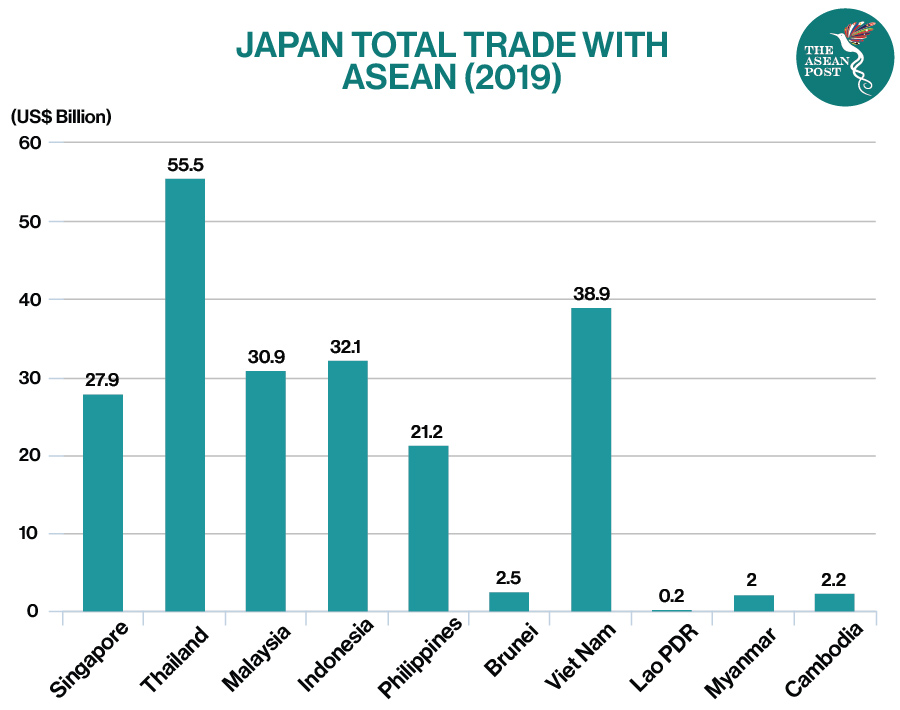 The protocol assumes special relevance for three countries – Lao, Myanmar and Cambodia – that do not have bilateral free-trade agreements with Japan. In 2019, trade with Japan for these countries accounted for slightly over US$4.6 billion, or 2.1 percent of the ASEAN total.  
It (the protocol) also includes rules and liberalisation commitments from ASEAN countries that are not included in the bilateral Economic Partnership Agreements and related agreements concluded between Japan and ASEAN member states.
Government Transparency
This means that, for example, in Myanmar Japanese capital can be deployed in the shipping, communications, finance and construction industries and that overseas companies will also be allowed to increase their stakes in local companies beyond the 35 percent currently required to operate as a local company.
In Indonesia, liberalisation will involve the food and beverage industries and the environment protection sector, while Lao will see a gradual opening of its equipment-leasing industry. 
Other provisions include dispute resolution instruments for investor-state disputes and calls for major government transparency when rejecting a foreign investor's application for a new business operation. 
ASEAN has always been an area of interest for Japan. As of 2018 there were about 13,000 Japanese companies operating in the area and more than 200,000 Japanese citizens living and working in the 10-country bloc. 
Recent international events such as the US-China trade war and the coronavirus pandemic have given even more relevance to ASEAN as a manufacturing and export base for Japanese companies.  
Among the measures included in the JPY108 trillion (US$992 billion) – equivalent to about 2.7 times Malaysia's gross domestic product (GDP) – pandemic rescue package announced by the Japanese government in April, there is  an economic support fund worth about US$2.4 billion to help finance Japanese businesses that bring manufacturing back to Japan from China, or that move it to other countries in Southeast Asia. The move is aimed at reducing future risks of supply chain disruption in case of another black swan. 
The amended AJCEP is also beneficial to Japan as it makes it easier for its companies to establish bases in different ASEAN countries and move components and products across borders as if it were a transnational assembly chain. Japan was the second-largest investor in the bloc in 2017 with US$13.3 billion in Foreign Direct Investments (FDI).
Related Articles:
ASEAN-Japan Partnership: 45 Years On