On 24 September, a Thai student, who has not been identified, was taken into custody by Egyptian authorities in Cairo following the circulation of an online video clip that showed him voicing support for an "Islamic revolution" in an interview. According to the Thai embassy in Cairo, photos allegedly linked to the Islamic State (IS) had also been discovered on his mobile phone.
The student was a resident of Yala in Thailand's insurgency-torn deep south. He was studying at Al-Azhar University in Cairo when he was arrested during a crackdown on protests demanding the resignation of President Abdel Fattah el-Sisi.
Responding to the case, Thailand's Prime Minister Prayut Chan-o-cha was quoted as saying that Islamic State (IS) had no links to his country. He also played down any IS links and said he had instructed relevant agencies to follow the case and provide assistance to the student.
Similarly, Deputy Prime Minister Prawit Wongsuwon has also been quoted as saying that IS had no influence in the southernmost provinces. This is despite the student in question being from that area. 
While the large majority of Thailand is made up of Buddhists, Muslims make up the largest minority and one that is growing. The three southern provinces of Pattani, Yala, and Narathiwat also feature a sizeable 80 percent Muslim population. There are also pockets of Muslim communities in large Thai cities.
The three provinces, and a small part of neighbouring Songkhla province, were historically part of a Malay Muslim sultanate annexed by Thailand in 1909 and separatist tensions have simmered since then.
Most experts agree with the Thai government that religion has very little to do with the deep south insurgency which is more nationalistic in nature. Nevertheless, an increasing intolerance has the potential to change this scenario.
A report released in November 2017 by the International Crisis Group, Jihadism in Southern Thailand: A Phantom Menace, noted that to date, there is no evidence of jihadists making inroads among the separatist fronts fighting for what they see as the liberation of their homeland, Patani.
Nonetheless, it also warns that the southern-most part of Thailand appears to offer conditions favourable for jihadist expansion. "A Sunni minority that constitutes a majority in the conflict zone; a Muslim insurgency with a narrative of dispossession at the hands of non-Muslim colonisers; and a protracted conflict with frequent repression and violence by Thai authorities," the report said.
"Thai officials, analysts, and even some in the militant movement have expressed concerns about prospects for jihadist influence," the report added.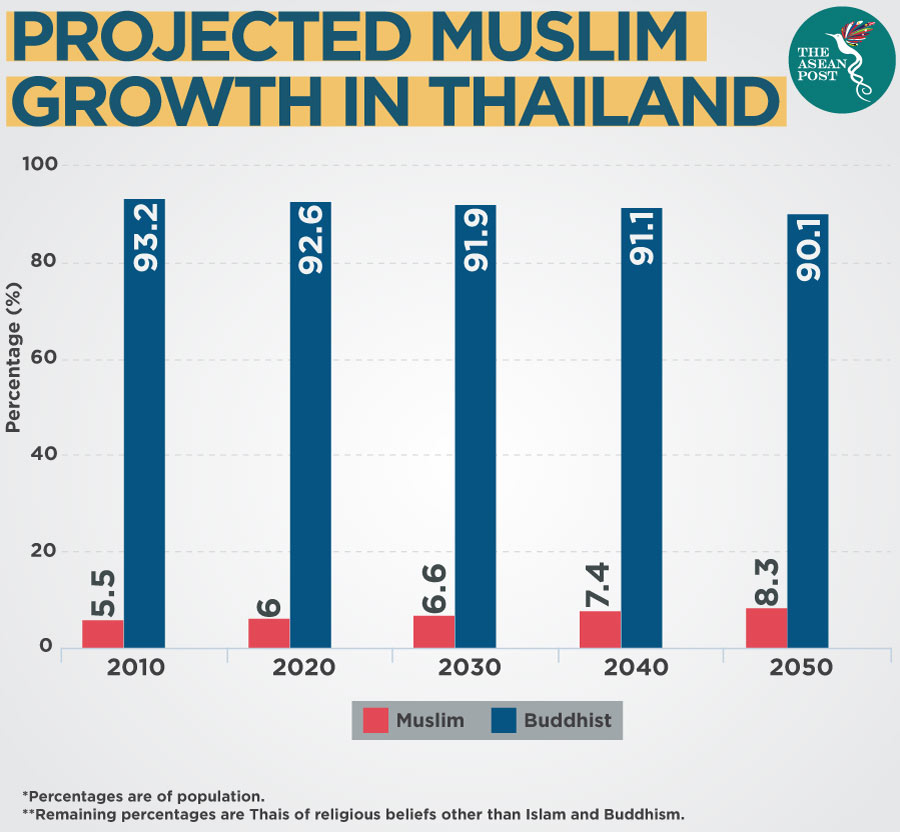 Regressive steps
Over the past few years, insurgency-related violence has dropped. Australia National University's Southeast Asia Institute director John Blaxland says the drop in the number of casualties can be explained in part by what the Thai military has done to raise levels of professionalism within its ranks. He said these changes have led to a marked reduction in accusations of human rights abuses.
"Sources indicate that while the government remains determined not to cave in on the issue of separate governance, some concessions have been made to accommodate local mores on language and Islamic dress for instance. These appear to be having some positive effect," he said.
Unfortunately, the media has highlighted some issues which seem to suggest the Thai government has been making some regressive steps as far as accommodating its Muslim minorities go. These issues could have adverse effects on how the insurgency in deep south Thailand develops.
Firstly, in July, it was reported that rebel suspect, Abdulloh Esormusor, was left unconscious after being arrested under martial law and taken to a notorious military camp in Pattani. Rebel groups suspected "foul play" in Abdulloh's case and have called for an international probe. Later, Thai authorities confirmed that four more people were killed in a late-night attack by Muslim insurgents on a military outpost in the south.
More recently, in September, Thailand's Special Branch Bureau issued a nationwide order to universities requesting they provide "intelligence" on Muslim students and their activities in school. Police spokesman Krissana Pattanacharoen told international media that this order was based on "security" concerns. As expected, the news sparked immediate outrage from the community, and later, the Muslim Students Federation of Thailand called for parliament to "cancel" the request.
Does jihadism have anything to do with the deep south insurgency? It's safe to assume not. However, as the International Crisis Group has warned, this can very easily change. It is of the utmost importance that the Thai government does everything in its power to ensure this does not become the case and in this, a soft approach seems to be the more effective method.
Related articles:
Putting a lid on religious intolerance