It is a tradition for ASEAN's 10 members to take turns chairing the regional bloc in alphabetical order, and come 1 January, 2020, Vietnam will formally take over from Thailand fully aware of the responsibilities it will have to shoulder.
Thai Prime Minister Prayut Chan-o-cha proudly handed a gavel, the symbol of ASEAN's leadership, to a smiling Vietnamese Prime Minister, Nguyen Xuan Phuc at the closing of the 35th ASEAN Summit in Bangkok on Monday – and the pressure is now on one of Asia's fastest growing economies to steer ASEAN towards several key initiatives in the coming year.
Thailand's chairmanship this year was themed 'Advancing Partnership for Sustainability', and after passing the chairmanship to Nguyen on Monday, Prayut said he was confident Vietnam will take on the role with pride and realise ASEAN's dream of promoting partnerships and maintaining peace, freedom, security and prosperity.
Agreeing with his counterpart's assessment, Nguyen said that Vietnam wants to focus on "strengthening ASEAN's sustainable cohesion by upholding solidarity and unity, increasing economic links and connectivity, deepening values and identities of ASEAN members, improving the efficiency of the ASEAN apparatus and promoting ASEAN's partnerships in the global community."
Five priorities
Vietnam's chairmanship is themed 'Cohesive and Responsive' and the country has settled on five priorities for 2020, top among them enhancing the bloc's performance of its role and contribution to the maintenance of regional peace, security and stability. 
Boosting connectivity and improving the capacity of adapting to and capitalising on the Fourth Industrial Revolution is another important priority for Vietnam, as is promoting awareness of the ASEAN Community and its identities to create common values for the group.
Reinforcing partnerships for peace and sustainable development with countries around the world; improving ASEAN's adaptability and efficiency by reforming institutions; and improving the operations of the association's apparatus will be Vietnam's other priorities as chair next year.
Economy
Vietnam will mark the 25th anniversary of its accession to ASEAN in 2020, and its growth has been nothing short of remarkable since the country opened its economy in the 1980s with a series of market reforms that have boosted development and lifted millions out of poverty.
Vietnam's reputation as one of Asia's most dynamic economies and its allure as an attractive investment destination has contributed towards making ASEAN the fifth largest economy in the world with a combined gross domestic product (GDP) of US$3 trillion in 2018.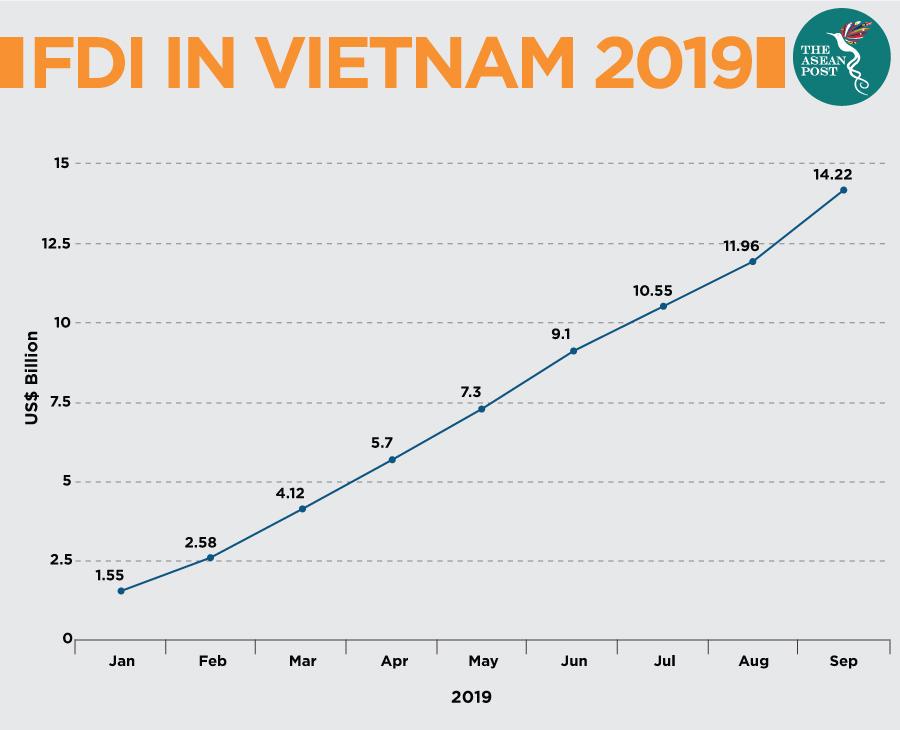 However, ASEAN still has a lot of room to grow in this regard – especially in terms of intra-ASEAN trade, which is only a quarter of ASEAN's total trade – and ensuring the ASEAN Economic Community (AEC) is effectively implemented in 2020 will go a long way in enhancing business within the region.
Beyond ASEAN, the conclusion of Regional Comprehensive Economic Partnership (RCEP) negotiations – against the backdrop of a fast-changing economic environment increasingly being challenged by protectionism – will demonstrate its members' collective commitment to open trade and investment across the region. 
The trade pact is expected to further expand and deepen regional value chains in the 15-country trade bloc comprising ASEAN, Australia, China, Japan, South Korea and New Zealand. It will be the world's largest free trade agreement t if it is signed as expected in February, and ensuring it finally rolls out in 2020 after negotiations which started seven years ago will be a key challenge for Vietnam.
Balancing act
Thailand's elections in the first half of 2019 cast a cloud of uncertainty over the country, and while Vietnam's one-party Communist government may not have such worries, Vietnamese diplomacy will go a long way in reinforcing trust among ASEAN's members and with its foreign partners.
Thailand did well to rally support among ASEAN nations for the ASEAN Outlook on the Indo-Pacific (AOIP), creating the June 2019 document as an answer to the United States' (US) Indo-Pacific Strategy which aims to realign regional geopolitics and diminish China's influence in ASEAN and beyond. 
China's assertiveness in the South China Sea has been of especially grave concern to Vietnam, and for a code of conduct for the disputed waterway to finally come into effect by 2021 – after discussions which started in 2014 – the second reading of the draft text will have to take place sometime next year under Vietnam's leadership.
As the AOIP states, the rise of economies and militaries "requires avoiding the deepening of mistrust, miscalculation, and patterns of behaviour based on a zero-sum game", and Vietnam will have to guide ASEAN in maintaining this regional centrality in an ever-changing geopolitical landscape.
How well Vietnam balances these and other key concerns will go a long way in ensuring Nguyen will still be smiling this time next year.
Related articles:
ASEAN lacks real economic integration
Thailand elections: What could happen next?