Vietnam's decision to ban the animated film Abominable earlier this month is just the latest in a string of pushbacks against China's infamous nine-dash line.
Vietnam's censors were forced to apologise after the Hollywood film, which was jointly produced by a Chinese studio, was screened across Vietnam's cinemas for a week despite a scene which showed the disputed nine-dash line – China's depiction of its territorial delineation in the South China Sea.
China claims nearly 80 percent of the resource rich global shipping route despite overlapping territorial claims from Brunei, Malaysia, the Philippines, Taiwan and Vietnam – and the nine-dash line is a feature on Chinese maps and passports.
There is no doubt Abominable is now a regional row after being banned in Vietnam and condemned by the Philippines' Foreign Secretary. The DreamWorks Animation film will also not be released in Malaysia after its producers refused to remove the offending scene.
The nine-dash line has been the subject of several other high-profile incidents in Vietnam of late, all of which is amplifying Vietnamese concerns over its maritime sovereignty – especially in view of China's land reclamation and militarisation of the South China Sea.
Hot topic
A Vietnamese distributor apologised last week after public complaints that it was selling Chinese-made Zotye T600 cars installed with the nine-dash line in its navigation app, going as far as closing certain dealerships until they could resolve the matter.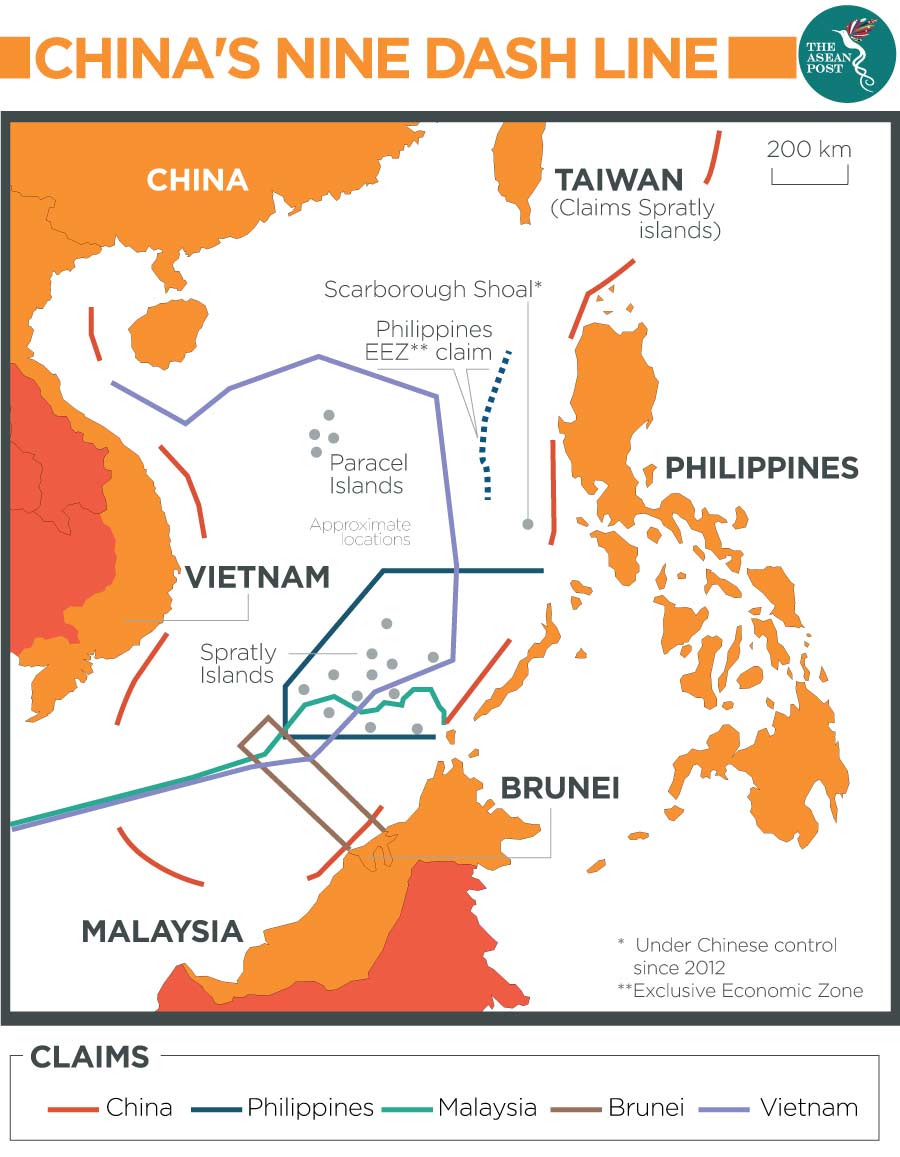 A Vietnamese travel agency was fined VND50 million (US$2,200) for distributing brochures on China which carried the nine-dash line, and the company later sanctioned its staff in charge of the marketing material and ended its relationship with the Chinese company which supplied the brochures.
Another incident involving brochures which carried the nine-dash line – this time by a Chinese travel agency at a travel expo in Ho Chi Minh City – saw authorities seize the controversial material and shut down the travel agency's stall.
E-commerce giants Shopee has also been in hot water after selling a map which contained the offending line, and an online role-playing game developed by a Chinese firm was recently banned in Vietnam after an update which showed the offending line.
Probably the biggest uproar came in May when 14 Chinese tourists arriving at a Vietnam airport were stopped for wearing shirts which clearly depicted the nine-dash line. The company which brought the tourists in was fined and suspended for nine months, and it later said it plans to shut down.
Denouncing the stunt as "unacceptable", Vietnam's Office of the Government said it showed how tourism could be abused to spread foreign propaganda.
"It was an organised act, prepared and arranged with bad intentions instead of a random, spontaneous act by the individual tourists," said Mai Tien Dung, Minister and Chairman of the Office of the Government (OOG). "The act would have been unintended if each tourist had worn a different type of shirt, but here all of them wore the same t-shirt," he added in comments to local media.
Increasing tensions
All these incidents are reflective of the tensions between the two neighbours and their history of conflict.
China's 1979 invasion of Vietnam in response to its occupation of Cambodia the year before is still a vivid memory among Vietnam's older generation, and this legacy of resentment lives on today in the South China Sea.
Just last week, a Chinese oil survey vessel left waters within Vietnam's exclusive economic zone – 200 nautical miles from its coastline – after more than three months of exploration despite repeated demands from Vietnam that China withdraw its ships from the area.
Both sides have refused to budge.
Earlier this month, Vietnamese President Nguyen Phu Trong said Vietnam should "never compromise" on its sovereignty and territorial integrity while Chinese defense minister Wei Fenghe said "we will not allow even an inch of territory that our ancestors have left to us to be taken away."
Derek Grossman, a senior defense analyst at the American global policy think tank RAND Corporation, said the latest incident represents the worst Vietnam-China tensions in the South China Sea since the Haiyang Shiyou 981 oil rig standoff in May 2014.
The 2014 incident saw Chinese state-owned China National Offshore Oil Corporation move its Hai Yang Shi You 981 oil platform to waters claimed by Vietnam, leading to mass protests in Vietnam which exemplified the anti-China sentiment on the ground.
More trouble
Could such protests flare up again in view of the nine-dash line increasingly finding its way into Vietnamese daily life?
Speaking to international media last year, Murray Hiebert, a Southeast Asia specialist at the Center for Strategic and International Studies in Washington, noted that the Vietnamese government underestimates the amount of anti-China sentiment in the country.
"There's a constant undertone among many in Vietnam that the government isn't doing enough to protect the country's sovereignty against China," Hiebert said.
With the nine-dash line obviously heightening anti-China resentment in Vietnam, its leadership will be extra vigilant to ensure that the controversial marking doesn't stir up even more trouble.
Related articles:
'Just a collision': Duterte downplays sinking
Is Hollywood pushing China's agenda
Vietnam follows Beijing with South China Sea upgrades of its own