In a previous article, The ASEAN Post highlighted the fact that today, in Sihanoukville, Cambodia, Chinese mainlanders own more than 90 percent of all businesses. While this has increased land prices in the once sleepy-coastal town, the fact that the Chinese are willing to pay millions of dollars to buy land there only serves to heighten worries that Sihanoukville is becoming a small Chinese colony. And the worry does not end there.
Recently, on 16 July, news reports quoted Cambodia's Minister of Tourism Thong Khon as vowing to take action against companies offering zero-dollar tourism. The minister's statement was largely in support of tourists whom he said were cheated by these companies. He said that low-cost or "zero-dollar" tours bring unsuspecting tourists to businesses in which they are coerced into purchasing expensive goods.
While this may very well be the case for many innocent tourists who only come to Cambodia looking for a good time, there is more to zero-dollar tourism than just that. 
As its name suggests, zero-dollar tourism refers to packaged tours which are much less expensive than independent travel with one catch: tourists are taken on many shopping trips and are often required to buy overpriced products. Tour guides and drivers get a kickback from these shopping excursions, offsetting the loss on the tour's initial cost. 
In most cases, these shops are Chinese-owned and the money tourists spend is diverted back to China. With more shops utilising mobile payments through WeChat Pay and Alipay, the payments don't even have to be converted into local currency, avoiding foreign exchange fees that would normally go to local money changers.
In 2016, the Thai government decided to stamp out zero-dollar tourism, estimating losses of US$2 billion each year in tax revenue. Three companies were shut down, 2,155 buses were seized and several people were arrested for money laundering and operating illegal low-quality tours. 
Meanwhile, in the last quarter of 2016, Chinese tourist arrivals to Thailand dropped by 12 percent year-on-year and countries such as Vietnam experienced a boom in China tourist arrivals.
Bali has seen a growing problem with "zero-dollar" tours as well, claiming that nearly 70 percent of its almost 1.4 million Chinese tourists are on such tours. 
"Chinese tourists, of course, they benefit Bali. They are staying in Bali's hotels, restaurants; they still pay for the tour packages. [It's] just the shopping that we are missing out [on]," explained Bali Tourism Board chairman, Ida Bagus Agung Partha Adnyana. 
Coming back to Cambodia and more specifically Sihanoukville, between 2012 to 2017, tourism increased more than 700 percent, with Chinese tourists accounting for one-third of the 6.2 million visitors Cambodia received last year. Officials estimate that Chinese nationals make up some 90 percent of the expatriate population in Sihanoukville.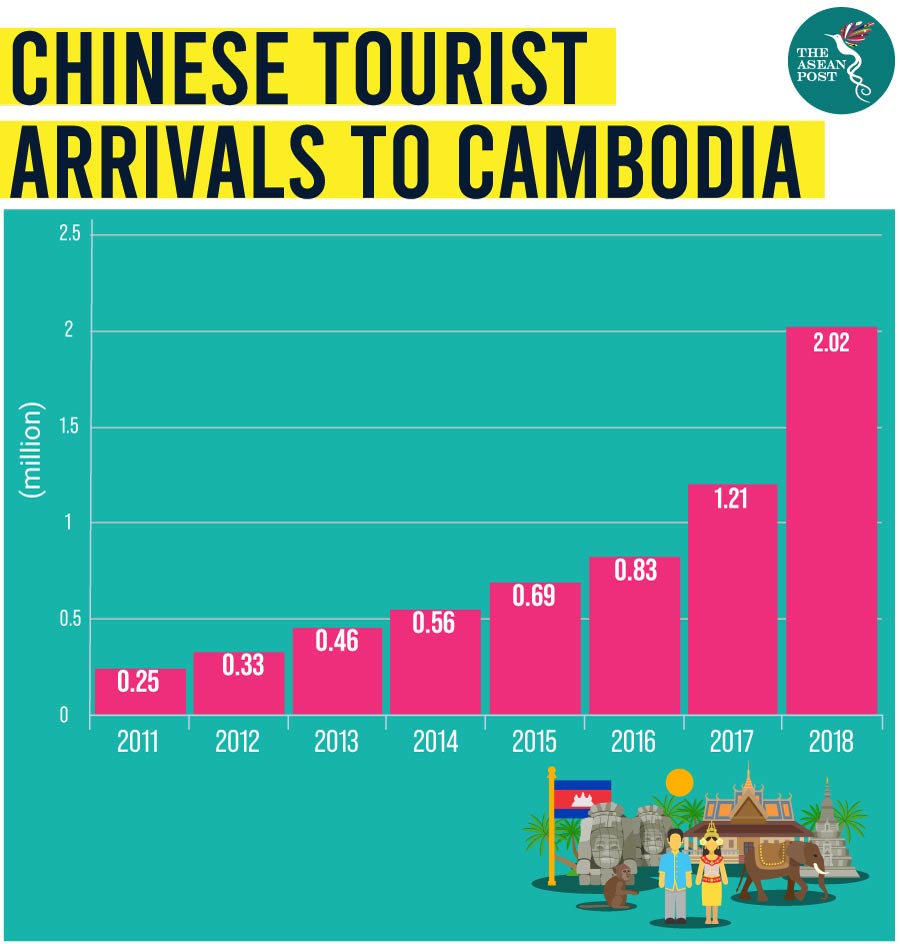 Source: Cambodia's Ministry of Tourism
Chinese tourists flocking to Sihanoukville
Y Sokleng, the mayor of Sihanoukville, told the media that the Chinese had begun flocking to the town about three years ago and their population is now estimated to be the same as that of Cambodian residents, or around 80,000. Other municipal officials, however, suggest the number of Chinese is actually two or three times higher.
The concern here is that while the influx of Chinese continues through zero-dollar tourism and Sihanoukville continues to develop, there is very little gain as far as Cambodia is concerned. Sihanoukville is quickly turning into a town that seems to be made by and for mainland Chinese only. Already, many ordinary Cambodians appear to believe that rising luxury hotels in the town are being built for even more Chinese tourists.
Zero-dollar tourism may persist due to the sheer number of potential tourists in China who are unaware of its pitfalls. However, an increasing number of Chinese tourists are becoming more sophisticated and preferring to travel independently.
According to a study by the Chinese Tourism Academy and travel portal Ctrip.com, a growing number of Chinese travellers are making their own bookings online and travelling alone. They are no longer as dependent on travel agencies as they were in the past.
Related articles:
Does Sihanoukville belong to China?