The recent announcement by Thailand's Ministry of Tourism & Sports it had welcomed 35 million international tourists on its shores in 2017 is good news for its businesses but has given rise to doubts on Thailand's ability to sustain increasing tourist volumes in the short term.
One of the main challenges it faces is limitations to its transportation infrastructure. In particular, Thai airport capacity is currently capped, and its airports are unable to handle such large tourist volumes. Don Mueang and Phuket airports hit maximum capacity in 2014 and are now running at 40% overcapacity, according to a 2017 report by the Netherlands embassy in Bangkok. According to the same report, Bangkok's Suvarnabhumi Airport was operating at 87% capacity as of March last year.
Airports of Thailand had announced that it would spend US$5.5 billion to upgrade its six Thai airports over the next 15 years. The upgrade began with the opening of a new international terminal at Phuket International Airport in 2016. This helped increase capacity there to 12.5 million passengers a year, the embassy report noted. Meanwhile, airports waiting for upgrades like Don Mueang International Airport received capacity boosts in 2017 through the simplification of immigration procedures, the opening of increased counters and the hiring of more airport officials. Thailand hopes to welcome 150 million passengers annually through all its airports by 2030.
Meanwhile, enhancing the rest of its transportation network would also boost tourist mobility within the city. Thailand currently suffers from heavy road traffic, with Bangkok drivers spending an average of 24 days per year being held up in traffic, according to a joint survey by Uber and BCG in 2017. To ease the congestion, Thailand is planning to invest US$8.63 billion to expand and repair its highways as well as build new ones, according to the embassy report. Meanwhile, urban railway travel is expected to be improved through the introduction of six new urban lines spanning 200km under the Mass Rapid Transit Authority
Despite challenges to its transportation infrastructure, Thailand is not expected to lose out on tourist volumes in the short term. Thailand's tourism industry has proven to be resilient enough to withstand terrorist bombings, kidnappings, civil unrest and natural disasters in the past.
Thailand is currently the ninth most attractive tourist destination in the world, and the second in Asia, according to the United Nations World Tourism Organisation (UNWTO) in its 2017 edition of Tourism Highlights, but could risk losing that ranking if it does not manage high tourist volumes well. Tourism is a key contributor to Thailand's economic growth, with revenue amounting to 20.6% of the country's GDP in 2016. Out of the 35 million arrivals in 2017, 9.8 million hailed from China, spending a total of US$16.3 billion in the country, according to Thailand's Ministry of Tourism & Sports at a press conference on January 16. Tourist spending also increased by 15% compared to 2016, accompanied by a 12% increase in tourist arrivals.
Thailand's tourism boost has come in part from relaxations on international visa regulations. For example, in 2016, it relaxed visa rules for international visitors by waiving tourist visa fees for citizens from 19 countries for three months. The country still offers visa-free travel for up to 48 nations with whom it has diplomatic relations.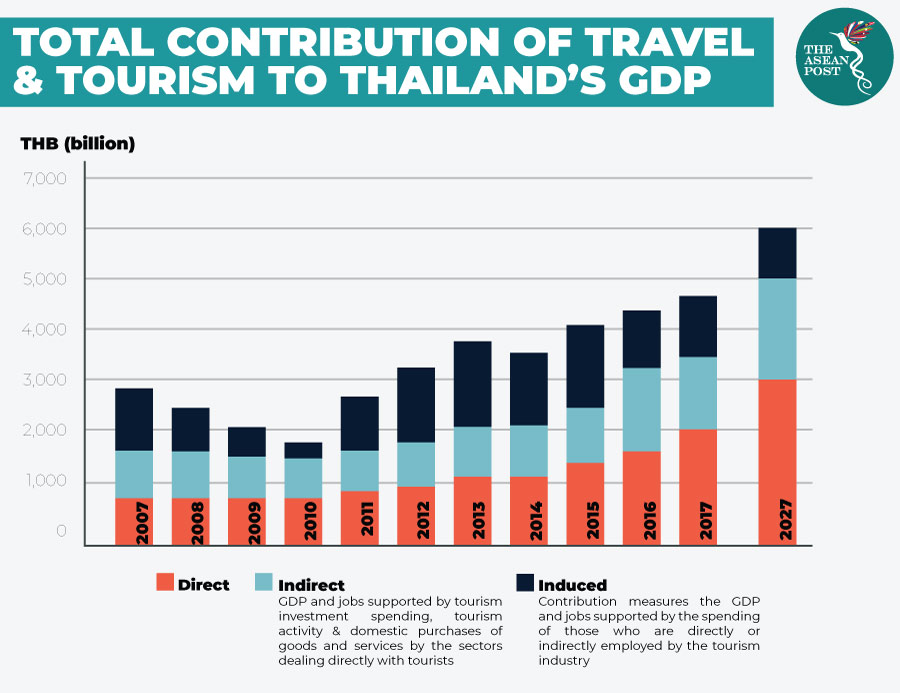 Thailand could still sustain tourist volumes for now by promoting secondary tourist destinations within Thailand, for one. The Tourism Authority of Thailand (TAT) recently introduced the Go Local initiative, allowing tax deductions for domestic travel to its 55 provinces. The initiative also introduces other benefits for travellers, such as the introduction of a TAT Plus online card for use in these secondary destinations, corporate tax exemptions for corporate events, and discounted tour packages for large tourist groups.
Yet bringing secondary destinations to the forefront also needs to be balanced against potential environmental costs if care is not taken to preserve heritage and outdoor sites. There have been instances where the Thai government has stepped in to take such measures, such as the closing of Koh Tachai island to tourists since October 2016. That same year, 10 popular diving locations were also closed to preserve the coral reefs in the area from further coral bleaching.
While these are measures relating to the preservation of ocean life, measures also need to be taken to preserve Thai beaches from sand erosion. Thailand's coastline spans 2,000 km along the Gulf of Thailand and 1,000 km along the Andaman sea. But as much as 670 km of these beaches are quickly eroding each year because of factors like construction, tourism activity and the reduction of mangrove forests.
This is where Thailand's many years of experience in managing a top tourist destination will help it to foresee and circumvent future challenges. Still, it is vital for every Thai to play a part in maintaining the sustainability of tourism there.
Related articles:
ASEAN Roundup: January 15 - January 19, 2018
Philippines, the most dangerous country in Southeast Asia for journalists