Malaysia's tech start-up community now has a home to call its own with the launch of the HLX on Thursday, an integrated innovation centre for start-ups to collaborate with corporates to get access, coaching, funding and mentoring in one space.
Housed within Menara HLA, an office tower in the heart of Kuala Lumpur, the 250,000 square foot HLX is backed by Malaysian conglomerate Hong Leong Group and is a private-public partnership (PPP) with the Malaysian Digital Economy Corporation (MDEC). 
Featuring co-working and co-living spaces, offices, a digital campus and a venture capital hub, various other facilities such as an auditorium, exhibition space, media lab, restaurant and gym are also being developed to ensure HLX becomes a 'one-stop' support network for Malaysia's start-up community.
Developed in two phases and set to achieve full operational readiness by the end of 2020, HLX is positioning itself as an inclusive and attractive facility to promote innovation, boost the Malaysian start-up ecosystem and help propel the country's digital transformation efforts in sectors such as manufacturing, agriculture, infrastructure, and services.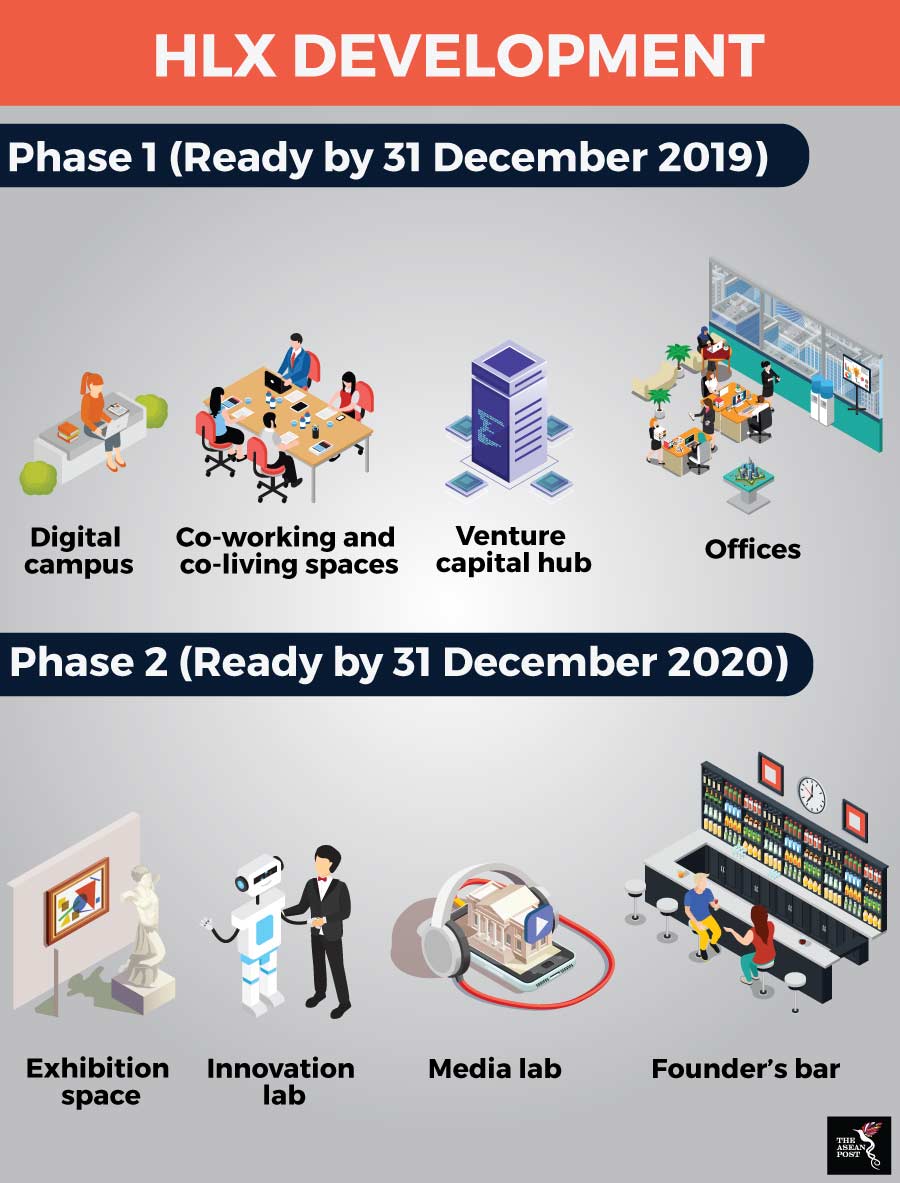 Source: HLX
Tasked with driving Malaysia's digital economy since 1996, MDEC's efforts are centred on driving investments, building local tech champions, catalysing digital innovation ecosystems and propagating digital inclusivity. The launch of the HLX is an excellent example of a PPP which it will surely be eager to build on.
Exchange ideas
The innovation incubator will be the focal point for collaborators vital to the growth of the ecosystem such as venture capitalists (VCs), mentors, technology partners, tech start-ups/scaleups and corporations. HLX's initial focus is on Artificial Intelligence (AI)/High Performance Computing (HPC), fintech and manufacturing tech.
"The start-ups will gain access to a complete innovation ecosystem that will accelerate their transformation, enable innovation and help them scale-up on the value chain, while the corporates will get to engage with start-ups in a more meaningful and sustainable manner," said Mohd Reezan Mohd Fadzil, General Manager of HLX in a statement.
Mohd Reezan noted that while tech start-ups have great ideas and talent and corporations have the infrastructure which allow innovative technology to be deployed, HLX benefits both parties by identifying potential gaps and connecting the right match of services with key partners.
On the talent front, the HLX Academy will provide training, mentoring and industry placements. Partnering with technical experts to lead certification and talent upskilling programmes, the HLX Academy strives to build a pipeline of industry-ready innovators and creators, while at the same time, match their skill sets to key partners from corporations and the government.
New council
Among those present at the HLX launch were Malaysia's Minister of Communications and Multimedia, Gobind Singh Deo, who witnessed the exchange of six Memorandum of Understandings (MoUs) between HLX and tech and talent partners.
The minister also announced the formation of the Malaysia Innovative Policy Council (MIPC) at the launch, an entity made up of industry experts, experienced start-ups, funding partners and other government agencies. Chaired by MDEC, the council's objectives are to promote policies and regulations designed to encourage and drive more innovation in a bid to boost Malaysia's overall digital economy.
Apart from serving as a platform for the private sector to propose initiatives based on policy and regulatory challenges, the MIPC will also provide advice, input, recommendation and facilitation for the proposed initiatives and establish and oversee taskforces to implement the initiatives.
The MIPC comprises two committees – the Industry Coordination Committee and the Intervention Committee.  The Industry Coordination Committee chaired by MDEC covers regulatory challenges and issues while the Intervention Committee co-chaired by the Ministry of Communications and Multimedia and other ministries focuses on policies and regulatory intervention. 
"Growing the nation's digital economy requires deeper collaboration from both public and private sectors, and we strongly believe that MIPC will further drive better synergetic partnerships between the sectors and sharpen the nation's efforts in creating a vibrant and sustainable tech ecosystem," said Surina Shukri, MDEC's CEO.
Related articles:
An overview of coworking spaces in Southeast Asia
How technology can change ASEAN's retail sector