The Fourth Industrial Revolution or Industry 4.0 has become a commonplace term on the minds of politicians, industry leaders, academics and people alike. It represents a future which holds the promise of accelerated disruption and the birth of new technologies that stands to revolutionise our daily lives.
Translating such buzzwords into actionable initiatives that will forever reshape the economy is no simple feat. But the Malaysian government is up to that task by incorporating Industry 4.0 into its national policy narrative.
Malaysia's National Policy on Industry 4.0 or Industry4WRD was launched yesterday by Prime Minister, Dr Mahathir Mohamad in an event graced by more than 1,000 guests including members of his cabinet, senior government officials, ambassadors, academicians and members of the public.
Industry4WRD focusses mainly on digitally transforming Malaysia's manufacturing sector and its related services to embrace Industry 4.0. The policy envisions Malaysia as a strategic partner for smart manufacturing, a primary destination for high-technology industries and a total solutions provider for the manufacturing sector in the region.
In his keynote address, Mahathir Mohamad heralded Industry 4.0 as "the next phase of evolution in the manufacturing sector".
The manufacturing sector has been a critical growth driver of the Malaysian economy having contributed approximately 23 percent to the country's gross domestic product (GDP) in the last five years. The government targets a 5.1 percent average growth in the manufacturing sector between 2016 and 2020 compared to an average of 4.8 percent in the five years preceding 2016.
The prime minister said that manufacturing firms cannot reap similar yields as in previous decades unless they move away from complete reliance on capital and labour as levers of productivity.
"Readiness to adapt to this evolution will have a bearing on economic success," he said. "Therefore, Malaysia needs to quickly embrace Industry 4.0 in order to propel productivity and further enhance competitiveness."
He also remarked that the Industry4WRD policy represents a pivotal step for Malaysia as it seeks to strengthen on-going structural reforms and become a developed nation which is equitable, sustainable and inclusive by 2025 or even earlier.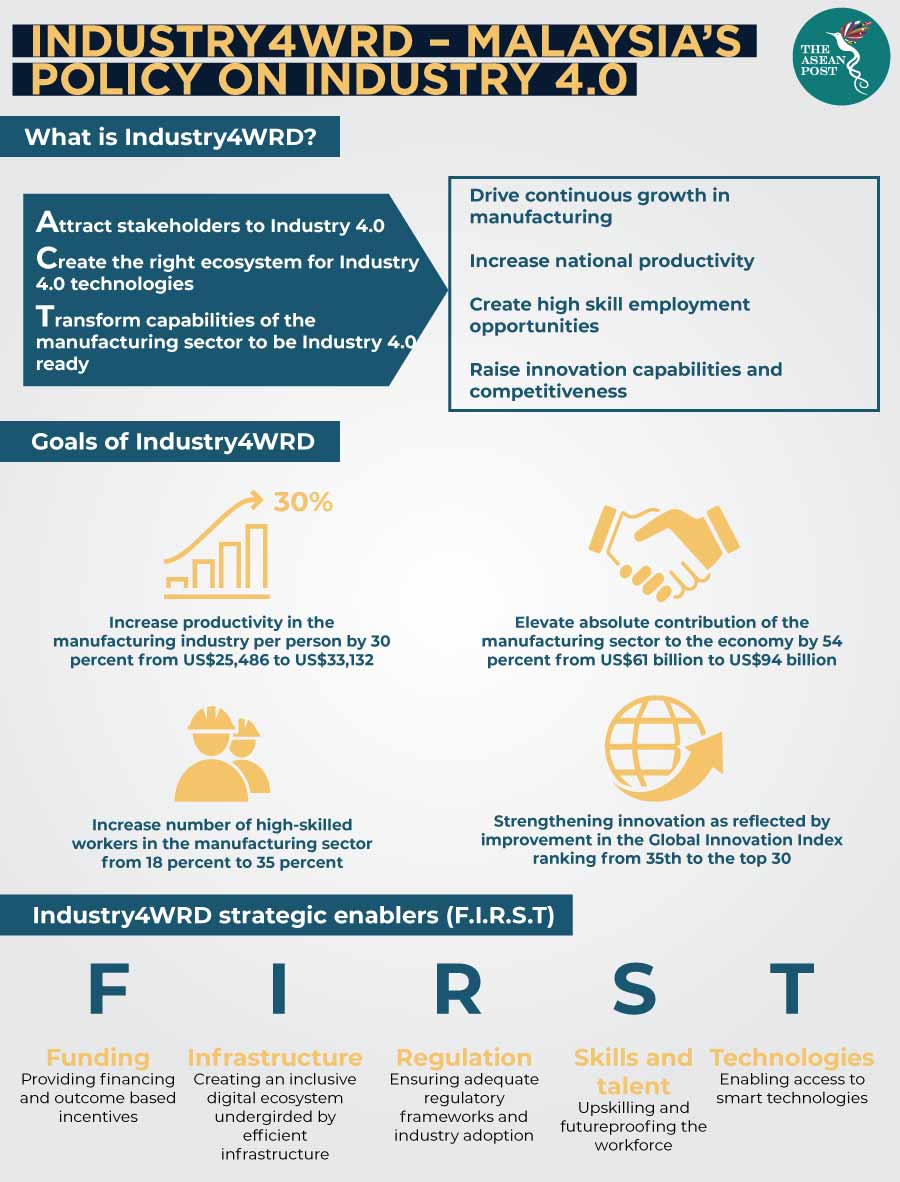 The overarching philosophy of Industry4WRD can be surmised by the acronym A.C.T. (Attract, Create, Transform). The policy aims to attract key stakeholders to Industry 4.0 technologies and processes, create a proper ecosystem to nurture innovation and to transform the capabilities of industries within the manufacturing sector to be Industry 4.0 ready.
Industry4WRD will also place specific emphasis on small and medium enterprises (SMEs). Malaysian SMEs account for close to 98.5 percent of companies in the manufacturing sector and provide 42 percent of employment opportunities in the country.
SMEs would be empowered to embrace Industry 4.0 via five key strategic enablers. These enablers include the provision of funding and outcome-based initiatives, the creation of digital ecosystems undergirded by efficient infrastructure, adequate regulatory frameworks, the upskilling and futureproofing of the labour force as well as access to smart technologies.
Malaysia's Minister of International Trade and Industry, Darell Leiking said that his ministry is taking measures to understand where manufacturers are in terms of Industry 4.0. To that end, the Industry4WRD Readiness Assessment Guidelines was developed to serve as a baseline for manufacturers so they can better assess their current position, identify gaps in existing manufacturing lines and move to Industry 4.0 via targeted intervention of experienced assessors.
Leiking also explained that the implementation of the policy will be accompanied by thorough oversight to ensure deliverance on policy goals. An Industry4WRD Council made up of government officials, industry players and academicians will be in charge of implementing, monitoring and managing action plans under the policy.
"This will further elevate our nation's competitiveness and productivity in our journey to become a developed nation in the near future," he added.
The establishment of a clear policy direction to navigate the waters of the Fourth Industrial Revolution is a positive step for the people of Malaysia. In facing external and internal economic challenges, it is crucial to remain agile and focus on innovation to propel high value-added industries which in turn would reap immense economic gains for the country in years to come.
With Industry4WRD, Malaysia has proven that from a policy perspective at least, it has what it takes to be ahead of the curve.
Related articles:
Embracing the Fourth Industrial Revolution