Last week's announcement that Malaysia is working on finalising a Digital Content Ecosystem (DICE) policy by year's end is the latest in a string of positive developments for the country's growing digital content industry. 
The strategy will focus on four key pillars; strengthening human capital, strengthening the industry's value chain, driving the commercialisation of intellectual property (IP) and driving the nation's ecosystem to global standards.
Increasingly gaining legitimacy and validation among the general public, Malaysia's animation and gaming sectors are now attracting valuable foreign investment and providing numerous jobs for local software developers, graphic designers and illustrators.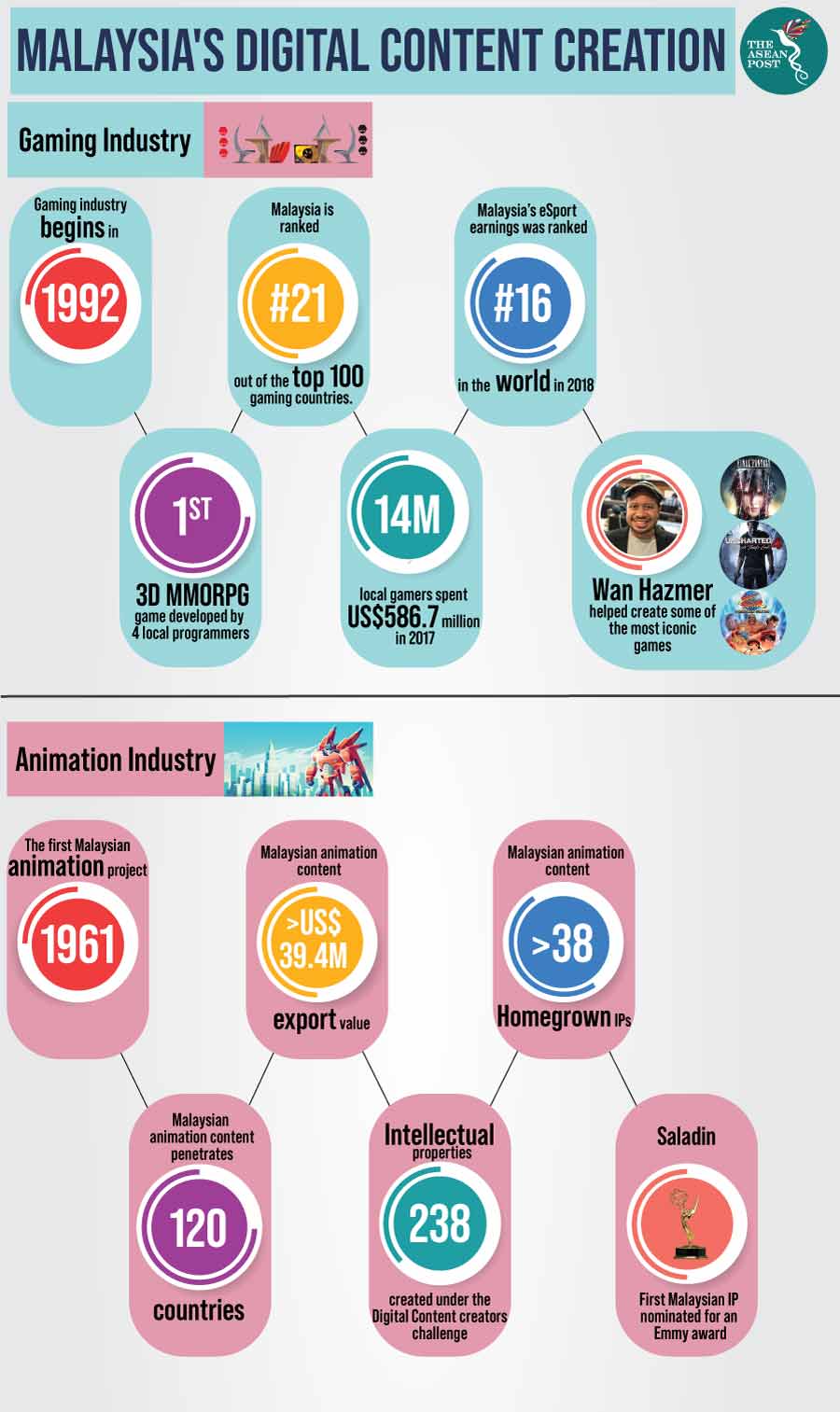 Source: MDEC
Strong market
Take for example Malaysia's Streamline Studios, which have worked on critically acclaimed games such as Final Fantasy and Street Fighter. Recognising the country's digital gaming talent pool, Japanese game developer Bandai Namco Studios Inc., the creator of the Pac-Man, Tekken and Dragon Ball games, opened a studio in Malaysia.
ASEAN is one of the fastest-growing e-sports markets in the world, with market research firm Newzoo predicting earlier this year that the audience for e-sports in Southeast Asia will be 32 million people in 2019. Malaysia alone has 2.4 million e-sports fans, with the country ranked 21st in global game revenue estimates in 2017 with US$587 million. As an economic driver, Malaysia's game development industry recorded exports of US$163 million in 2017, a 46 percent year-on-year growth from 2016 – this coming from just over 60 game studios.
In the world of animation, Malaysia created international headlines in 2011 when its animated action-adventure, Saladin, was nominated for an award at the 2011 Emmy Awards. Other locally developed offerings such as Upin & Ipin, Boboiboy and Ejen Ali have been broadcast across the region and showcased in the United Kingdom (UK) and Japan. On 8 August, animated film BoBoiBoy Movie 2 created history in the local film industry with its simultaneous screening in five countries; Brunei, Indonesia, Malaysia, Singapore and Vietnam.
While the DICE policy is aimed at attracting game and animation studios to accelerate the development of these sectors in Malaysia, it will be just as crucial in raising local industry capabilities to develop world-class games, animation and digital content IP and services.
Attract foreign investment, develop local talent
"The policy will focus on attracting investments, building local talent and companies and strengthening the ecosystem through government and private sector partnership," said Malaysia's Minister of Communications and Multimedia, Gobind Singh Deo, when announcing the policy last week.
"It also aims to advance research, IP creation, commercialisation, branding and marketing capabilities in order to improve its export potential. Equally important, this policy will also look at best practices in order to promote a healthy animation and gaming environment for all users," he added.
Stating creative tech studios are drawn to Malaysia due to its youthful demographic and access to talent with cultural influences from both the East and West, Singh said that the country's higher education system and its focused tech-track have also contributed to its investment appeal.
The news of the DICE policy comes months after Malaysia's Youth and Sports Minister, Syed Saddiq Syed Abdul Rahman, said the country would be setting aside nearly US$2.4 million for e-sports in its 2019 budget last November. The news was promptly met with a tweet by Min-Liang Tan, CEO of Razer, a global gaming hardware company, who promised to invest the same amount.
Sound policies
There is no doubt that e-sports is enjoying increasing popularity and its inclusion as a demonstration sport at the 2018 Asian Games in Indonesia has helped put a bigger spotlight on it in the region. E-sports will also be contested at the 2019 Southeast Asian Games in the Philippines later this year, marking the first time that the International Olympic Committee (IOC) will have sanctioned the competition at a multi-sport event.
Although it is high time that Malaysia has a comprehensive development plan to take full advantage of the market opportunities that lie ahead in the gaming and animation sectors, a good starting point in developing its DICE policy will be consultations and discussions with industry players and other stakeholders. 
Apart from facilitating access to world-class technology, infrastructure and market distribution platforms, a successful DICE policy will also develop a sustainable funding ecosystem and provide opportunities for youth and communities to participate in developing an inclusive digital content ecosystem.
Aligning partners towards a sustainable digital content financing ecosystem by establishing co-production funds to seed IP development will also encourage the growth of more original digital content.
While Malaysia already has a head-start in digital content development in the region, proper implementation of its DICE strategy will be key if the country is to continue harnessing its digital content talent to drive faster growth.
Related articles:
Gaming: A lucrative profession
The gaming explosion in Southeast Asia