After coming into power last year, the Alliance of Hope (Pakatan Harapan)-led government of Malaysia had decided to halt the progress of local projects that were run by China-based companies. 
Two of these were railway projects – the High-Speed Rail (HSR) and the East Coast Rail Link (ECRL). The new government there decided that it would renegotiate the deals for both projects in order to not be indebted to China.
Renegotiations with China for the ECRL project has been a success with Dr Mahathir Mohamad, the Prime Minister of Malaysia, announcing this week that the nation will go ahead with the project following a 30 percent decrease in cost from RM98 million (US$23.52 million) a kilometre (km) to RM68 million (US$16.32 million) a km which would total to RM44 billion (US$10.56 billion) for a railway line spanning 648 km with 20 stations from Port Klang in the state of Selangor to Kota Bharu in the state of Kelantan. 
The new railway line and renegotiated deal will be a great boon for the country.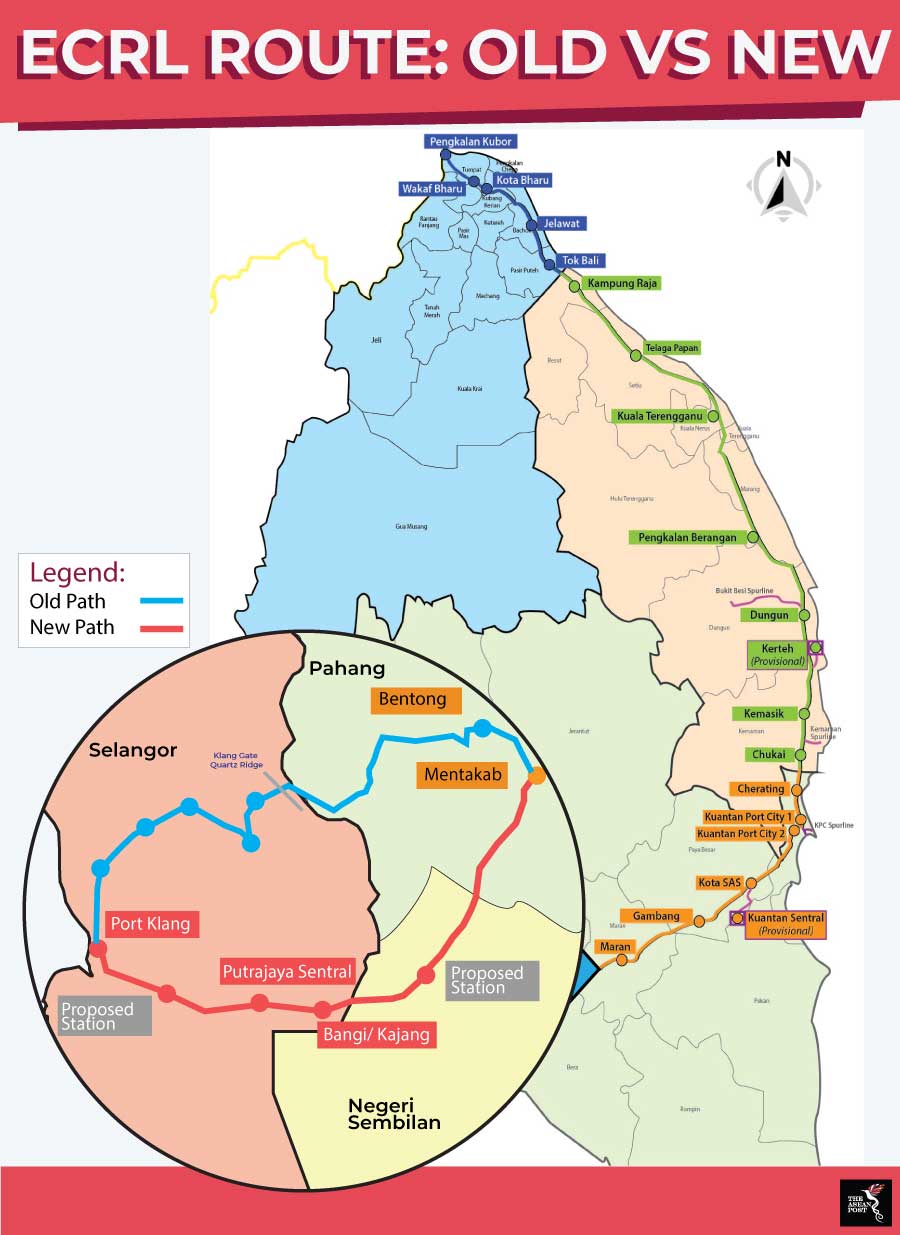 Source: Various
Monetary victory
One of the positives from the megaproject will be the generation of new jobs for various railway-linked industries. 40 percent of the total cost of the project or RM17.6 billion (US$4.2 billion) will be allocated to local players according to CIMB Equities Research to hire workers and engineers for the project.
Malaysia has also smartly avoided the termination fine that has saved the country around RM21.5 billion (US$5.2 billion).  
Salvaged reputation
Another boon is the strengthening of China-Malaysia relations. The ECRL project is part of China's Belt and Road Initiative (BRI) and furthers China's goal of establishing trade with as many countries as possible.
The renegotiation is also considered damage control for China's image which has been tarnished by its so-called "debt trap diplomacy" which put Sri Lanka and Pakistan in serious debt. 
"China [had] to show to the world that it has a flexible side and is willing to work with and renegotiate with host countries over problematic projects,", said Dr Ngeow Chow Bing, Deputy Vice Chancellor (Research & Innovation) Office, Institute of China Studies, University of Malaya.
Long Island University Economics Department Chairman Professor Panos Mourdoukoutas has said that Malaysia was also able to avoid the "debt trap diplomacy" with this re-negotiated deal, making it a win for Dr Mahathir. By slashing the price by almost a third, he is fulfilling an election campaign promise of renegotiating with China; re-establishing his image after a series of U-turns which have spotted his first year in power.
Malaysia could also reap some additional benefits as a result of the ECRL deal. "Not directly related, but we could sell palm oil to China", according to Dr Mahathir. Malaysia-China trade relations as well as their respective country's images seems to have improved with this renegotiation.
Ecological preservation
The newly proposed railway line also wins "green" points for the new government of Malaysia. According to Dr Mahathir, the new line will avoid the Klang Gates Quartz Ridge, the largest quartz dyke in the world. The 16 km long, 200-metre-wide quartz dyke has over 265 species of flora and fauna with five plant species that can only be found there, according to the Institute of Biological Sciences, University of Malaya.
This re-routing of the railway will preserve the unique quartz dyke, keeping it in consideration for being selected as a UNESCO World Heritage site.  The re-routing would also save Malaysia a lot of money as the tunnelling work required for the old proposed line would be devastating from an ecological and economic standpoint.
The ramifications and benefits from this renegotiation are the definition of a win-win for all parties involved. Malaysia's construction industry will be bolstered, China's image will be salvaged and Dr Mahathir will have one of his biggest wins yet; successfully negotiating with a superpower in order to strike a deal that will benefit all Malaysians.
The ECRL could go down in history as one of Malaysia's greatest victories. An infrastructure project that would have plunged the nation into a debt trap has now become a railway system that will connect Malaysians from the east coast of the country to its capital, Kuala Lumpur. If this is an indication of the future under the Alliance of Hope's rule, then Malaysia could truly be well on the road to recovery.
Related articles:
The Doctor is back. Can Malaysia be cured?
Dealing with the Belt Road Initiative