Last week, the Malaysia-China Business Council (MCBC) hosted the Malaysia-China Belt and Road Economic Cooperation Forum 2019.
"With China's advancements in digital economy and high-tech, and with Malaysia's strengths in primary commodity and agriculture, we anticipate that more investors from China will invest in Malaysia. The process will be of great help in terms of economic transformation and industrial growth," said MCBC Chairman and Malaysia's special envoy to China, Tan Kok Wai.
Several matters were discussed during the forum, among which were reasons why China would want to continue investing in Malaysia. China is already Malaysia's biggest trading partner and last year alone official statistics show that China imported US$34.4 billion worth of Malaysian goods, or 13.9 percent of Malaysia's total exports. 
With the Belt and Road Initiative (BRI), Malaysia hopes that investments continue pouring in from China. Tan said that in this effort, Malaysian entrepreneurs, especially local Chinese business sectors, will play an important role. 
"The local Chinese business sectors have an advantage of the ease of communication due to their shared values, including cultural values, and mutual trust. 
"With the advantage of common linguistic skills and international networks, the local Chinese business sectors will find it easy to work along with Chinese entrepreneurs. Many of the local Chinese business sectors have their Chinese mother tongue," he said.
In January, Malaysia's Deputy International Trade and Industry Minister Ong Kian Ming was quoted as saying that there were about 300 out of the top 500 Chinese companies listed by Fortune Magazine which have yet to invest in Malaysia.
"These are the companies that we want to entice to Malaysia by showing off our natural and strategic advantages as an investment location. The message that Malaysia welcomes high quality investments from China and other parts of the world must be sent loudly and clearly," he said in a statement.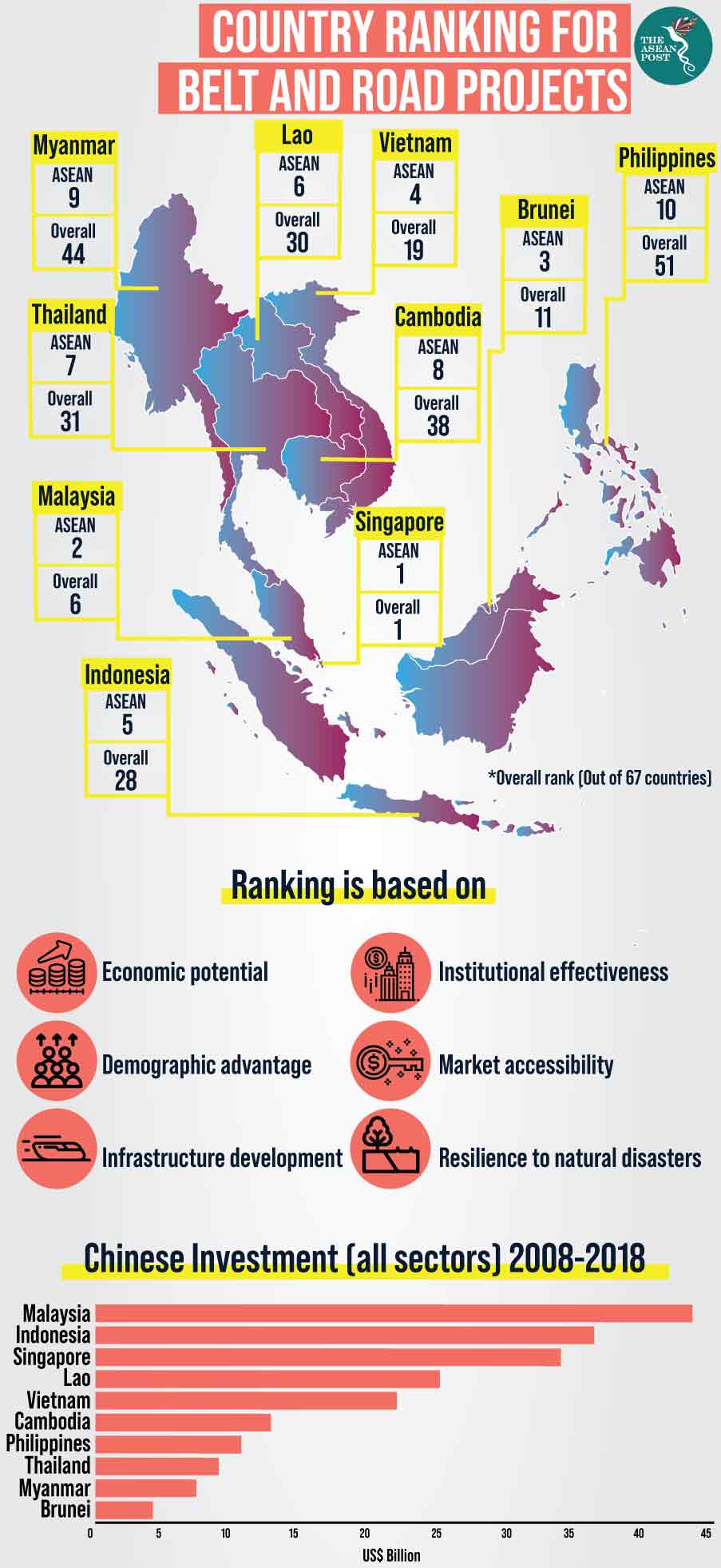 Source: Knight Frank 
China's gain
China itself has a lot to gain by continuing and increasing investment in the Southeast Asian country. In fact, Knight Frank released a report in 2018 entitled "New Frontiers: Prospects for Real Estate along the Belt and Road Initiative" where it placed Malaysia in sixth place worldwide in terms of its potential as a place to invest in. 
Knight Frank's Belt and Road Index (BARI) is classified into six categories: economic potential, demographic advantage, infrastructure development, institutional effectiveness, market accessibility and resilience to natural disasters. Knight Frank also placed Malaysia in the top 10 for infrastructure development. 
But apart from infrastructure, Malaysia has been catching the eye of traders since historic times due to its central location. 
"Malaysia continues to benefit from China's BRI due to its strategic location along the economic corridors," Knight Frank notes.
Malaysian Investment Development Authority (MIDA) executive director of investment promotion Sivasuriyamoorthy Sundara also pointed this out when he spoke of the fact that while Malaysia's population is relatively small at only around 32 million, it also has access to the rest of ASEAN not only through geographical means but also trade agreements. In total, 14 trade agreements involving countries like India and, the latest, Turkey.
Working parallel with Malaysia's strategic location is its people. According to Sivasuriyamoorthy, it is easier for Malaysia to penetrate India's market through Indian Malaysians, China through Chinese Malaysians, and Indonesia "because we all speak the same language".
During the forum, Sivasuriyamoorthy was asked whether Malaysia had any special incentives for China to invest in the country. He said that while Malaysia tried not to differentiate between foreign investors based on where they came from, it did have "customised incentives".
"Based on negotiations, we may provide a longer time for tax exemption, for example. Our government also gives special grants for certain projects which are deemed as having a high impact. Some of the projects from China have been given this incentive," he said, although he did not name which projects.
Earlier during the forum, Wang Yiwei, a professor of International Studies at the Renmin University of China, pointed out Malaysia's unique position as far as the BRI was concerned. He said the reasons for this included Malaysia's position as a leader in Islamic Finance, its knowledge of Halal Food certification, and because it acted as a bridge to ASEAN and even further into the Middle East and Eurasia. 
"Malaysia has good relations with all its neighbours because of its inclusive culture," he said.
The forum was organised by the Silk Road Business Council Malaysia (SRBC) and co-organised by Malaysia Digital Economy Corporation (MDEC), The Associated Chinese Chambers of Commerce and Industry of Malaysia (ACCCIM), China Enterprises Association In Malaysia (CENAM), Malaysia-China Chamber of Commerce, and China-Asia Economic Development Association (CAEDA). 
Related articles: