The Malaysian Dutch Business Council (MDBC) recently became the second Dutch chamber in the world to join the NLinBusiness network and receive worldwide recognition for its efforts to promote Dutch businesses in Malaysia.
An initiative by the main Dutch employers' organisations, NLinBusiness was established to create more professional Dutch trade promotion and international business development worldwide. Coordinating and organising accessible and long-term programs for Dutch small and medium enterprises (SMEs) who aim to grow internationally, NLinBusiness supports these SMEs by identifying the right international markets for them to expand to and helps them adjust to operating in a foreign country.
The MDBC received the NLinBusiness accreditation in a ceremony in Kuala Lumpur on 28 March in the presence of the Dutch Minister of Foreign Affairs, Stef Blok, who was on a one-day visit to Malaysia. The MDBC is now only the second Dutch chamber in the world to receive the prestigious NLinBusiness accreditation after the Holland House Colombia in Bogotá, which was accredited in November 2018 during a high-level trade mission led by Dutch Prime Minister Mark Rutte. Among those present at the MDBC accreditation ceremony were the Dutch Ambassador to Malaysia Karin Mossenlechner, NLinBusiness General Manager Edo Offerhaus, MDBC Chairman Zainul Rahim and MDBC Executive Director Marco Winter.
Praising the MDBC for standing out as a 'best-in-class' leader among Dutch chambers worldwide, NLinBusiness said this was based on the MDBC's financial performance, customer satisfaction, membership growth and its diverse membership base of Dutch and Malaysian members, businesses, SMEs, educational institutions and government agencies. In addition, the MDBC's transparency, structure of governance, services such as events and internship programs for Dutch students as well as its outstanding cooperation with embassies and other chambers of commerce – both in Malaysia and ASEAN – also gave it a solid foundation to build on.
"With their knowledge, services and network, MDBC provides excellent opportunities for Dutch entrepreneurs in Malaysia," said Offerhaus in a press release. "With the long-standing experience of MDBC and the know-how of NLinBusiness, we will be even better at supporting Dutch entrepreneurs in establishing themselves in this important growth market.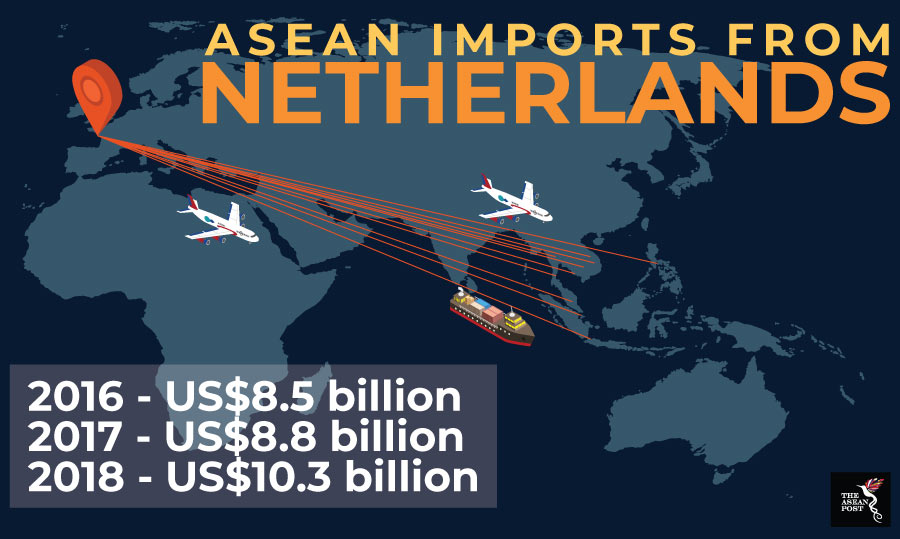 Source: NLinBusiness
ASEAN's importance
In an exclusive interview with The ASEAN Post, NLinBusiness Business Analyst Flin Veenstra said that ASEAN's developing economies and growing regional integration offers Dutch companies numerous business opportunities.
"The ASEAN region is not only important to NLinBusiness and the Dutch business community but also to the Dutch government, which has identified the ASEAN market as one of their nine priority markets worldwide," he said.
Among the more attractive sectors for Dutch businesses in the ASEAN region include renewable energy, consumer products, water management, waste management, food and horticulture, logistics and maritime. While Veenstra noted that penetrating foreign markets is always challenging, he pointed out that organisations such as the MDBC play a key role in supporting entrepreneurs and helping them expand their network.
'Cities of Opportunity'
Kuala Lumpur is one of six ASEAN 'Cities of Opportunity' for Dutch businesses which NLinBusiness has identified, joining Singapore, Bangkok, Jakarta, Manila and Ho Chi Minh City. These cities were selected based on macro and company economic indicators, geographical location and the presence of Dutch multinationals and financial institutions.
NLinBusiness is currently supporting the Dutch Business Association Vietnam (DBAV) in Ho Chi Minh City to work towards accreditation and becoming a full-service business hub like the MDBC. Both, the MDBC and DBAV are part of the ASEAN Dutch Chamber Network (ADCN) which consists of six Dutch chambers of commerce in Indonesia, Malaysia, the Philippines, Singapore, Thailand and Vietnam.
With over 280 members and chapters in Penang and Johor, the MDBC is one of the most active business councils in Malaysia. Prior to the accreditation ceremony, the MDBC organised its annual Connects Fair with more than 40 of its member companies showcasing their products, services and business solutions and attracting 300 participants and guests.
Related articles:
Fostering a people-centric ASEAN
ASEAN fast becoming a renewable energy hub