Recently in Malaysia, a husband and wife were arrested after a four-year-old girl under their care died. A post-mortem on the girl's remains found that she died after sustaining injuries to her abdomen due to blunt force trauma. Meanwhile, the couple are also suspected of having abused two other children aged five and eight.
This is only one of many cases where children have been killed after being abused by their babysitters. In another case which occurred in July last year, Malaysians all over the country were shocked by disturbing news that a five-month-old toddler was found stuffed inside a freezer compartment at the babysitter's house in the town of Batu Caves, in the state of Selangor. A post-mortem revealed that the boy, Adam Ray Moh Sufi Naeif, died from head injuries due to blunt force trauma.
Even more recently, in January, a nine-month-old toddler, who was in critical condition after being allegedly abused by his babysitter, died at the Sibu Hospital in the state of Sarawak after being declared brain dead. The victim was rushed to the hospital after his parents found him in a weak condition after picking him up from the babysitter's house.
A medical examination confirmed the victim had suffered from bleeding in the brain and fractures on the left side of the skull. It is reported that the 39-year-old female babysitter in question had been operating the childcare centre without a licence.
In December last year, E Saroja, deputy superintendent of police (DSP), head of the Child Investigation Unit, Sexual, Women and Child Investigation Division (D11), Bukit Aman Criminal Investigation Department, said that apart from negligence, hot-temper, irritability and uncontrollable emotions are among the causes of child abuse cases involving childcare providers.
"This year alone, we have received 86 reports of child abuse cases involving care providers as of October. As an enforcement body conducting the investigation, the case investigation finds the motive of abuse is sometimes caused by care providers who lose patience with children's naughty antics," she was quoted as saying at the time. 
She advised parents to check the background of the childcare provider and the childcare centre environment before enrolling their children to ensure their safety.
"Do not just come to know the care providers through social media but also monitor their background, who is in the house, how many children are being taken care of and who will take care of the children," she said.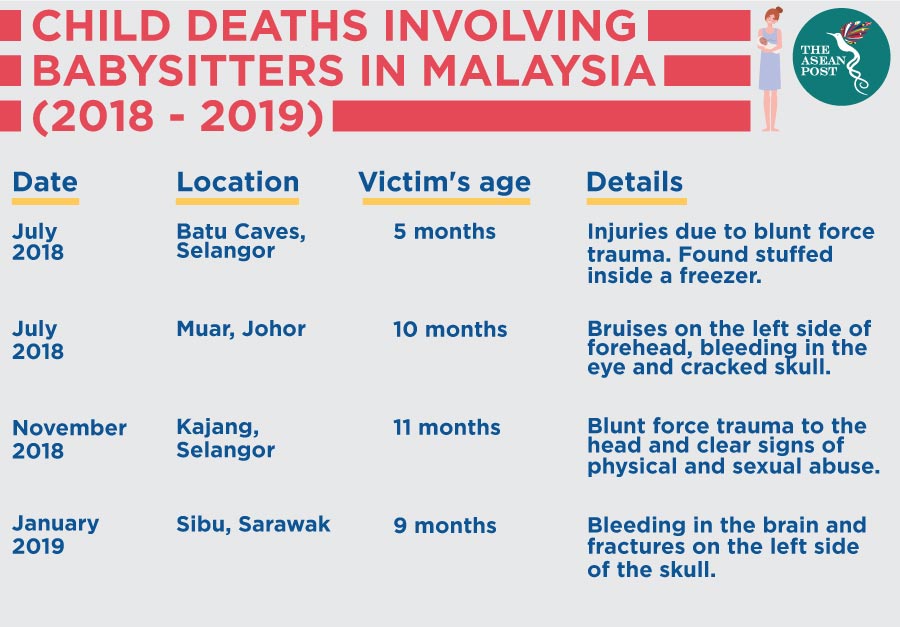 A rock and a hard place
It is often the case that these children are abused by unlicensed babysitters or at unregistered day care centres. Unfortunately, surveys conducted by a number of Malaysian news publications found that, often times, it was difficult for parents to have much of a choice in the matter. 
A common theme in these surveys was that while parents wanted the best professional care and education for their children, the main issue was money. On the one hand, parents could not take care of their children as they had to go out to make a living, while on the other hand, many of the reputable registered nurseries charge more than these parents could afford.
A solution that had been put forward by some child's rights advocates and women activists is for organisations to let mothers work from home or to allow them to have more flexible work hours. According to statistics, however, this may not be the best remedy.
In February, Deputy Women, Family and Community Development Minister, Hannah Yeoh was quoted by local media as saying that the number of child abuse and neglect cases was still high and that parents remained the people mostly responsible for these heinous acts.
On top of this, the biggest culprits – at least based on statistics – seems to be mothers. According to Yeoh, child abuse cases committed by mothers numbered 7,805 while cases committed by fathers was 5,190.
Since it looks as though children in Malaysia are at risk no matter where they are, the best solution would be to enable parents to send their children to good quality childcare centres. This will require policy changes at the government level as well as collaboration from private institutions. Meanwhile, awareness is also key in terms of family-planning as well as proper parenting. On a positive note, Malaysian parents are certainly more aware today of the dangers in some of these poorly managed childcare centres and of irresponsible babysitters.
Related articles:
Malaysia's unfortunate children