Millions of people have had to cancel their 2020 travel plans due to the coronavirus crisis. 
Fuelled by virus fears while being urged to stay home – most people are avoiding any kind of travel which has further dampened the demand for air transportation, hotels and other tourism-related services. 
Over in ASEAN member state Malaysia, it's no different.
According to the country's prime minister, Muhyiddin Yassin, COVID-19 has hit the nation's tourism sector hard, with an expected loss of RM3.37 billion (US$789.6 million) within the first two months of 2020.  
"Tour packages are cancelled and this affects those who work with airlines and hotels. The estimated total loss in the tourism sector from January to February 2020 was RM3.37 billion (US$789.6 million). The government estimates Malaysia's gross domestic product (GDP) decreased by 0.8 percent to 1.2 percent, a decrease of RM10.8 billion (US$2.5 billion) to RM17.3 billion (US$4 billion),'' said the premier.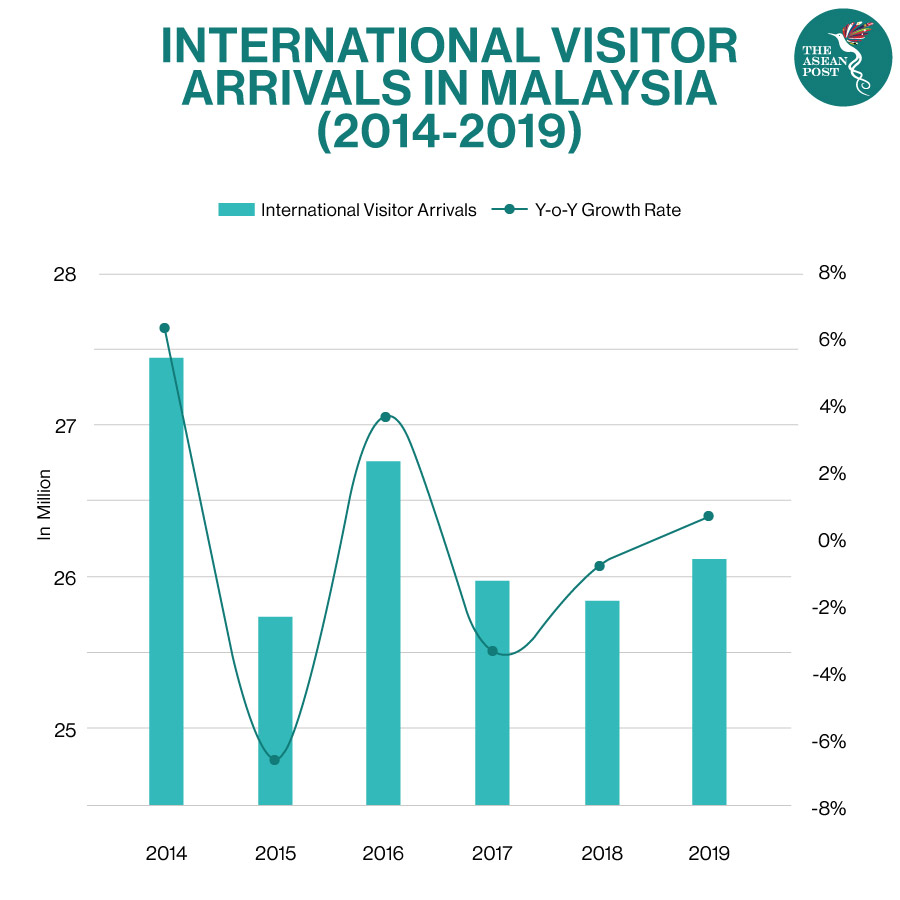 2020 was supposed to be a big year for Malaysia's tourism industry. The Southeast Asian country had major plans for its 'Visit Malaysia 2020' campaign. According to Tourism Malaysia, the country greeted more than 26 million international visitors last year and was expecting some 30 million tourists this year, projecting tourism-related revenue to hit US$21.5 billion. Unfortunately, the COVID-19 pandemic has severely affected the sector among other industries. Paired with the country's partial lockdown as a preventive measure to contain the virus, known locally as the Movement Control Order (MCO) – travel-related services are struggling to survive. 
News of shuttered hotels in Malaysia amid the crisis have headlined local media. From budget hotels to five-star hotels – many have ceased operations citing the COVID-19 crisis as the main reason. This has resulted in huge job losses in the industry. 
CEO of the Malaysian Association of Hotels (MAH) Yap Lip Seng told local media that the country will see up to 30 percent of hotels closing down either temporarily or permanently, with many of them to be up for sale. Yap also said that some hotel operators have indicated that they would remain closed till the end of 2020, while some said they would only resume operations after a COVID-19 vaccine is made available.
Although the hotel business is listed as an 'essential service' and allowed to operate during the country's MCO, there are restrictions imposed on hotels, including receiving new and domestic guests. Other than that, as there "aren't any international guests arriving", it is difficult for "hoteliers to keep their workers gainfully employed," said Jason Chong, CEO and co-founder of hospitality investment firm, Cornerstone Partners Group (CPG) to the media.
Theme Park Capital Of Southeast Asia
Another business that has taken a brutal beating in the light of the pandemic in Malaysia is amusement centres. 
Malaysia has become somewhat of a theme park capital in Southeast Asia in recent years, with over 20 amusement centres and water parks operated in the country. Some of the popular ones include Sunway Lagoon located on the outskirts of capital city, Kuala Lumpur, Lost World of Tambun in the northwest state of Perak and LegoLand in the southern state of Johor.
However, Malaysian Association of Amusement Theme Park and Family Attractions (MAATFA) president Richard Koh told the media that visitors in January dropped 38 percent, and that in the first 20 days of February, it plunged by 80 percent. He believes it will take between six and nine months for all categories of attractions to recover.
For Malaysia's famous Genting Highlands – a destination typically associated with leisure and hospitality activities – it has been described as "like a ghost town" amid the pandemic, by a motor mechanic who has gone up to the hilltop casino-resort a few times since the MCO was imposed. It was reported that Genting Highlands which also serves as headquarters for the Genting Group with theme parks and Malaysia's only casino, has been shut since mid-March. 
According to local media, Genting Malaysia reported a net loss of RM417.95 million (US$97.9 million) in the first quarter ended 31 March, compared to a net profit of RM268.28 million (US$62.8 million) for the corresponding quarter in 2019. 
The country's 'Visit Malaysia 2020' campaign was unfortunately cancelled in March due to the devastating impact of the COVID-19 outbreak on the local and international tourism sectors. The tourism industry in Malaysia is expected to gradually recover at the end of the year and perhaps stabilise by June 2021.
Related articles:
Coronavirus Slams Global Airlines