Local media recently quoted PricewaterhouseCoopers (PwC) Malaysia managing partner Sridharan Nair as saying that millennials (those born in the 1980s and 1990s) will make up about 75 percent of the global workforce by 2025. The Department of Statistics stated that around 9.4 million young Malaysians make up about half of the country's workforce. Unfortunately, this poses a problem.
The problem stems from a lack of financial literacy among today's young Malaysians. Bank Negara's Credit Counselling and Debt Management Agency (AKPK) corporate communications head Mohamad Khalil Jamaldin told local media that 13.8 percent of the 289,936 participants in AKPK's debt management programme are aged between 20 and 30.
In a 2015 survey by the Asian Institute of Finance (AIF) of more than 1,000 young professionals aged 20 to 33, it was found that many of them rely on high cost borrowings with 38 percent having personal loans and 47 percent having credit card debt. The findings were published in a report titled "Bridging the Knowledge Gap of Malaysia's Millennials".
In that report, AIF chief executive officer Raymond Madden and its director of strategy, policy development and research, Wan Nursofiza Wan Azmi noted that the problem lies mainly with the tendency for impulse buying or the "buy-now-pay-later" attitude of the young.They noted that while millennials are pragmatic, highly optimistic and well-educated, they do not understand the concept of short-term sacrifice for long-term gain.
This lack of financial literacy among millennials is not unique to Malaysia. According to a 2017 report by the Global Financial Literacy Excellence Centre (GFLEC) titled "Millennials and Financial Literacy: A Global Perspective", just 33 percent of adults worldwide are financially literate. 
"In other words, roughly 3.5 billion adults globally, most of them in developing economies, lack an understanding of basic financial concepts," the report noted.
The study involved 15 to 34-year-olds from 143 countries around the world, eight of which are ASEAN member countries. Across these eight countries, Singapore had the highest percentage of financially literate millennials and, even then, it was only at 66 percent. Cambodia had the lowest at 18 percent, while only 36 percent of Malaysian millennials were found to be financially literate.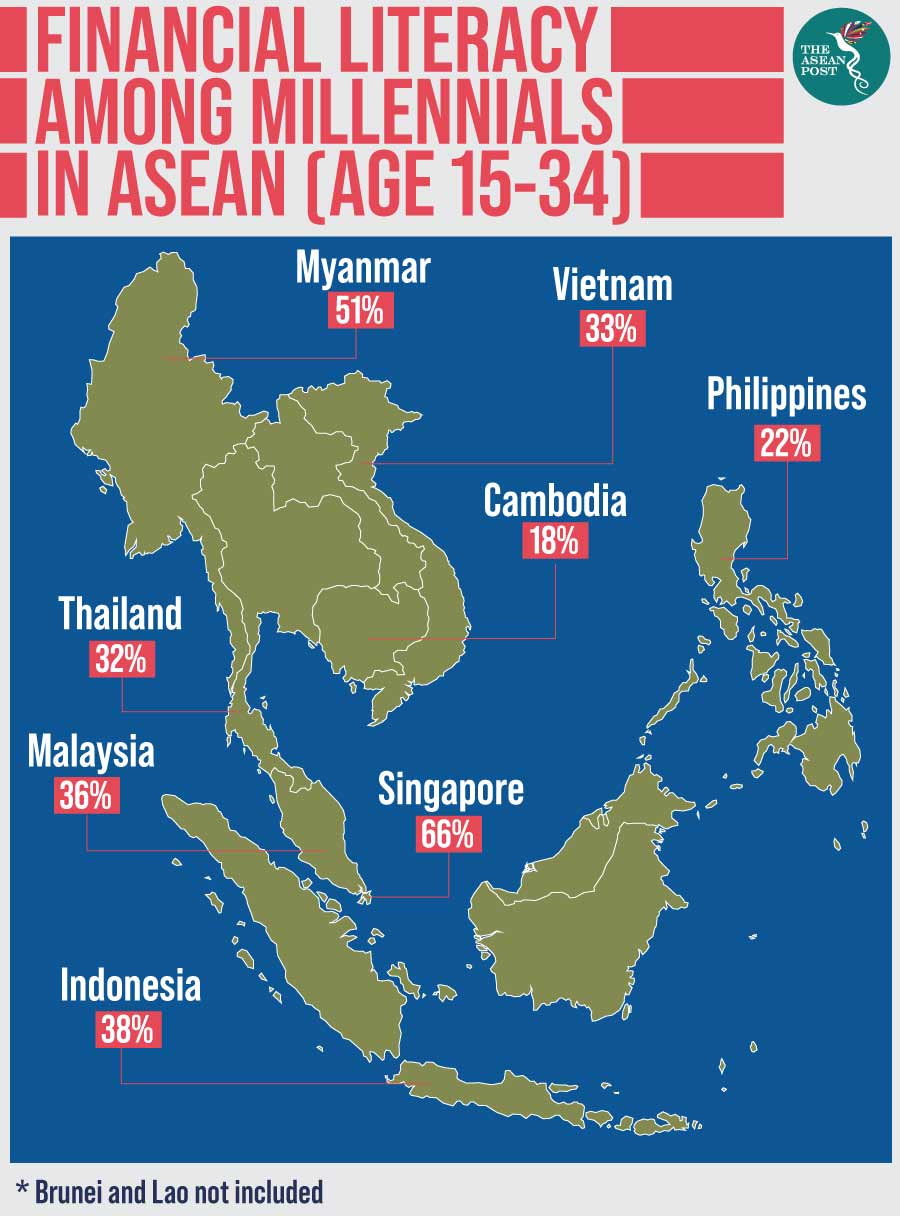 Source: Global Finance Literacy Excellence Centre
A generation in debt
In Malaysia, its millennials' lack of financial literacy has caused a big problem that only seems to be growing over time. The country's National Higher Education Fund Corporation (PTPTN) owes RM40 billion (US$9.5 billion) in debt guaranteed by the government and this is expected to balloon to RM55 billion (US$13.1 billion) in 10 years and RM76 billion (US$18.1 billion) in 20 years.
According to available data, PTPTN's repayment of the principal alone ranges between RM3 billion (US$715 million) and RM6 billion (US$1.4 billion) a year, depending on the loan repayment tenure. Interest payments alone exceed RM1.7 billion (US$405 million) a year which has been completely borne by the government as it has borrowed funds from the capital market to ensure that students have access to knowledge and skills. As of April 2019, the government had spent RM13.7 billion (US$3.2 billion) to pay interest charges on PTPTN's loans.
PTPTN hands out loans to students to pay for their studies. However, it is estimated that 616,000 defaulters or 51 percent of the borrowers in question have a total outstanding debt of RM3.5 billion (US$834 million). According to PTPTN, of the defaulters, 356,000 have not even paid a single cent which comes to a total of RM2.8 billion (US$667 million).
In all fairness, factors such as employability, job availability and wages have set a lot of students back on their PTPTN loans. However, despite the country's new government having taken this into consideration, the money has not been coming in from most defaulters. This has led those in charge of ensuring the money is paid back to believe that there are many of those who are able to at least, begin paying back their loans but have chosen not to do so. 
Could the lack of financial literacy be the reason why so many millennials - who have found work and are earning enough to begin paying back their loans – are still failing to do so? If so, then what does a lack of financial literacy mean for Malaysia's economic future, and who bears the responsibility for the youth's lack of financial literacy?
Related articles:
Who speaks for the youth of Malaysia?