While Malaysia may have not performed the worst in ASEAN in the Save the Children's Global Childhood Report 2019, child abuse cases are still high in the country. 
In fact, this was also the assertion of the country's Deputy Women, Family and Community Development Minister Hannah Yeoh who, in 2019, claimed that the number of child abuse and neglect cases in the country was still high. 
A year ago, Malaysian police detained three family members for allegedly abusing two children at a house in the residential area of Pusat Bandar Puchong in the district of Serdang in the state of Selangor. According to the Serdang district police chief, Assistant Commissioner of Police (ACP) Ismadi Borhan, the three suspects were a gas delivery man, aged 33, his wife, aged 30, and their 13-year-old daughter. The victims were aged seven and eight.
"There are signs of abuse almost at every part of the victims' bodies and they are believed to have suffered from malnutrition," he said in a statement, adding that both children were taken to the Serdang Hospital for treatment.
Ismadi said that while searching the house police found a baton, a silver fork and a rubber hose, believed to have been used to torture the victims.
Infamous cases
Child abuse is nothing new in Malaysia. Over the years there have certainly been many children who have faced abuse and even death. The atrocities committed by British sex offender Richard William Huckle is still fresh in the minds of many. But there have been other infamous child abuse cases that have shaken the country. 
In 2004, 11-year-old Nurul Huda Abdul Ghani went missing and was later found naked in the bathroom stall of a power station. According to investigations, Nurul had been raped, sodomised and strangled by three men.
Later in 2007, eight-year-old Nurin Jazlin Jazimin also went missing. Police later found a dead girl's body stuffed into a bag. An autopsy revealed that a cucumber and an eggplant had been inserted into her private parts. DNA tests revealed that the body was Nurin's.
In 2013, four-year-old Nurul Nadirah Abdullah was reported missing. Not long after, police found pieces of charred human bones at a palm oil plantation. DNA tests confirmed it was Nadirah and investigations revealed that the victim was strangled to death before she was thrown into a hole and burned.
In 2019, 11-year-old Siti Masitah was found dead near her home in the state of Pahang. Her head was severed and her internal organs had been removed. Her hands and feet were also bound. Police believe that wild animals were responsible for the missing organs.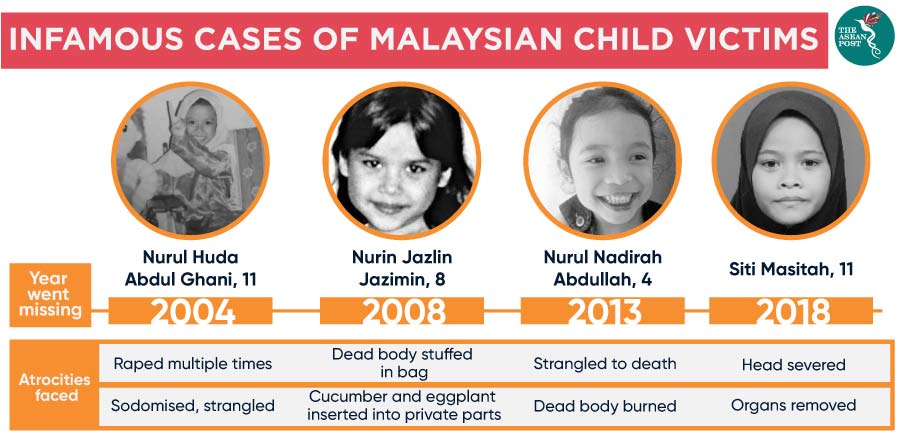 Why the children?
In December 2018, E Saroja, head of the Child Investigation Unit, Sexual, Women and Child Investigation Division (D11) at the Criminal Investigation Department located at the Royal Malaysian Police's headquarters at Bukit Aman in Kuala Lumpur said that hot tempers, irritability and uncontrollable emotions are among the causes of child abuse cases involving childcare providers.
This, he said, was the result of initial investigations into abuse cases resulting in the death of children, other than due to the negligence of the care providers.
Yeoh said overuse of the internet compounds the challenges. She said that cyberbullying, internet addiction, cybercrime and social media influence have become new threats to the family institution.
According to Irene Guat-Sim Cheah from the Department of Paediatrics, Kuala Lumpur Hospital, and Choo Wan Yuen 1, 2 Julius Centre University Malaya and the Department of Social and Preventive Medicine, University Malaya, Kuala Lumpur noted that early hospital-based studies indicate that low socioeconomic status, family disharmony or disruption, and divorced or separated parents, personality disorders and parental substance abuse were often associated with child physical abuse.
The fact of the matter is that child abuse in Malaysia occurs for a multitude of reasons. Many experts have given their own opinions on what some of these reasons are and what can be done to address the issue. What is most important is that Malaysia continues acting against crimes committed against children with a special focus on prevention so the country can save the next Nurul Huda, Nurin, Nurul Nadirah or Siti Masitah before their names are added to a growing list of victims in Malaysia's dark history of child abuse.
Related articles:
Worst place in ASEAN for children