The United Nations (UN) has projected that the coronavirus crisis could push a further 34 million people into extreme poverty by the end of the year and an additional 130 million more by 2030. The deadly virus is not just a threat to one's health, but has also devastated livelihoods across the globe. 
Businesses, industries and the economy in general have been severely affected by the pandemic. A report by the World Bank stated that economic growth in the East Asia and Pacific will stall and ASEAN member states Indonesia, Malaysia, the Philippines and Thailand will all see negative growth. 
Millions of those in the region have experienced retrenchment, wage cuts, and a sudden loss of income amid the COVID-19 crisis. This has caused some desperate families who have been plunged into poverty overnight due to the virus to push their young daughters into marriage. 
Non-governmental organisation (NGO) Girls Not Brides has warned that unless urgent action is taken to tackle the economic and social impact of the pandemic – an additional 13 million child marriages will take place in the next decade.
"There has been an increase in child marriages during this lockdown period. There is rampant unemployment, job loss. Families are barely able to make ends meet, so they think it's best to get their young daughters married off," said activist Rolee Singh who runs India's '1 Step 2 Stop Child Marriage' campaign.
Another NGO, Save the Children noted that the risk of forced unions and violence against girls, especially among minors, "could become more of a threat than the virus itself."
Child marriage has long been practised as part of the local tradition in communities in Southeast Asian countries such as Vietnam and Indonesia. In fact, according to United Nations Children's Fund (UNICEF), the archipelagic nation of Indonesia has the eighth highest absolute number of child brides in the world. 
Save the Children noted that 14 percent of girls in Indonesia are married before the age of 18. 
Laras Susanti, a researcher at the Center for Law, Gender and Society and a lecturer in the Faculty of Law at Gadjah Mada University in Indonesia wrote that by June 2020, around 24,000 applications for permission to marry underage had been lodged with district and religious courts in the country. 
In her article titled, 'Child marriage surges amid COVID-19 and growing conservatism,' she explained that the number of said applications is more than two and a half times the total number for the whole of 2012.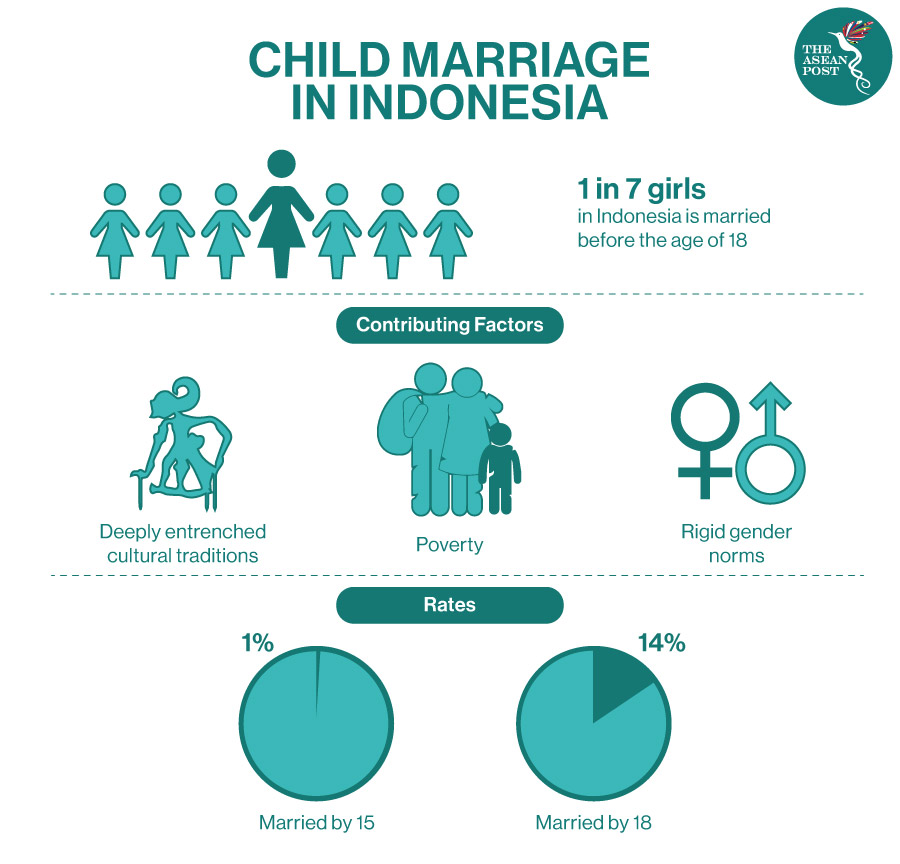 Just last year, the populous ASEAN member state raised the legal age for wedlock from 16 to 19 for both sexes in order to tackle the decades old problem. However, there are loopholes as local religious courts can approve underage unions. Media reports stated that Indonesia's Islamic authorities permitted more than 33,000 child marriages between January and June this year. 
Among the many factors that drive child marriage in Indonesia include poverty, a lack of education, religious convictions, and the stigmatisation of sexuality outside marriage, explained Susanti. 
"For poor families, having their daughters married is a solution to reduce their economic burden. Sadly, the parents sometimes don't really care about who the grooms are," said activist Tata Sudrajat from Save the Children Indonesia.
Dreams On Hold
Lia (not her real name), an 18-year-old Indonesian girl has already been married twice. She told local media that her first marriage was forced on her after she was seen alone with a man – 30 years older than she is. Being alone with the opposite sex who is not a relative is a taboo in the conservative region of West Sulawesi where she lives. 
She managed to escape her first union and is now pregnant and married to her new husband, Randi. Once again, Lia had to put her dreams of a career on hold.
"I used to dream of becoming a flight attendant," she admitted to reporters.
"But she failed and ended up in the kitchen," interrupted Randi.
UNICEF predicts that the increase in poverty in the archipelago due to COVID-19 will affect children's physical and mental development, contributing to a surge in child wasting and child poverty, among others. 
Susanti writes in her article that the pandemic will increase the risk of 9.7 million children dropping out of school. Economic decline, paired with the lack of formal education, could drive parents to force their children to marry young, especially girls, she explained.
"When a girl completes her elementary school and doesn't advance her education because maybe there are no junior high schools in her village – she would end up being married to a man," said Sudrajat.
Eradicating The Practice
The government of Indonesia has made a number of efforts in its bid to end child marriage in the country. For instance, the amendment to the Marriage Law in 2019. The reduction of child marriage is also one of the targets set in the National Mid-term Development Plan (RPJMN) 2020 – 2024. In the plan, Indonesia has pledged to decrease child marriage prevalence from 11.2 percent in 2018 to 8.74 percent by 2024. They are also targeting to reduce it to 6.94 percent by 2030 in its efforts to contribute to the Sustainable Development Goals (SDGs).
Other than that, in Indonesia's response to the pandemic, efforts for economic recovery must include assistance to prevent more families from falling into poverty, as recommended by Susanti. In addition, Indonesia will also have to ensure children's rights to formal education be fulfilled. More must also be done to provide adequate sexual and reproductive health education in schools and communities.
Related Articles:
Child Marriages: A Spill Over Effect