Everywhere around the world, nations are gearing up for peaceful rallies and activities in conjunction with International Women's Day (IWD) this Sunday, 8 March. The campaign theme for this year's IWD is #EachforEqual. According to the World Economic Forum (WEF), the core message of the theme is to have "an equal world in an enabled world". It seeks to draw attention to the idea that gender inequality is not a women's issue, but an economic one – as gender equality is essential for all economies and communities to thrive.
IWD 2020 compiled a few missions to help build a gender equal world. Some of the missions include; to champion women forging through technology, to celebrate women athletes and applaud when there is equality in pay, sponsorship and visibility, and to champion women of all backgrounds who dare to innovate, lead and uplift others towards a more equal and inclusive workplace. So, how is ASEAN progressing in striving towards these missions?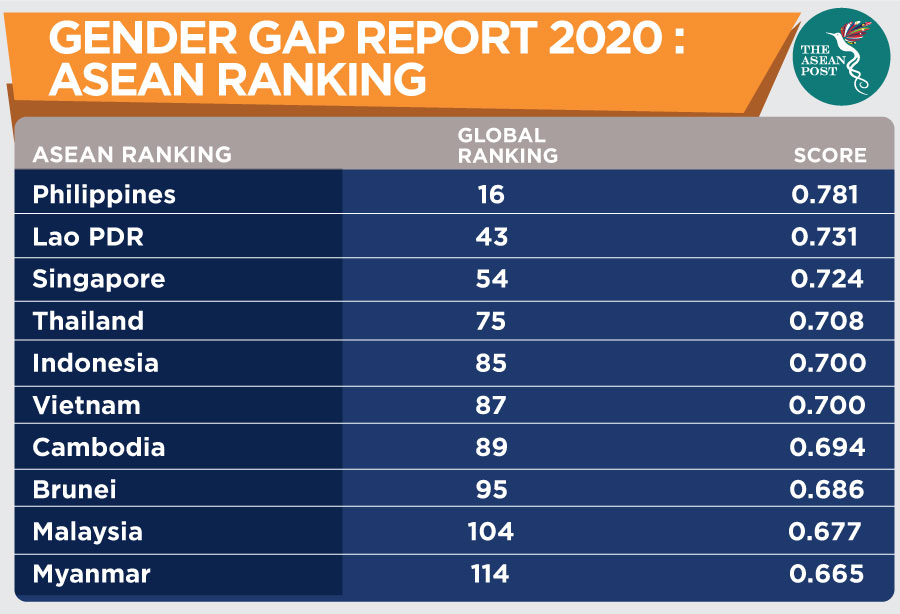 Women and tech 
One of IWD 2020's missions is to champion women who are forging tech innovation. The tech industry is typically dominated by men. In 2015, women comprised of only 25 percent of people working in computing, with Asian women making up a mere five percent of the number, according to the WEF. According to media reports, in 2017, a total of US$85 billion in venture capital was invested in start-ups, but only two percent of that amount was invested in companies founded or run by women. 
Till today, women are still considered as riskier investments as they are viewed as not having the grit that the tech and entrepreneurship sector demands. 
Nevertheless, in recent years, there's been a number of women in the tech industry making headlines in Southeast Asia. Some of the notable ones are Tan Hooi Ling, Co-Founder of Grab, a ride-hailing platform, and Christina Suriadjaja, Co-Founder of Travelio, an Indonesia-based online short to medium term home rental operator. Grab which is worth US$14 billion today operates in eight countries in Southeast Asia. Whereas Christina Suriadjaja was named as one of Forbes' 30 Under 30 in 2017.
Women and sports
Sport is one of the great drivers of gender equality and an important enabler towards achieving the United Nation's (UN) Sustainable Development Goals (SDGs). Yet, when it comes to equality, are women equally represented in ASEAN's sports scene? 
A Thai official Supitr Samahito was reported to be "very happy" to see the percentage of female athletes in delegations at the 30th Southeast Asian (SEA) Games last year. "We have 49 percent females in the Thai team and the average for all teams is between 43 and 45 per cent," Samahito told the media. The women athletes were also applauded for their level of performances in Olympic sports such as taekwondo and volleyball and in more regional sports like pencak silat. 
In Malaysia, female athletes such as squash legend Nicol David, and Farah Ann Abdul Hadi, an artistic gymnast have been making the nation proud with their achievements. 'Phoenix', a Malaysian female-wrestler has also been breaking stereotypes in the country. Putting aside her hijab, she takes on hulking opponents while standing at a mere 155 centimetres and weighing just 43 kilograms, with just her skills, speed and agility. She fights professionally for the Malaysia Pro Wrestling (MyPW) organisation which has the same standing as the United States' (US) World Wrestling Entertainment (WWE).
Nevertheless, women are still discriminated when it comes to competing in sports. "It's a tough situation that a lot of girls face because they're worried about being seen as a tomboy," stated Nicol David. Although the 2019 SEA Games was hailed for its number of female athletes, controversies still occurred when a female Indonesian gymnast was reportedly dropped from the Games for not being a virgin. 
Inclusive workplaces for women
The lack of gender diversification in the workplace is still a visible issue in both, local and international organisations in Southeast Asia. 
Even in Singapore, a developed market, women remain foiled when it comes to their advancement in corporate and political sectors. Women in managerial positions are expected to uphold a more compliant attitude; which is not expected of men in return. As a result, they also receive less monetary reward for their efforts, whereby on average they earn 10 percent less than men for the same job across most industries.
In Malaysia, the female workforce participation rate is still low when compared to the rest of the region. Other ASEAN members states such as Cambodia, Vietnam and Singapore reported participation rates of more than 60 percent in 2018. But the Department of Statistics in Malaysia disclosed that as of the first quarter of 2019, the female participation rate was only 55.8 percent. One of the many reasons for the lack of women in the labour force is discrimination towards pregnant women. It was reported that 40 percent of women in the workforce have experienced pregnancy discrimination.
According to the UN, IWD is a day to reflect on progress made and to call for change. Although a number of notable achievements have been made around the world so far, still - no country has achieved gender equality. Will ASEAN accomplish the dream by 2030 as pledged in the SDGs?
Related articles:
The immense potential of ASEAN's women