A recent index by Kisi, a cloud-based security developer titled, "Cities With the Best Work-Life Balance 2020," ranks cities from around the world which offer the best work-life balance to their people by comparing data on work intensity, legislation and liveability.
The index assesses each city's overall work-life score based on measures such as the amount of time a person dedicates to their job including total working hours, percentage of the overworked population, commuting times and vacation time.
According to Kisi, the city of Oslo in Norway offers the best work-life balance, followed by Helsinki in Finland and Danish capital, Copenhagen. Whereas at the bottom of the ranking are cities such as Seoul, Milan, Budapest and Kuala Lumpur, capital of ASEAN member state Malaysia.
Ironically, the top overworked cities in the ranking are all found in the Asia-Pacific region with Hong Kong coming in first place, followed by Singapore, Seoul, Kuala Lumpur and Tokyo.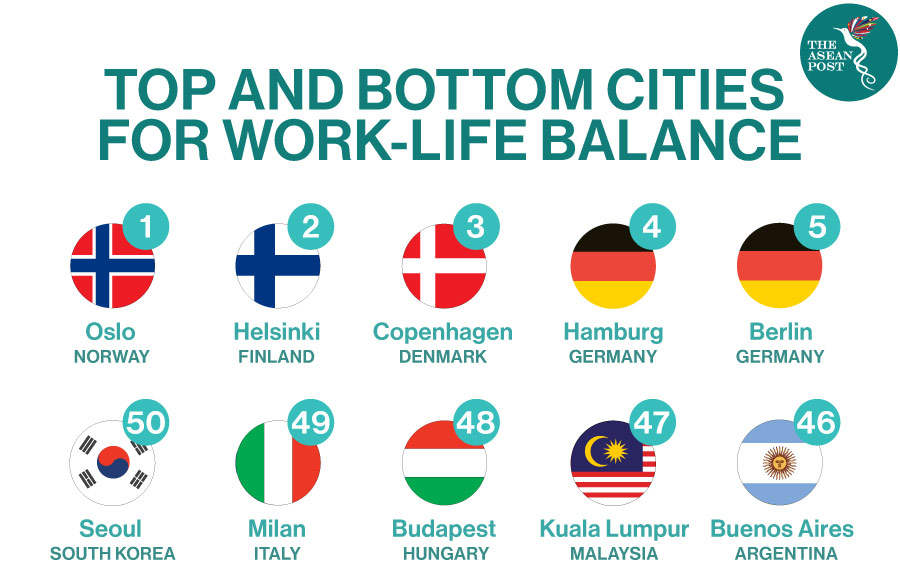 ASEAN
Kuala Lumpur, Bangkok and Singapore sit in the bottom 10 of the 2020 Work-Life Balance Index, placing at number 47, 43 and 41 respectively, out of 50 cities.
It wasn't entirely surprising for many that Kuala Lumpur is ranked one of the most overworked cities based on Kisi's index this year as it ranked last in the 2019 index – 40th out of 40 cities. However, Kisi added 10 more cities to their survey this year with Malaysia's capital still ranking rather low, at 47 on the list of 50 cities, for work-life balance.
Likewise, it wasn't a surprise either for Singapore to be one of the most overworked cities this year as it came in 32nd among 40 countries in 2019 – still in the bottom 10. According to a 2019 survey by health services company Cigna, Singaporeans are among the most stressed at work globally.
People in Kuala Lumpur also have the longest work hours and spend the most time commuting to work, followed by Singapore and Bangkok. 
"This index is not designed to be a city liveability index, nor is it intended to highlight the best cities to work in; instead, it is an indicator of a city's ability to provide a healthy work-life balance for its residents, while providing opportunities to relieve work-related stress," stated Kisi.
Mental Health
There have been a number of studies carried out on the correlation between longer working hours and mental health issues. Mental illnesses such as clinical depression, generalised anxiety disorder and post-traumatic stress disorder are on the rise due to increasing stress levels at work.
A 2019 AIA Vitality survey revealed that workers in Malaysia are often overworked and sleep deprived, with 51 percent suffering from at least one dimension of work-related stress. In addition, 53 percent of those surveyed had less than seven hours of sleep in a 24-hour period. It was also reported that Malaysia had experienced a three-fold increase in mental health problems over the past two decades. 
Many employees who work from home amid the pandemic struggle to draw the line between work and life at home.
"Some of my clients find themselves working more than 50 hours a week, which exceeds the 48-hour cap of the Ministry of Manpower's Employment Act. They also work with little to no interaction with other people," said Jeanette Lim, a psychologist at Singapore's Institute of Mental Health.
Other than mental health problems, overworking and isolation which cause increased stress, could also fuel physical problems such as musculoskeletal and metabolic issues, she added.
"While remote working has a lot of benefits in terms of more flexibility and less commuting time, there is also a very real danger that employees slip into an unhealthy balance between 'working' and 'home' hours without the physical boundaries of the working environment," said Bernhard Mehl, CEO and co-founder of Kisi. 
"We wanted to bring attention to the issue of overworking in this work-life balance study once again because it's something that while always a threat to people's mental and physical well-being, seems more pressing than ever before."
Related Articles: