Early this year, it was revealed that Thailand had set a new record for tourist arrivals, welcoming as many as 38.2 million tourists in 2018. For 2019, the government there hopes to bring in as many as 41 million tourists to the Land of Smiles. One sector that can help it achieve that goal is halal (permissible by Islam) tourism.
A recent annual survey by Mastercard and CrescentRating found that Thailand is one of the top holiday destinations for Muslims. It found that an estimated 3.6 to 3.7 million Muslims visited Thailand last year, accounting for nearly 10 percent of total international arrivals.
According to the Global Muslim Travel Index (GMTI) 2019, Thailand ranked second among the top 10 preferred destinations for Muslim travel among countries outside of the Organisation of Islamic Cooperation (OIC) with a score of 57, behind Singapore with 65. Thailand also ranked 18 out of 130 destinations for Muslims worldwide.
This could be big for Thailand where a significant portion of the gross domestic product (GDP) comes from tourism. According to the Tourism and Sports Ministry, tourism contributed 17.7 percent to Thailand's GDP in 2016 and 16.7 percent in 2015. Meanwhile, in a report that came out in January, the ministry stated that foreign tourist receipts directly account for about 12 percent of Thailand's GDP.
The GMTI report uses criteria from the CrescentRating ACES model to consider four key measurements: services, environment, communications and access to evaluating each destination.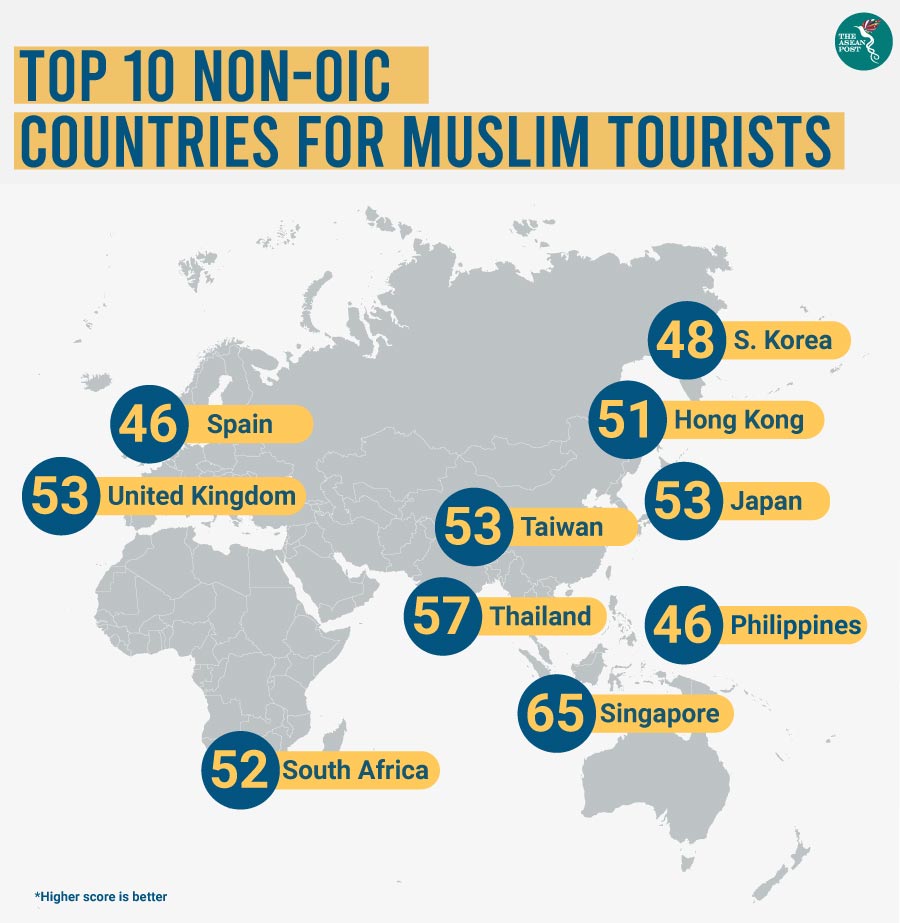 Source: Mastercard and CrescentRating
Considering the significant contribution of tourism and the fact that inviting more Muslim tourists seems to be a viable option for Thailand, the country would do well to pay attention to halal tourism. According to the GMTI, the Muslim travel market is expected to be worth US$220 billion by 2020 with 160 million tourists, rising 36 percent to US$300 billion with 230 million travellers in 2026.
Moreover, statistics from the Pew Research Centre found that the number of Muslims around the world is expected to grow steadily to 24.9 percent in 2020, 26.5 percent in 2030, 28.1 percent in 2040, and 29.7 percent in 2050, placing it as the second largest growing religion in the world after Christianity. The centre also expects Muslims to outnumber Hindus in the Asia Pacific region by 2030, making Muslims the largest religious group in the region. 
The Thai government has been listening to the market. Following the fact that many Muslims have been visiting Thailand, the Tourism and Sports Ministry there has launched a project to develop halal tourism and services.
A source in the department, when speaking to local media, revealed that the ministry has hired Sasin Graduate Institute of Business Administration at Chulalongkorn University. Part of its responsibilities include in-depth research on the demands of Muslim travellers and their behaviour in order to design tourism products and services to fit their needs and meet halal criteria.
The idea is to introduce at least four travel routes and use them as pilots to develop other halal destinations. A handy travel guidebook for the routes, containing other tourism destinations, hotels, restaurants, mosques and products from Muslim communities, would be produced, the source said.
Sasin is set to hold halal tourism training courses for tourism operators and related government and private agencies for some 700 participants nationwide. The department expects the project to be completed by mid-September.
Looming threat
A threat to the government's aspirations for halal tourism is the fact that there is a small number of intolerant Buddhists in the country. While the group is small, it has been gaining traction in the media and this may put some Muslim tourists off.
Prior to elections in Thailand this year, a political party known as Pandin Dharma Party (Land of Buddhist Teaching) emerged with the message that "Buddhism is under threat". While the party does not directly attack Islam and rejects the accusation of being anti-Muslim, it does accuse secular authorities of harassing Buddhist monks and of caring more about Thailand's tiny Muslim minority than the religion followed by more than 90 percent of Thais.
"Monks have been dealt with heavy-handedly by the state," complained former monk Korn Medee, 47, leader of the party. "The government has overtly favoured the other religion over Buddhism," he told international media.
The fear is that this kind of rhetoric will breed intolerance between Muslims and Buddhists in Thailand. The country is already facing an insurgency in the deep south which (although the conflict does not have its roots in religion) involves mostly Muslim areas in Thailand.
Still, the outlook for halal tourism in Thailand seems to be good and there is little religious intolerance in the country. Thailand, however, must ensure that it stays this way if it is indeed serious about bringing in more Muslim tourists in the coming years.
Related articles:
Thailand's Chinese tourist dilemma