Myanmar and Lao PDR look to be the biggest winners of an ASEAN plan to boost connectivity with a series of infrastructure projects.
The regional bloc unveiled a list of 19 projects in the Initial Rolling Priority Pipeline of Potential ASEAN Infrastructure Projects (Initial Pipeline) on Monday, one of the initiatives under the Master Plan on ASEAN Connectivity 2025.
The 19 projects in seven countries cover transport, energy, and information and communication technology, sectors which will contribute to improving the movement of people, services, goods and innovations among ASEAN member states. According to the ASEAN Secretariat, these projects made it onto the list after satisfying a set of screening criteria and are expected – if certain pre-conditions are met – to attract robust investment.
Of the 19 projects, five are in Myanmar and four in Lao PDR. Indonesia and Thailand have three projects each, Vietnam has two and Brunei and Cambodia each have one.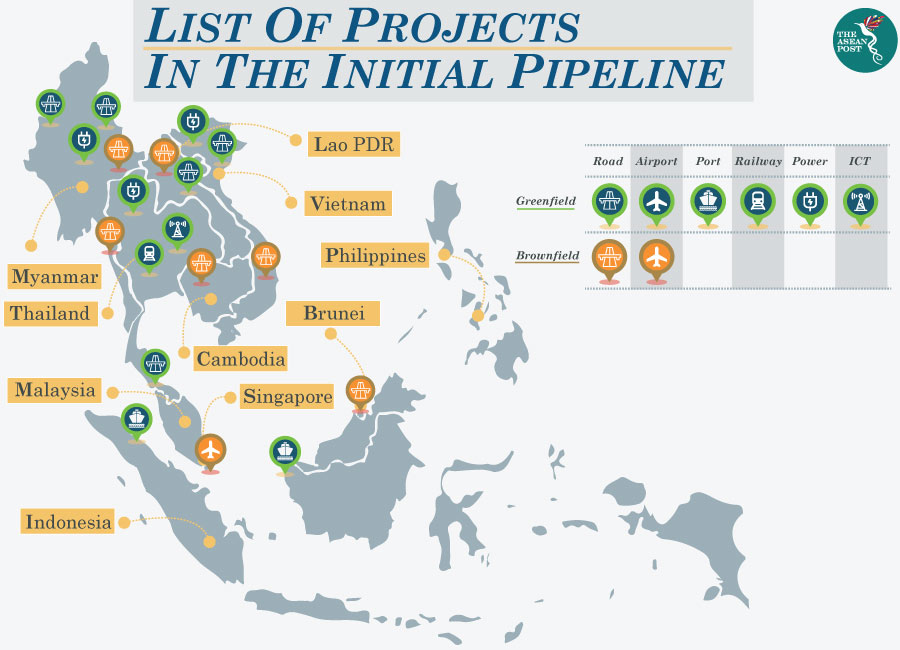 Source: ASEAN Secretariat
Lao PDR hydropower
Two of the Lao PDR projects are new power transmission lines to Vietnam and Myanmar while the other two are upgrades to its road network – specifically, National Road No.2W and National Road No.8, both of which are part of the Asian Highway Network which provides the backbone of road links to neighbouring countries and within the land-locked country.
Lao PDR has recorded impressive economic expansion since the turn of the century, and its average gross domestic product (GDP) growth rate from 2000-2016 was 7.8 percent – the highest among ASEAN states during that period.
This rapid growth has come with an increase in energy demand, and the hydropower which the country generates is now being sold to its neighbours.
Earlier this year, the director of Lao PDR's Energy Management Department announced the country's plans to become the centre of the region's electricity transmission system by 2025 and aims to export 9,000 megawatts (MW) of electricity to Thailand, 5,000 MW to Vietnam, 500 MW to Myanmar, 200 MW to Cambodia and to distribute 100 MW to Malaysia within the next six years. 
Lao PDR currently has 61 hydropower plants and expects another 36 to be completed by the end of next year – giving the country nearly 100 hydropower plants in total.
Myanmar roads
Of the five projects in Myanmar, two are new road developments, two are upgrades to roads and the other is a power transmission line from Lao PDR.
The two new highways, Mandalay-Tigyaing-Muse and Kyaukpyu-Naypyidaw, are especially critical.
As the British Chamber of Commerce Myanmar noted in a research note on Myanmar's general transport infrastructure in April 2017, only 26 percent of the country's 151,298 kilometres (km) of roads are paved – and the current network is insufficient to service a country of 676,578 square km, the largest in mainland Southeast Asia.
The Asian Development Bank (ADB) estimates that Myanmar needs to increase its road network from 157,000 km to about 260,000 km just to connect all its villages, and with investment in Myanmar transportation only around one to 1.5 percent of GDP between 2005 and 2015, funding is clearly lacking. The ADB predicts the country will need US$60 billion in transport infrastructure investment for 2016-2030.
Financing
As expected, China will play an important role in these projects.
In March 2018, Myanmar's Department of Highways and China Harbour Engineering Co signed a memorandum of understanding (MoU) to conduct feasibility studies for the construction of the two new highways.
Concerns about returns on investment, the fiscal capacity of ASEAN member states – who have to balance these long-term infrastructure projects with immediate priorities such as education, healthcare and social services – and the availability of capital from other sources such as foreign governments, the private sector and bond markets will be key issues for the Initial Pipeline moving forward.
Many of the 19 projects are in the early stages of development, but as the ASEAN Secretariat notes, further studies will be key in determining their underlying economic robustness and identifying the risks before a decision is taken to implement them later this year.
Related articles:
China firms up ties with Myanmar