It has been three weeks now since Myanmar's military seized power in the country via a military coup. Civilian leader, Aung San Suu Kyi, and other leaders of her National League for Democracy (NLD) party have since been detained, including President U Win Myint. The 1 February putsch thus ends Myanmar's decade-long experiment with democracy after nearly half a century under military rule.
Massive anti-coup demonstrations have been carried out across the ASEAN member state, calling for an end to the military coup and the release of Suu Kyi and others. Unfortunately, a number of protesters have been wounded and some have even died during these peaceful rallies as a result of blatant police brutality. 
According to media reports, at least four protesters have been killed so far and around 30 people were injured last weekend as police fired on protestors in the cities of Mandalay and Yangon. 
The junta also warned on Sunday that it was prepared to use lethal force to crush what it branded as "anarchy." Nevertheless, despite the deadly threat, tens of thousands of protesters are still bravely rallying until today.
International Backlash
The military coup and police violence in Myanmar have been met with criticism from international organisations and many countries. Antonio Guterres, Chief of the United Nations (UN) condemned the Tatmadaw's "brutal force" and urged an end to the repression.
The European Union (EU) has also agreed to sanction the Tatmadaw and to withhold some development aid. Countries such as the United States (US), Britain, and Canada have also imposed sanctions against the junta. 
Just yesterday, Britain slapped further sanctions on Myanmar's generals for "overseeing human rights violations." The former colonial power announced sanctions on six generals, including Army Chief Min Aung Hlaing. This is to send "a clear message... that those responsible for human rights violations will be held to account," said Dominic Raab, Britain's Foreign Secretary. 
The move comes after London imposed sanctions on three generals last week and said it would work to ensure British businesses were not trading with military-owned companies.
But, what about Myanmar's closest neighbours in Southeast Asia? Since the coup d'état, international eyes have been on ASEAN and its member states to see what the bloc's response would be to the junta's unlawful actions.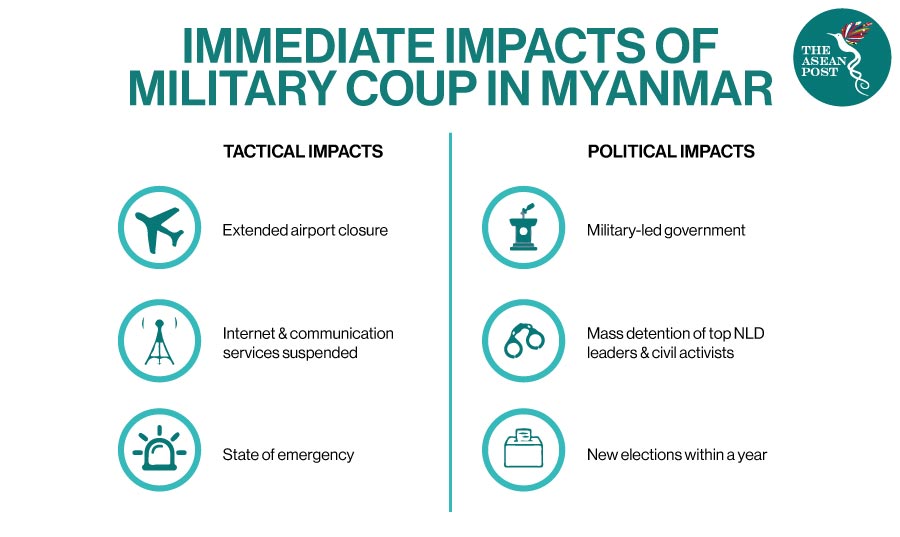 Three-Way Meeting
Wunna Maung Lwin, Myanmar's military-appointed Foreign Minister met his Indonesian and Thai counterparts in Bangkok on Wednesday, where they discussed ways to seek a peaceful solution to the political crisis in Myanmar. It was the first known face-to-face meeting between a senior junta member and foreign government officials.
After the brief, three-way tête-à-tête, the Thai Foreign Ministry said it insisted on supporting peace and stability in Myanmar.
"It was also a good opportunity for Thailand to directly listen to Myanmar about issues that Myanmar prioritises, as well as exchanging opinions on issues important to the people for both countries," said Tanee Sangrat, spokesperson for the Thai Foreign Ministry.
Retno Marsudi, Indonesia's Foreign Minister, in a virtual press conference, said she expressed concerns about the safety and welfare of Myanmar's citizens during the 20-minute meeting.
"The safety and wellbeing of the Myanmar people must be protected. Their wishes must be heard," she told reporters.
Nevertheless, activists criticised the Indonesian government on social media for talking with representatives of the junta, saying that doing so gives legitimacy to the military generals. Following the meeting, the Indonesian embassy in Yangon, Myanmar saw hundreds of protesters gather outside its doors, carrying signs reading "Stop negotiating with them" and "Indonesia, don't support dictator".
Marsudi later responded to the criticism, explaining that "to do nothing is not an option."
Meanwhile, Thailand's Prime Minister, Prayut Chan-o-cha, who engineered a successful coup himself in 2014, insisted that the meeting did not amount to an "endorsement" of the Myanmar junta.
ASEAN Stand
"ASEAN is still missing in action," said Charles Santiago, chairman of the ASEAN Parliamentarians for Human Rights (APHR).
"It is quite embarrassing that nearly a month since the coup, ASEAN Foreign Ministers have still not met to develop a coordinated response to a blatant violation of its Charter by the Myanmar military," he said in a statement.
Phil Robertson, Deputy Asia Director at Human Rights Watch (HRW), echoed Santiago's sentiment, saying that "right now, ASEAN doesn't have a centre or a way to coordinate and ensure that the organisation can speak with one voice. Because of that, we are looking at a situation where everyone is looking to ASEAN to solve the problem because they can talk to Myanmar, but ASEAN is at sea on this issue."
It was reported that immediately after Myanmar's coup early this month, Thailand, Vietnam, and the Philippines said that they would not interfere in Myanmar's affairs. This is in line with ASEAN's non-interference policy which is a core principle that restrains, restricts and discourages member states from meddling in each other's domestic matters.
However, the Philippines then changed its stance and joined fellow member states Singapore, Indonesia, and Malaysia in expressing concern about the crisis in Myanmar.
Despite initially expressing "serious concern" regarding the coup, Malaysia accepted an offer from the junta in Myanmar to send warships to repatriate detainees. 
Malaysia is currently facing heavy criticism after deporting more than 1,000 Myanmar detainees – migrants – back to conflict-torn Myanmar. This comes despite a Kuala Lumpur court ordering the deportation to be temporarily halted to allow a legal challenge.
ASEAN has previously been condemned for failing to effectively address Myanmar's Rohingya crisis. However, the bloc can do better on Myanmar this time. In an article written by Eric Paulsen, representative of Malaysia to the ASEAN Intergovernmental Commission on Human Rights (AICHR) - ASEAN must work together as a bloc to facilitate Myanmar's return to democracy.
"The limitations of ASEAN are well documented, with the principles of non-interference and consensus decision-making restricting its ability to act. But there are also elements of trust, understanding, and goodwill within the regional grouping, which the rest of the international community lacks when it comes to Myanmar. ASEAN has the advantage of being willing and able to directly engage with its member states when others cannot," wrote Paulsen.
Related Articles: