It was recently reported that Myanmar had conceded that it had committed "war crimes" against its Rohingya Muslim community. This is as far as Myanmar has ever gone in admitting responsibility for the atrocities committed against its Rohingya minority. Still, to some observers, this is not good enough.
On 20 January, a Myanmar-appointed panel concluded that some soldiers likely committed war crimes against the Rohingya but that the military, however, was not guilty of genocide. The "Independent Commission of Enquiry (ICOE)" released the results of its probe just ahead of a ruling by the United Nation's (UN) top court on whether to impose urgent measures to stop alleged ongoing genocide in Myanmar.
"There is insufficient evidence to argue, much less conclude, that the crimes committed were undertaken with the intent to destroy, in whole or in part, a national, ethnical (sic), racial or religious group."
The fact that the ICOE would not admit that Myanmar's military, also known as the Tatmadaw, were actively engaging in genocide as has been alleged, however, did not bode well with human rights groups.
"Myanmar's deeply flawed investigation into human rights abuses in Rakhine State is another attempt to whitewash the Tatmadaw's brutal violence against the Rohingya," spokesman Tun Khin from the Burmese Rohingya Organisation UK (BROUK) was reported as saying.
BROUK dismissed the findings as a "blatant public relations (PR) exercise" to deflect attention from the International Court of Justice's (ICJ) ruling.
Meanwhile, Phil Robertson from Human Rights Watch was quoted as saying that the report seems to scapegoat individual soldiers rather than place responsibility on the military command. He also called for the immediate release of the full report.
"The entire ICOE investigation, including its methodology and operations, has been far from transparent," he said.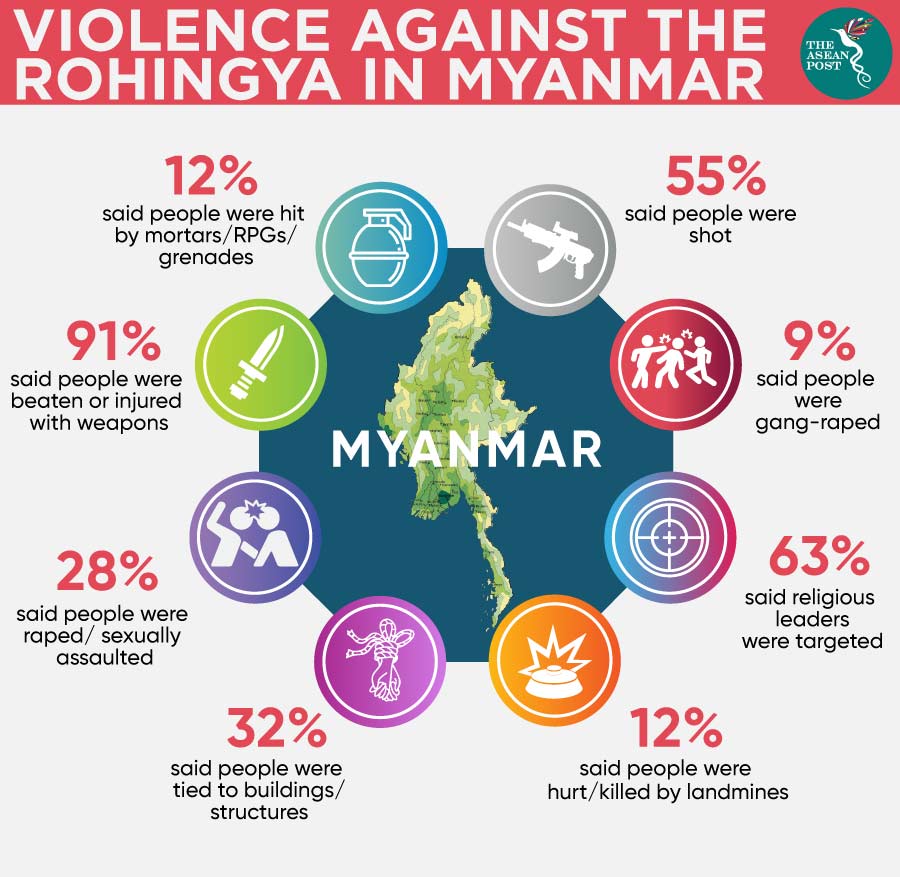 ASEAN must step in
While human rights defenders are dissatisfied with the proposal that what was being committed against the Rohingya were war crimes (and not systematic genocide) by "some security personnel" – including the "killing of innocent villagers and destruction of their homes" – the admission could perhaps be a first step towards ensuring the safety of the Rohingya population. This is provided that ASEAN is pressured enough to act effectively.
Thus far, ASEAN's approach towards the Rohingya issue has been to look at safe repatriation of Rohingya refugees in countries like Bangladesh. Human rights defenders, however, have accused ASEAN of putting the focus on the word "repatriation" as opposed to "safety".
However, now that Myanmar has finally admitted – on an international stage, no less – that there has been real violence committed against the Rohingya, ASEAN's inaction – or even lame action – in terms of ensuring (1) true safety for the Rohingya, and (2) that Myanmar faces repercussions unless such safety conditions are provided, will not bode well for the bloc in the eyes of the international community. 
ASEAN has prioritised its non-interference policy, but having an image of a toothless tiger in the eyes of the world would only serve to indirectly jeopardise the bloc's standing in terms of international trade – the Regional Comprehensive Economic Partnership (RCEP) being one such endeavour. The fate of the other nine member countries should not be sacrificed for the sake of one.
There is, however, one trump card that ASEAN can still play: China. 
The global superpower, has been more than willing to overlook Southeast Asian human rights atrocities in order to further its Belt and Road Initiative (BRI). Some observers believe that certain ASEAN states have been emboldened by Chinese money flowing into their countries. The financial boost from China has somewhat reduced the threat of mounting pressure from foreign powers wanting to punish them for alleged human rights violations. An example being the purported "false election" that Cambodia held in July 2018. 
However, by digging deeper and deeper into China's pockets, these ASEAN countries have exposed themselves to "Chinafication" and a slow erosion of their sovereignty.
Perhaps it is time for countries outside the bloc that allegedly prioritise human rights to put pressure on ASEAN to stand up to Myanmar and ensure the safety of the Rohingya. This seems to be the best-case-scenario at this point in time. ASEAN must understand that the implications of taking money from China just so human rights violations can go on unchecked will only end up hurting the bloc in the long run. 
Related articles:
Forces committed war crimes against Rohingya