The European Union's (EU) representative to ASEAN has recently announced three new development cooperation projects with the 10-nation bloc to support sustainable urbanisation, forest management and government accountability.
The projects, which have a combined value of €13 million (US$15.4 million), are part of a wider development program worth €250 million (US$297.6 million) for the 2014-2020 period. This comes in addition to €2 billion (US$2.3 billion) in bilateral support to ASEAN member states, which makes the EU the most important cooperation partner for the trade bloc.
In occasion of the announcement, Igor Driesmans, the EU representative to ASEAN, said that "with this, the EU and ASEAN show their strong commitment to enhance their partnership and cooperation despite the Coronavirus pandemic, and the resulting global economic uncertainties." 
Driesmans underlined that "in these difficult times, we show that cooperation, not isolation, is the way forward to address today's urgent challenges including climate change and the coronavirus pandemic."
According to a statement released by the Mission of the European Union to ASEAN, the three projects slated to start in 2020 covering priority areas such as green growth; climate change and the environment; and public governance are as follows: 
•    Smart Green ASEAN cities project
Focuses on sustainable urbanisation, supporting smart solutions enabled by digitalisation and the use of technologies. This will be funded with €5 million (US$5.9 million). 
•    FLEGT (Forest Law Enforcement, Governance and Trade) project
Aims to support forest governance and sustainable timber licencing and trade across the region and will receive €5 million (US$5.9 million) in funding. The EU's FLEGT Action Plan was established in 2003 with the objective to reduce illegal logging by strengthening sustainable and legal forest management, improving governance and promoting trade in legally produced timber.
•    Supreme Audit Institutions (SAIs) of ASEAN (ASEANSAI) project
Seeks to strengthen regional capacity and raise awareness and implementation of international standards of Supreme Audit Institutions. It will receive €3 million (US$3.5 million) in funding.
Smart Green ASEAN Cities Project
Leveraging its experience in promoting and delivering 'smart' urban growth, the EU will support the ASEAN Smart Cities Network (ASCN) initiative, which aims to support sustainable urbanisation in the trade bloc, reduce the environmental impact of urban areas, and improve the quality of life of citizens.
In order to be effective, the initiative will draw from a mixture of city-level solutions and national capacity building and regional approaches, such as the ASCN, a collaborative platform established in 2018 that supports green and smart city solutions in 26 ASEAN pilot cities.  
The primary goal of the ASCN is to improve the lives of ASEAN citizens and work toward a common goal of smart and sustainable urban development, using technology as an enabler.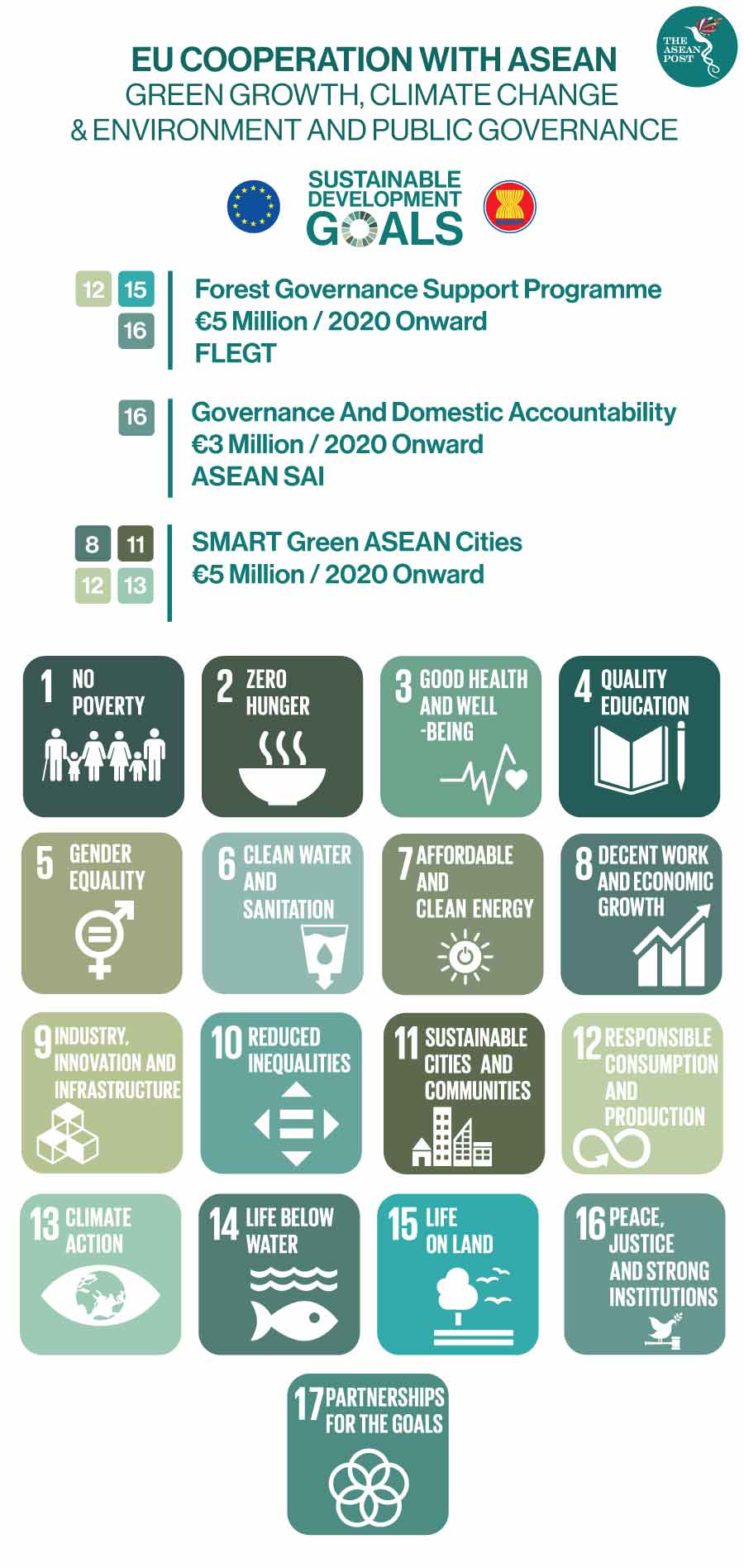 FLEGT (Forest Law Enforcement, Governance and Trade) Project
The EU FLEGT Facility works in several ASEAN member states. Some are in the process of negotiating a Voluntary Partnership Agreement (VPA) with the EU, while others, like Vietnam and Indonesia are implementing the VPA. Indonesia, one of Asia's top timber exporters to the EU, has started issuing FLEGT licences to verified legal products it exports to the EU.
A VPA is a legally binding trade agreement between the EU and a timber-producing country outside the EU and aims to ensure that timber and timber products exported to the EU come from legal sources. The agreements also help timber-exporting countries stop illegal logging by helping improve regulation and governance of the forest sector. 
The additional funding will help partner countries to strengthen systems to verify whether the timber has been harvested legally; to promote transparency of information; to increase capacity building for partner country governments; and to foster policy reforms.
ASEAN Supreme Audit Institutions (ASEANSAI) Project
ASEANSAI is an organisation set up by the Supreme Auditing Institutions (SAI) of the 10 ASEAN member states to promote and encourage good public governance in the bloc. ASEANSAI focuses on technical cooperation in public sector audit, promoting exchange of information, and best practices earned while addressing common problems faced within the region.
The EU-sponsored project aims to promote good governance and accountability in public spending and the exchange of best practices to try to close the gap between member states with strong public governance such as Singapore and those with relatively inexperienced SAIs such as Myanmar, Cambodia and Lao. 
In a world that is divided by regional crisis and global disruption, Singapore's Permanent Representative to ASEAN, Kok Li Peng, stressed that "today we celebrate the enduring people-to-people ties between our regions."  
And referring to the havoc brought by the coronavirus pandemic, she added that, "despite the pandemic we have found ways to continue cooperation [between ASEAN and the EU] and building our relations."  
Related Articles:
Who Will Pay For ASEAN's Smart Cities?