The global beauty industry is estimated to be worth US$532 billion and Asia-Pacific is the largest and among the fastest-growing markets for it. According to a 2018 report by Euromonitor on 'Trends in Asian beauty and personal care,' the region represents 32 percent of the global market and is expected to grow another 6.7 percent over the next five years.
In Southeast Asia, more shoppers are buying online which is reflected in a 2018 report by Google and Temasek. The report forecasted that the e-commerce market in the region will be worth US$102 billion by 2025. 
The region's high social media penetration is also changing Southeast Asian consumer behaviour where people are increasingly turning to online influencers, vloggers and social media celebrities for their beauty inspiration – accessing trends, looks and content. And because beauty is a sensory experience, influencers create video reviews and tutorials to deliver on consumers' need for experiences. 
Influencers are changing brand dialogues in the digital space, and the rise of influencers has brought about a new wave of advertising known as influencer marketing. Brands are seeking ways to leverage the new strategy in promoting their products while allowing them to get more personal with their customers. 
Beauty chatter 
Social media helps build interest and excitement in beauty and personal care. According to a 2019 whitepaper by Meltwater, Indonesia topped the online beauty chatter, representing 38 percent of social chats, followed by Malaysia and the Philippines at 29 percent and 27 percent, respectively. 
The whitepaper, 'Beyond skin deep: Understanding the shopping journey of the Southeast Asian beauty buyer,' found that Instagram is the platform of choice for talent-led collaborations with eight times more beauty influencers on Instagram than on Twitter. Leading the region is Indonesia whose Instagram usage numbers reached over 44 million in 2017. According to Euromonitor, Indonesia's beauty and personal care market is worth US$6 billion and is expected to reach US$8.4 billion by 2022.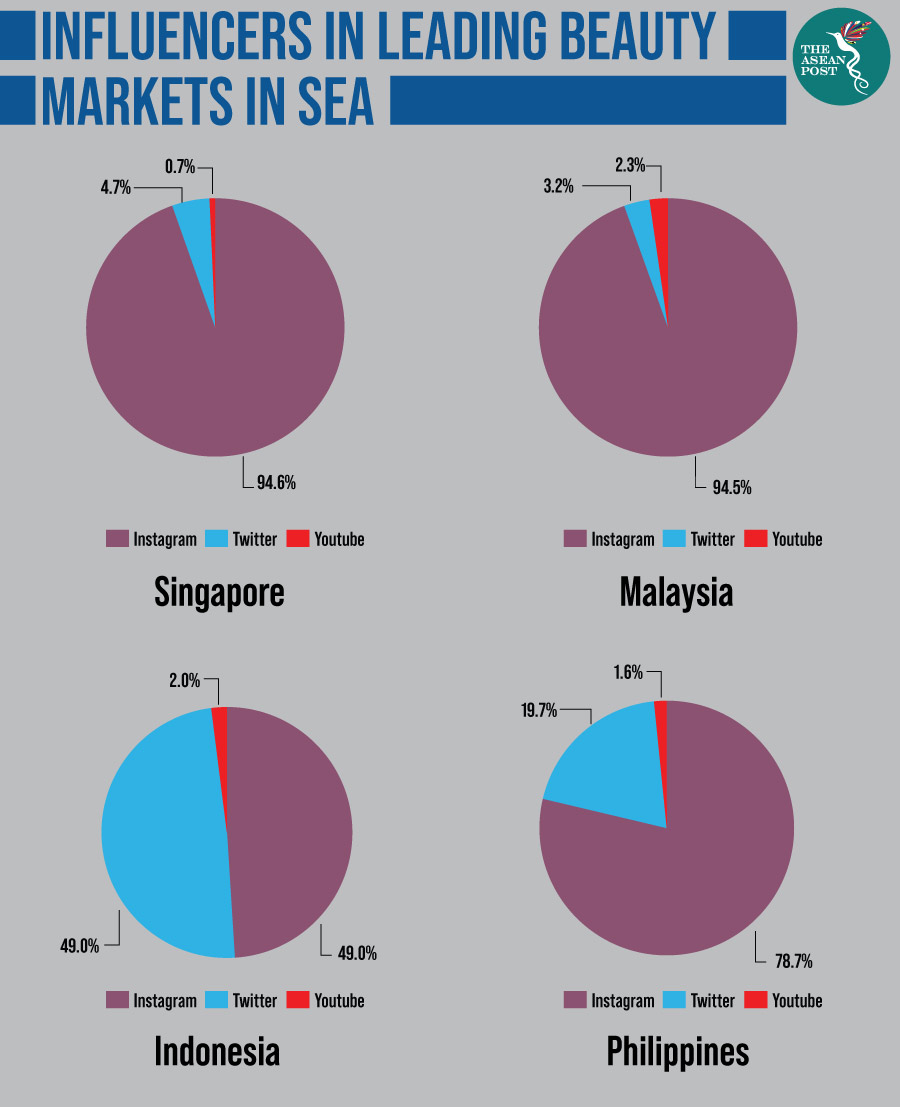 Source: Meltwater, 2019
Platforms such as Instagram and YouTube have given people avenues to express themselves, visually, to a wider audience. Based on Meltwater's report, Instagram is the most popular channel for influencers, followed by Twitter and YouTube across Indonesia, Singapore, Malaysia and the Philippines. Influencers are also becoming the top choice for beauty brand endorsements and commercial collaborations because they usually deliver high returns on brands' investments.
A study by Twitter in 2016 titled 'The value of influencers on Twitter,' found that nearly 40 percent of Twitter users say they've made a purchase as a direct result of a Tweet from an influencer.
Meltwater's report cited Celebrity Intelligence's study, stating that 80 percent of survey respondents said influencers are pivotal in shaping opinions and buying decisions of consumers. And opinions are usually more persuasive than messaging straight from the brands themselves. Influencers also give the same exposure to smaller local brands as much as the bigger and more established brands, giving smaller brands space to compete. 
"The fact that you can follow an individual that has similar tastes in product and style, be alerted when he or she buys any new products and also see the review directly – this increases the customer's top-of-mind for new brands," said Mimrah Mahmood, APAC Regional Director at Meltwater.
Slip a fib 
Influencers are recognising their power to drive the beauty industry, with some using that opportunity to either launch their own indie line or collaborate with beauty brands on product development.
However, beauty bloggers have allegedly been known to slip a fib every once in a while. After all the beauty industry has always been plagued by false claims, inauthenticity and photoshopped images. There are cases where influencers are paid to product-bash rival brands or have failed to disclose paid endorsements which sends a false message to their audience. Fans are led to believe that influencers genuinely endorse the product they are promoting when they are actually being paid by the brand. 
Endorsing a product is not all bad when an honest review is given. However, it does lead viewers to wonder if the products are actually good or if the influencer was paid a good sum, leading to increased scepticism among viewers. 
Influencers should value their engaged followers and ensure a degree of authenticity in their product reviews. The measure of success for beauty influencers hinges on their ability to demonstrate knowledge of products, create relatability and give honest reviews. Transparency and credibility remain something younger consumers look for in both, products and influencers. 
Related articles:
Shopping trends for Eid-ul-Fitr