Over the past few months, agents from the United States (US) Federal Bureau of Investigation (FBI) and Australian Federal Police (AFP) have been training Cambodian police to investigate online child sex abuse cases amid concerns that it is becoming more prevalent in the country. The spread of cheap, high-speed internet along with a rise in mobile phone ownership is fuelling cybersex trafficking across Southeast Asia - a form of modern-day slavery where children are abused and raped over livestreams for paying clients worldwide.
In Cambodia, according to We Are Social, at least three-quarters of the population there had internet access as of the start of this year. This is an increase from only 45 percent of the population back in 2017.
The Thomson Reuters Foundation, a London-based charitable arm of Thomson Reuters, a Canadian global information and news network recently quoted a spokesman for the AFP, which ran a workshop with local law enforcement agencies back in July, as saying that countering the online sexual exploitation of children is a priority for Cambodia.
"Of particular concern is the rise in instances and rates of child exploitation overseas with Australians involved," the source said, adding that US, Britain and Australia are the main consumers of child sex abuse streamed over webcam.
The US Department of State made a similar observation which it then released in its 2019 Trafficking in Persons Report. The report noted that while Cambodian men form the largest source of demand for children exploited in sex trafficking, men from elsewhere in Asia, Europe, US, Australia, and South Africa travel to Cambodia to engage in child sex tourism, increasingly facilitated through social media contact.
In an earlier article published by The ASEAN Post, it was noted that while the growth in internet and social media penetration has numerous benefits, it does not come without its challenges; one of which is to protect Cambodian children in the face of tech-savvy paedophiles.
The article quoted Cambodia's National Committee for Counter-Trafficking (NCCT) vice chairwoman Bun Eng, who is also an Interior Ministry secretary of state, as saying that the NCCT and other relevant partners, such as Action Pour Les Enfants (APLE), are concerned over the exploitation of children through social media. 
"We notice that the use of information technology, especially social media, is becoming more and more common and there are unscrupulous people who misuse it to commit crimes, including sexual exploitation of children. We urge service providers to monitor internet content to protect children from being lured by paedophiles," the local media had quoted her as saying.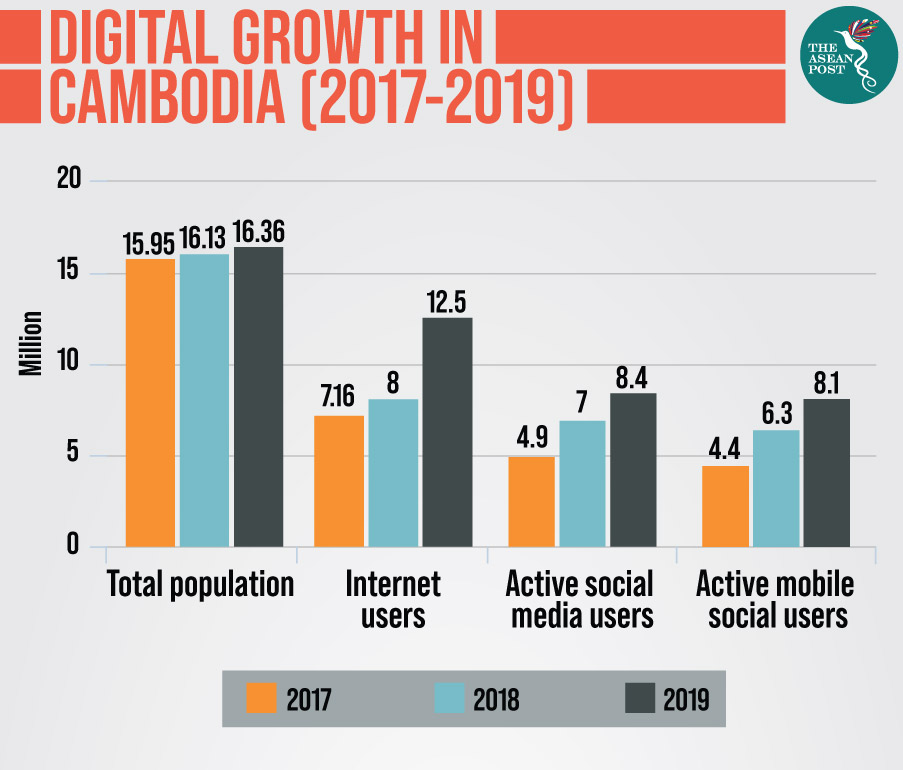 Source: We Are Social
A step behind
Despite being provided with aid from the US and Australia, Cambodian officials have expressed concerns that the predators preying on the nation's children are a step ahead of the police due to the country's narrow laws in terms of tackling the crime.
For one, according to deputy director of the interior ministry's cybercrime department, Khoun Sokpiseth, undercover investigations in sexual abuse cases are not even permitted under Cambodian law. This, he says, hinders the authorities' ability to tackle the worrying trend.
"We need this capacity to infiltrate networks and we need new cybercrime laws for the department to properly carry out its mission," Sokpiseth told the Thomson Reuters Foundation.
Charity Action Pour Le Enfants (APLE), which works with local police and the FBI, also believes that a new cybercrime law to prevent the crime from growing is in order. The head of APLE, Samleang Seila, was quoted as saying that child trafficking had moved off the streets and into "underground environments" in recent years, adding that there were now thousands of reports of illicit imagery of children being shared online each month. 
"Investigators in Cambodia must be allowed to go undercover to infiltrate networks and dig out criminals. If we are only relying on victim complaints and reports from the community, I think we will forever be running behind," he said.
The US Department of State's 2019 Trafficking in Persons Report also made the recommendation that Cambodia "authorise the use of undercover investigative techniques for anti-trafficking operations."  It also urged the Cambodian government to modify the law to allow restitution upon conviction of the trafficker, and establish and train the relevant officials on standard operating procedures for calculating and granting restitution.
While some human rights activists may worry about the formulation of a new cybercrime law, especially in a country such as Cambodia, it seems as though the very protection of the nation's children may – in fact – rely on it. It remains to be seen whether a new cybercrime law will come to pass and if it can be effective at combating the scourge.
Related articles:
ASEAN's paedophiles are tech savvy