Southeast Asia is proving to be one of the most successful and fastest growing digital markets in the world. The digital economy has incredible potential due to the large proportion of tech-savvy youngsters in the region.
As for the start-up industry, it is believed to be dominated by youths.
According to a 2019 report by the World Economic Forum (WEF) titled 'ASEAN youth: technology, skills and the future of work', ASEAN's youth have a strong preference for entrepreneurial settings.
The WEF report revealed that 31.9 percent of Thailand's youth have robust entrepreneurial aspirations, behind Indonesia (35.5 percent). A joint report by the Sea Group and WEF titled, 'Youth x Entrepreneurship in Thailand', revealed that youths without a Bachelor's degree or basic college qualification are more likely to choose entrepreneurship (42 percent) compared to those with a college degree (25 percent). Thai society also encourages entrepreneurship, making the nation a fertile ground for young Thai start-ups. 
The Youth Entrepreneurship in Asia and the Pacific report by Global Entrepreneurship Monitor (GEM) and Youth Co:Lab in 2019, stated that 14.6 percent of early-stage entrepreneurs in Thailand are aged between 18-34 years old.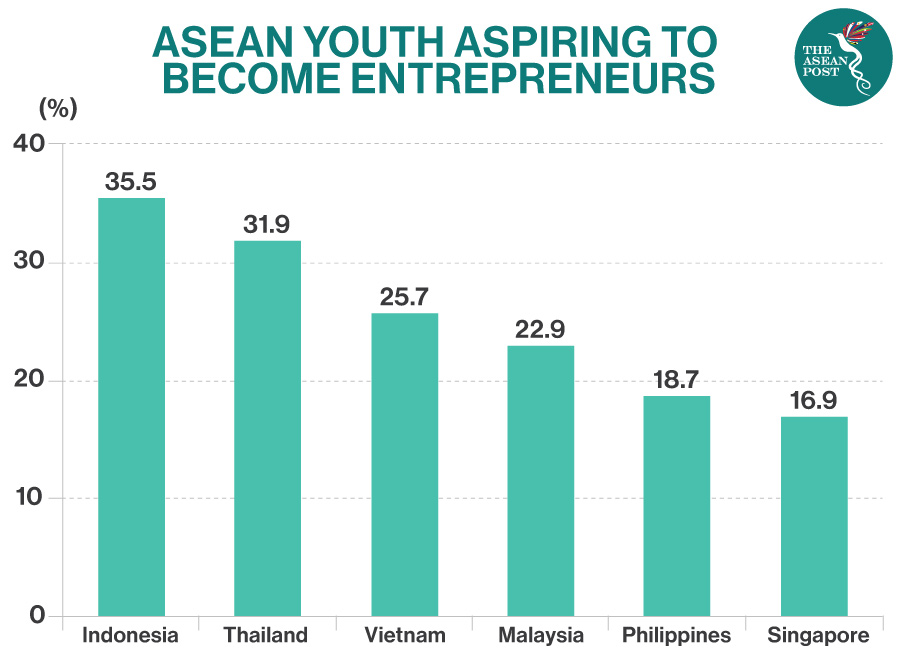 Thai Start-Ups
Entrepreneurship is a form of economic empowerment for talented founders to participate in the country's economy and social development through their investments, innovation and jobs creation. 
According to Panachit Kittipanya-ngam, president of the Thailand Tech Startup Association (TTSA), local start-ups play a part in generating income for the country and hiring a skilled workforce. He explained to local media that Thai start-ups are the "new economic warriors" who have been driving Thailand 4.0 over the past few years.
When it comes to funding, 60 percent of Thai youths require external financing to start their enterprise, but youths are 33 percent less likely to have a savings account than adults. Access to microfinancing and loans would significantly help young entrepreneurs start their enterprises. In recent years, funding opportunities have been provided by the government for Thai youths. It was reported last year that the Ministry of Digital Economy and Society (MDES) set up a US$570 million start-up fund for youth with a university background. The Ministry of Finance has set up a US$285 million fund for start-ups in healthcare, finance, agriculture, tourism and digital tech.
The National Innovation Agency (NIA), a government agency aimed at encouraging innovation, overhauled its financial support program for start-ups to accelerate their progress, facilitating access to US$1.4 billion in funding in 2019.
Coronavirus Crisis 
Unfortunately, in the wake of the coronavirus crisis, things seem bleaker than ever in the world of start-ups.
According to the TTSA, up to 80 percent of local start-ups are struggling financially with revenue drying up amid the pandemic.
"The sudden impact from the pandemic means local start-ups face a difficult time, with loss of customers directly affecting their revenue. We estimate that income of up to 80 percent of local start-ups has fallen to zero. Some travel tech start-ups have started laying off their staff," said the TTSA president. 
Local media have stated that many start-ups had enough cash for only three to four of the coming months. 
"We believe Thailand's local start-up investment in 2020 will fall more than 30 percent in terms of investment sum, on par with China, as investors put off their investment by 6-12 months, causing the fund flow to decline by 28 percent," Sompoat Chansomboon, chief executive of KT Venture Capital, an investment arm under Krungthai Bank, told local media.
"In the post-COVID-19 world, 40-50 percent of the local start-ups might disappear in Thailand," he continued.
Nevertheless, TTSA president Panachit Kittipanya-ngam believes that digitalisation would accelerate in a post-COVID-19 world and that local start-ups could provide solutions for that.
"If local start-ups cannot survive, there will be only foreign platforms left, as they still have a strong cash flow. The market will then be dominated by foreign players who will have the power to control prices of products and services," explained Panachit.
Related Articles: