Last Tuesday, an Indonesian military spokesman was reported as saying that any use of child soldiers by Papuan independence fighters would be a violation of human rights. The spokesman said this violation would implicate both, the rebels as well as state institutions.
The statement was made following the allegation that the armed conflict between Indonesia's military and the West Papua Liberation Army involves indigenous teenagers and boys. Many of them appear as though they have barely reached adolescence.
The military's spokesman, Muhammad Aidi, said in a statement that if armed Papuans have involved children in the conflict it would show they're a "wild, uncivilised" group.
Under international law, a child is anyone under 18 years of age and the use of individuals under 15 years old in conflicts is a war crime. Nearly 170 countries including Indonesia have ratified a United Nations (UN) treaty that obliges governments to stop military recruitment of anyone under 18 years and to work toward ending the military exploitation of children by state and non-state armed groups.
While the use of children for war is, without question, a gross violation of human rights and as the old adage goes "two wrongs don't make a right", it is still important to remember that Indonesia has not been so innocent when it comes to its conflict with Papua either.
Indonesia's human rights violations
Last year, Amnesty International said in a report that Indonesia's police and military are responsible for at least 96 unlawful killings in the Papua region since 2010. They also condemned a near total absence of justice for the mainly indigenous victims.
Human Rights Watch (HRW) also noted in its World Report 2019 that Indonesian security forces continue to pay a "little price" for committing abuses, including past unlawful killings of Papuans. It also stated that authorities continue to place far-reaching restrictions on foreign journalists seeking to report from Papua and West Papua provinces.
"In March (2019), the mysterious death in police custody of Rico Ayomi, a 17-year-old student, for alleged alcohol poisoning underscored the lack of accountability for deaths of Papuans by police," the report read.
"Two foreign journalists were harassed in Papua in 2018 for alleged 'illegal reporting.' They include BBC correspondent Rebecca Henschke, arrested in February, and Polish freelancer Jakub Fabian Skrzypski, arrested in August. Henschke, who had a legitimate travel document, was questioned for a total of 17 hours before being freed. Five Papuan men, including a graduate student, were arrested separately in the Skrzypski case (Skrzypski did not have a travel permit for Papua)."
But that's not all. The HRW report also cited a measles outbreak in the Asmat regency that killed an estimated 100 Papuan children in January 2018. This, according to the report, underscored the Indonesian government's neglect of indigenous Papuans' basic health care.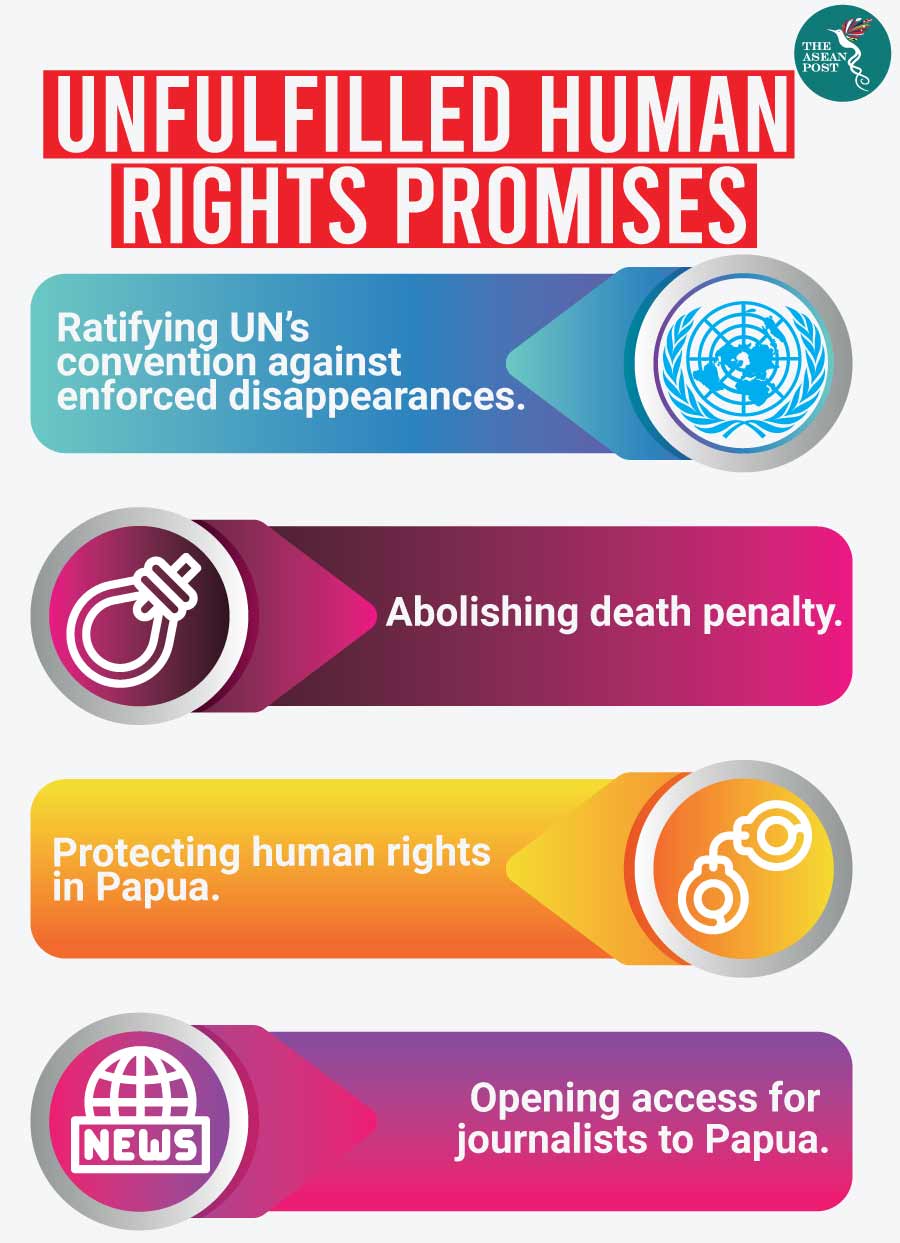 Source: KontraS
Re-election
In May, Indonesian president Joko "Jokowi" Widodo was re-elected for his second term as the country's leader. Back in 2014 (during Jokowi's first campaign for the presidency) he had made several campaign promises. Observers all over Indonesia have taken note of the promises he kept and the ones he didn't but perhaps one of the unfulfilled promises that disappointed observers the most was that regarding the issue of human rights.
In October last year, the Commission for Missing Persons and Victims of Violence (KontraS) was quoted by Indonesian media as accusing Jokowi of putting human rights on the backburner. In its evaluation report, KontraS noted that Jokowi had failed to carry out most of his own 17 priority human rights programs.
Based on the Jokowi administration's "Nawa cita" (nine priorities) document, KontraS said Jokowi's administration has 17 programs or promises relating to human right issues. KontraS noted six programs were not fulfilled and 11 promises were incompletely finished.
"His administration failed to accomplish most of its initial commitments about human rights," KontraS commissioner Yati Andriyani was quoted as saying.
And so, while the Indonesian military may take issue with the alleged human rights violations by Papuan independence fighters, it must not forget that it too has to clean up its own backyard. It is hoped that the statement made by Aidi shows that Indonesia is now serious about ensuring human rights are protected on both sides of the divide.
Related articles:
Hundreds of students flee violence in Papua