The Philippines has moved up three spots to tenth place but it isn't immediately clear whether it's for something the country can pride itself over. The tenth spot is for countries with the highest number of people watching porn, according to one of the most famous pornographic video sharing and pornography sites on the internet: Pornhub. Of the countries surveyed, the Philippines was the only ASEAN country to make it to the top 10 list.
However, in Pornhub's 2018 Year in Review which has been widely picked-up by online media across the internet, it isn't just the fact that more Filipinos have been watching porn that stands out.
Other interesting observations were also made regarding viewing trends in the Philippines, among which is the fact that more Filipino women (38 percent of Pornhub's Filipino viewers) are watching porn than anywhere else in the world, and that Filipinos are watching porn on Pornhub for longer periods of time than anywhere else in the world (at an average of 13 minutes 50 seconds per viewing session).
What Filipinos do behind their closed doors and in the privacy of their homes would not matter much and this article would not serve much purpose if it were not for the fact that Pornhub also revealed another interesting aspect of the porn-viewing habits of Filipinos. Among the top searches coming from the Philippines included the keywords "Pinay" and "Pinoy". Pinay is the word for Filipino woman, while Pinoy is the male equivalent. 
There is little doubt that this minor detail would be much to the dismay of the Philippines' government. Pornography in the Philippines is defined by law in the Revised Penal Code of the Philippines and Republic Act No. 7610. According to this legislation, pornography are illegal doctrines, publications, shows, and other similar material or portrayals that advocate human immorality, obscenity, and indecency. Filipino legislations penalise participation in these unlawful activities. 
The basic principles of economics are supply and demand. It's already been established that a large number of Filipinos are watching porn and that most of them are looking for local actors and actresses. With this demand, it is more than likely that the porn industry would find a means to provide the supply, and that has been going on for quite some time now.
According to a news report by the American Chronicle on 30 May 2009, the underground Filipino porn industry earned about US$1 billion in 2006, ranking the illegal Filipino porn black market in eighth place around the world, tied with Canada and Taiwan. According to the report, pornography film producers had offices in the Philippines where male and female prostitutes are hired to play sexual roles for adult films.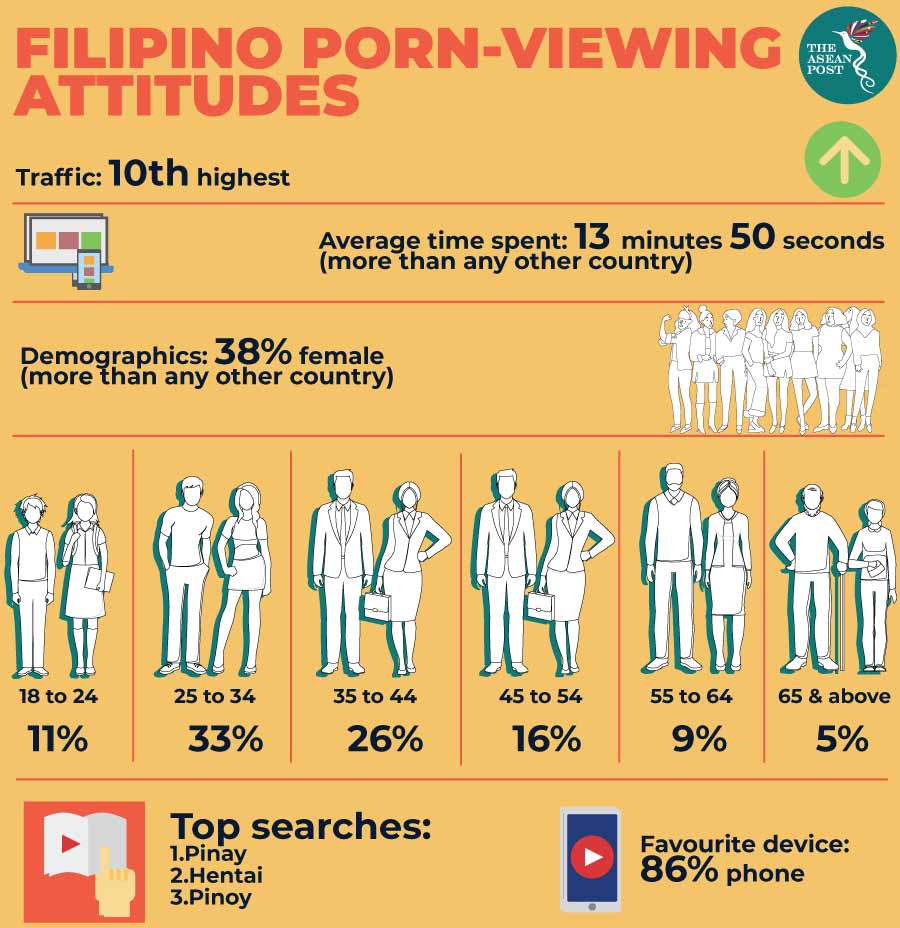 Child pornography
Going back to the matter of supply and demand, it is not in any way fair to say that Filipinos are the largest child porn viewers in ASEAN.
In fact, The ASEAN Post recently published an article where it was found that Malaysia is tops in Southeast Asia for viewing child pornography. The Philippines, however, is not completely blame-free.
News reports in December 2017 cited a 2017 report by The United Nations Children's Fund (UNICEF) entitled "Children in a Digital World" as stating that the Philippines had become a top global source of child pornography with around 80 percent of Filipino kids at risk of online sexual abuse or bullying.
"Child pornography is a billion-dollar industry, and Filipino children are the ones being traded and exploited online. Children who are made to perform sex acts in front of a web camera will never get their childhood back. We must all work together to protect our children," UNICEF Philippines Representative Lotta Sylwander was quoted as saying.
Earlier, in January 2017, the government of the Philippines made the move to block pornographic websites, among which included Pornhub.
Whether censorship is the right move is a matter of opinion and undoubtedly many Filipinos disagree. Two things, however, are certain: blocking websites "obviously" does not work, and the main issue - one the government there must look to combat effectively – is child pornography. It is hoped the Philippines government would act swiftly to eradicate this scourge.
This article was first published on 6 May, 2019. 
Related articles:
Kids in Malaysia are watching porn