ASEAN member state Myanmar confirmed its first case of the coronavirus disease on 23 March. The outbreak seemed under control, with authorities reporting less than 400 confirmed cases by mid-August. Unfortunately, new cases have soared in recent days. Today, Myanmar has reported over 1,000 infections.
According to local media, Myanmar's COVID-19 cases have skyrocketed nearly 200 percent in the past two weeks. As of 16 August, Rakhine had only 17 cases, but yesterday, the conflict-wracked state reported its 495th case, overtaking Yangon region, which until four days ago had been the epicentre of the pandemic in the ASEAN member state according to local media.
In addition, it was reported that more than 10 local employees of United Nations (UN) agencies and international non-governmental organisations (INGOs) had contracted the virus in Rakhine, where they were providing humanitarian assistance to both, Rakhine and Rohingya camps while supporting COVID-19 prevention in the state's rural areas.
Rakhine is said to be one of the poorest states in the country, with substandard facilities and a lack of access to education in some remote parts. 
Last week, the government of Myanmar enforced a lockdown in Rakhine, halting the movement of more than three million people.
"Due to a sharp increase of COVID-19 virus cases, people in all townships in Rakhine are to stay at home in order to effectively prevent any further spread," read a statement released by the Ministry of Health and Sports in the country.
Back in March, the Human Rights Watch (HRW) warned that displacement camps in Myanmar are "COVID-19 tinderboxes." Overcrowding, a mobile internet shutdown, blocks on humanitarian aid, and movement restrictions have left displaced communities in Rakhine, Kachin, Shan, Chin and Karen states especially vulnerable to a virus outbreak, stated the HRW.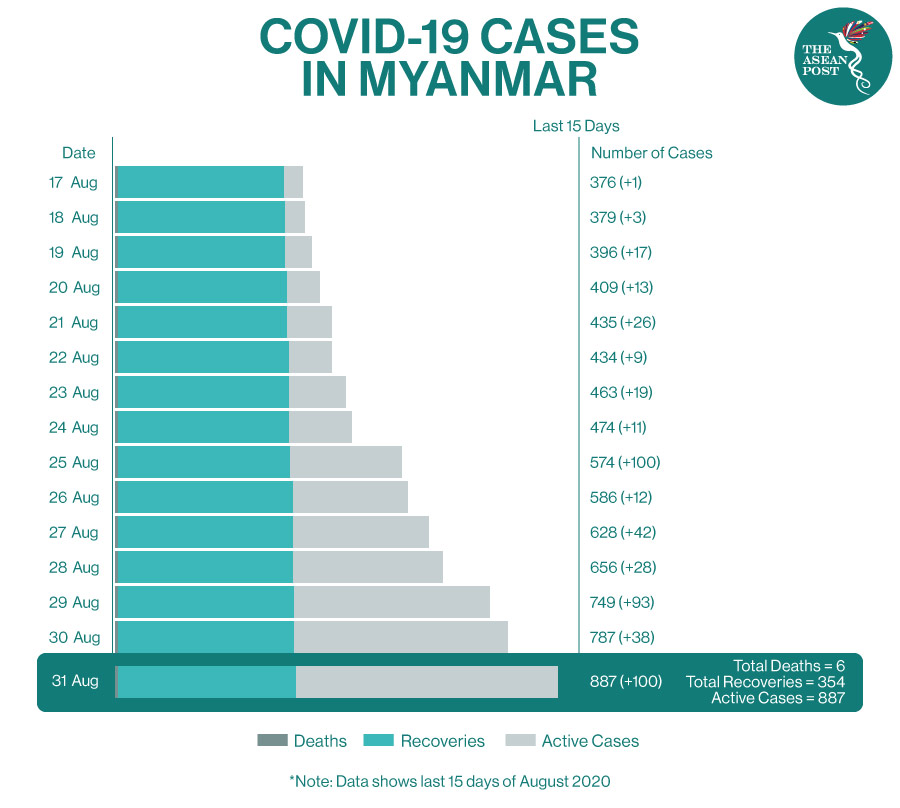 Inadequate Healthcare
The HRW also added that those in overcrowded camps lack essential services such as inadequate access to clean water and sanitation. One latrine is shared by as many as 40 people, while one water access point by as many as 600. Other than that, substandard health care presents a challenge for authorities to control the pandemic. 
Healthcare in Myanmar is consistently ranked among the lowest in the world.
The ASEAN member state has 6.1 doctors per 10,000 people, falling short of the World Health Organization's (WHO) recommended minimum. In rural and conflict-affected areas such as Rakhine state, the availability of health personnel drops significantly. According to the HRW, one Rakhine state township has only one doctor per 83,000 people, or 0.12 per 10,000.
"Camp residents are more vulnerable than the general population in Sittwe because they have limited access to basic healthcare. It is not easy for them to come to the hospital," said Dr Nay Lin Tun, a medical doctor volunteering at Sittwe General Hospital. "If COVID-19 is found in the camps, the infection rate can rise much more quickly than in the general population."
Slow Internet
Last June, Myanmar's Rakhine marked its second year of internet blackout which prompted locals and campaigners to appeal for an end to the shutdown as coronavirus fears started to grip the region. Restrictions on mobile internet were put in place in eight townships in Rakhine and one in Chin state amid the ongoing conflict between the country's military and the Arakan Army. 
Although internet access was officially restored in August, local media reported that it is too slow for communication as 3G and 4G services remain restricted. Aid workers have appealed to the government to restore 4G internet access to help with informing people about COVID-19.
Ola Almgren, the UN resident and humanitarian coordinator for Myanmar, explained that access to timely and accurate information about the risks of the coronavirus and preventive measures is essential in ensuring people's safety. 
"If they do not do it at this time, when information is essential, it will be recorded in history as a crime," said Zaw Zaw Tun, secretary of aid group, the Rakhine Ethnic Congress.
Aung San Suu Kyi, Myanmar's State Counsellor said that there would be no discrimination when it comes to the government's fight against the pandemic. 
"No one will be left out. We will give everyone equal treatment. So, don't worry too much. The important thing for us is to work together," she said during a televised address.
"We will protect Rakhine. The same goes for other parts of the country. In doing so, there will be discrimination against neither religion nor ethnicity. We will help equally anyone living in the country. To make it happen, your cooperation is the key," she added. 
As of 8:00 am on 4 September, 1,133 people in Myanmar have been infected with COVID-19, with seven deaths reported and 359 recoveries to date. 
Related Articles:
Millions In Myanmar's Rakhine In Virus Lockdown