As of 25 October, over 800,000 cases of the coronavirus disease have been reported across ASEAN, inching closer towards the 900,000 mark. The deadly virus has also taken some 21,000 lives in the region. Around the world, nations are still struggling to combat the virus with some countries bracing for new COVID-19 waves. 
At the same time, it is estimated that the COVID-19 outbreak has caused more than 30 million people in ASEAN to become unemployed, according to the Economic Research Institute for ASEAN and East Asia (ERIA). The pandemic has also pushed about 18 million people in the region into poverty, of which three million are in extreme poverty.
"As a new global recession brought on by the COVID-19 health pandemic impacts economies and labour markets, millions of workers have experienced changes which have profoundly transformed their lives within and beyond work, their well-being and their productivity," stated the World Economic Forum (WEF).
In a report released this month titled, "Future of Jobs 2020," the WEF looked at how the crisis has impacted global labour markets with a real-time view into how global hiring has fared. The report also acts as a call to action to accelerate a "reskilling revolution" across economies as it highlights the increasing urgency of supporting displaced and at-risk workers as they navigate paths towards the "jobs of tomorrow."
Hiring dropped globally at the height of the pandemic, reports the WEF, but an initial rebound in hiring mid-year gave promising signs of a quick, V-shaped recovery. Nevertheless, the early rebound has since slowed, with the pace of recovery levelling out as many countries remain far below where they were a year ago.
2020 To 2025
One of the key findings of the "Future of Jobs 2020" report – which aggregates the views of business leaders – is that skills gaps continue to be high as in-demand skills across jobs change in the next five years. 
"The top skills and skill groups which employers see as rising in prominence in the lead up to 2025 include groups such as critical thinking and analysis as well as problem-solving, and skills in self-management such as active learning, resilience, stress tolerance and flexibility," stated the WEF.
On average, companies estimate that around 40 percent of workers will require reskilling of six months or less, whereas 94 percent of business leaders say that they expect employees to pick up new skills on the job.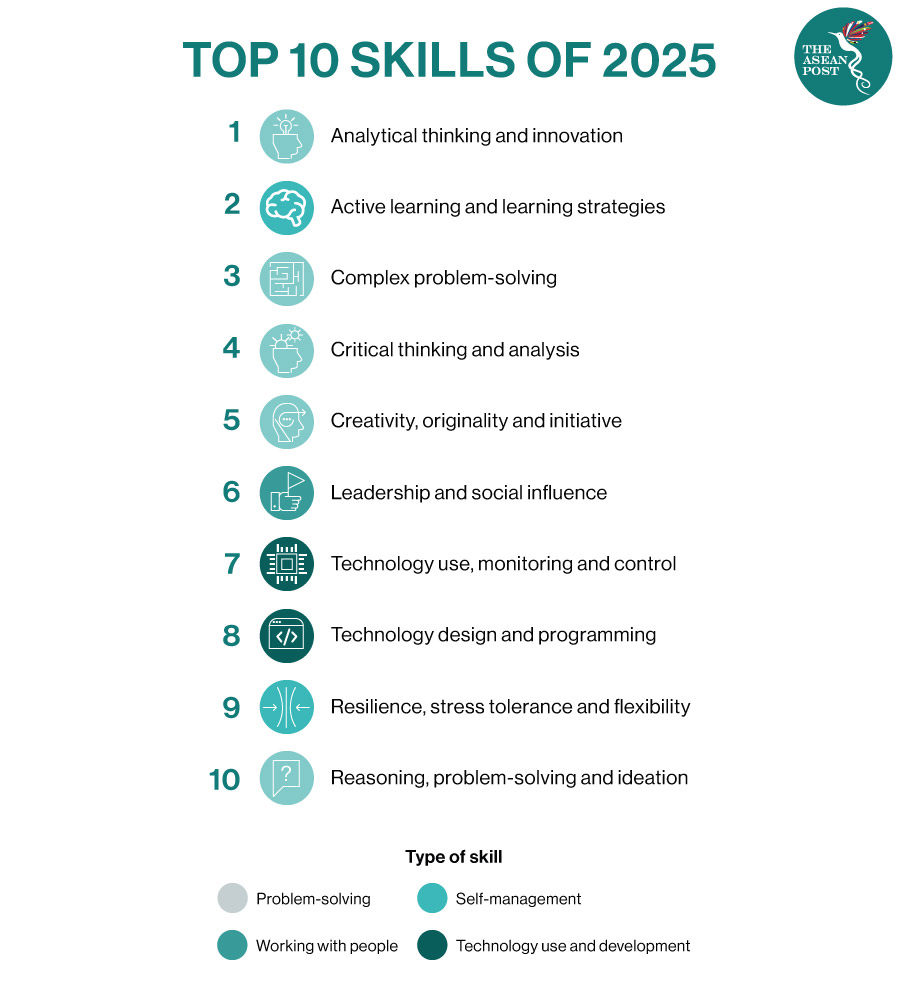 "In five years' time, it will be very difficult to help people who are currently unemployed return to their previous employment, as their skills will be obsolete and they will be crowded out by fresh graduates," writes Lili Yan Ing, legal adviser at ERIA in an article titled, "Improving ASEAN COVID-19 response: Implementation key."
The pace of technology adoption is also expected to remain unabated and perhaps may even accelerate in some areas. The adoption of cloud computing, big data and e-commerce remain high priorities for business leaders. However, there has also been a significant rise in interest for encryption, non-humanoid robots and artificial intelligence (AI). 
Some of the leading positions in growing demand are roles such as Data Analysts and Scientists, AI and Machine Learning Specialists, Robotics Engineers, Software and Application Developers as well as Digital Marketing and Strategy Specialists.
On the contrary, the roles which are set to be increasingly redundant by 2025 and displaced by new technologies include Data Entry Clerks, Administrative and Executive Secretaries, Accounting and Bookkeeping and Payroll Clerks, Accountants and Auditors, as well as Business Services and Administrative Managers.
Moreover, the WEF also estimates that by 2025, 85 million jobs may be displaced by a shift in division of labour between humans and machines, while 97 million new roles may emerge that are more adapted to the new division of labour between humans, machines and algorithms.
Karin Kimbrough and Allen Blue, Chief Economist and Vice President, Product Management of LinkedIn wrote in an article published on the WEF website: "We must tackle unemployment and cope with the volatile cycles of economic recovery. And we must also make pressing decisions about how we get people back to work in resilient, sustainable jobs. Reskilling efforts have become more urgent than ever as we settle into our new normal."
Related Articles:
WEF EXCLUSIVE: The Markets Of Tomorrow