Today, there are over seven billion people living on the planet. As this number continues to grow, the need for water, food, land, and energy will also rise. The climate is one of the Earth's fundamental life support systems which determines if the planet is habitable or not. Rapid development in many countries, deforestation for agriculture, ever-growing cities, mining and industries have all contributed to a drastic change in the earth's climate.
According to media reports, densely populated Manila in the Philippines, home to 12 million people will be worse hit by climate change as there is a high risk of natural disasters, such as earthquakes, floods and hurricanes. There have been a number of organisations and experts who are preaching powering a greener future through cleaner sources of energy.
The Philippines' current energy mix highly favours fossil fuels, with coal, natural gas, and oil, which account for 73.5 percent of the country's total energy needs. This is mainly because these are relatively cheaper sources, especially coal – which is the country's most heavily used energy source. Out of the country's 75,266-gigawatt hour (GWh) electricity demand in 2013, approximately 42.6 percent was sourced from coal. 
However, Duke Energy, one of the largest electric power holding companies in the United States (US) stated that a wide variety of environmental impacts are associated with generating electricity from coal. 
As the effects of climate change are clearly visible around the world, including the Philippines, a cleaner source of power is very much coveted. Another energy source that has the potential to make a difference in the Philippines is geothermal. Southeast Asia is home to 25 percent of the world's geothermal generation capacity. Most, if not all of this geothermal capacity is located in the Philippines and Indonesia. 
Geothermal energy is a form of renewable energy produced by heat from the earth. It is considerably safer than most other energy sources. Unlike fossil fuel plants, geothermal power does not produce greenhouse gases (GHG) that are harmful to the environment.
The Philippines is one of the world's top producers of geothermal power, as it is located along the Ring of Fire zone of Pacific volcanoes. However, in 2018, the country dropped in the global rankings for geothermal countries, just behind Indonesia. This prompted the Philippines to consider revamping its geothermal development again. 
In June 2018, the country launched a new string of exploration surveys, which is an addition to roughly 10 contracts with power companies on geothermal exploration, according to Think GeoEnergy, a geothermal news and research site.
The Philippines currently has seven geothermal fields which supply about 12 percent of the nation's energy, with a long-term plan to nearly double capacity by 2040.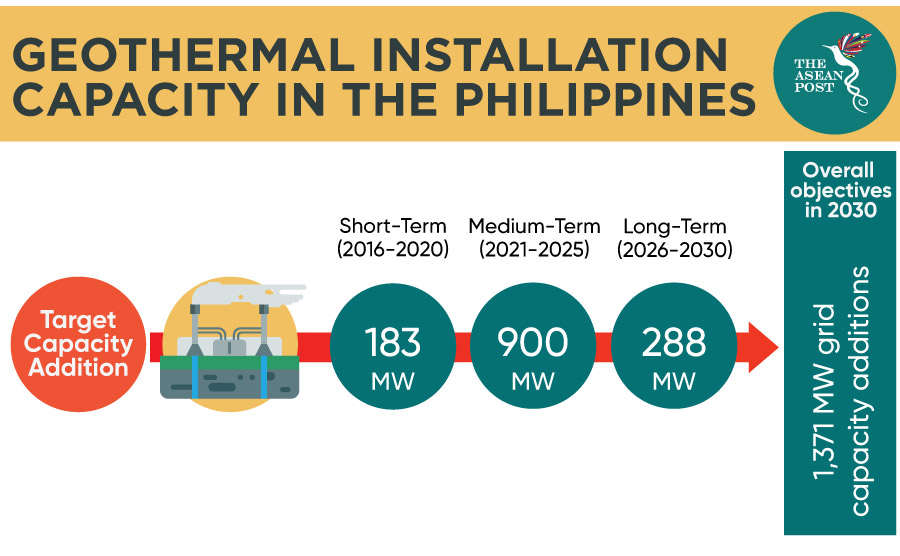 "I look at this as a challenge for us to continue exploring geothermal energy sources locally, especially now that we are at the crossroads of balancing our energy needs and responsible utilisation of energy resources with respect to the environment," said Robert Uy, assistant secretary of the Department of Energy (DOE) in the Philippines.
According to a Philippine Energy Plan 2016-2030 report by the DOE, the government is strengthening its push to mainstream renewable energy projects to diversify the country's energy sourcing and to boost power supply. The country is said to have 35 Geothermal Service Contracts (GSCs) currently being monitored and supervised by the DOE. Once these contracts commence operation, they will significantly boost existing capacity of renewable energy to the grid. 
However, despite the potential of geothermal resources in the Philippines, there are still a number of factors contributing to a decline in investments: unattractive incentives package compared to other countries, a privatised energy sector, tedious permitting processes and a lack of potential investors who are willing to take the risk. Although geothermal energy is theoretically free, finding the resource is an expensive enterprise, with exploration wells costing up to US$8 million each with no guarantee of success.
Geothermal trailblazer and leading renewable energy company, Energy Development Corporation (EDC) believes that geothermal is the key to establishing a stable energy baseload suited to the constant yet dynamic power needs of the Philippines' developing economy. Perhaps, geothermal might be the answer to the Philippines' goal of cutting carbon emissions by 70 percent by 2030.
Related articles:
Can we sustain all life on earth?