Modern technology has truly changed our lives for the better. It has transformed communication and how people stay in touch with one another. Information and news updates are readily available at our fingertips. In the wake of the coronavirus crisis, technology has paved the way for home-based learning and work-from-home arrangements while under quarantine or virus lockdowns. In recent years technology has also helped improve our health care.
The World Health Organization (WHO) defines telehealth as the use of telecommunications and virtual technology to deliver healthcare outside of traditional healthcare facilities – extending the reach of high-quality care and in-depth expertise to the home, as well as to remote and isolated communities. The global telehealth market is expected to be worth US$82.03 billion by 2027.
According to the Mayo Clinic, some of the goals of telehealth include making health care accessible to people who live in rural areas, to improve communication and coordination of care among members of a health care team and a patient, to provide support for self-management of health care and to make services more readily available or convenient for people with limited mobility, time or transportation options. Moreover, telehealth can also boost efficiency, wrote Ivy Lai, country manager for Philips Singapore in a publication titled, 'Three steps to wider telehealth adoption in Singapore'. 
"By enabling care to be delivered quickly across time zones and geographies, it can reduce overall costs and promote better outcomes. For example, it can promote collaboration by enabling the secure sharing of medical information between clinicians at different locations," she explained.
Although telehealth is relatively new, some ASEAN member states have already adopted the practice.
It was reported that in Singapore, 64 percent of its healthcare professionals currently use some form of connected care technology for diagnosis, treatment or management of their patients. A 2018 Philips' Future Health Index report revealed that half of the island-state's population have used some form of connected care technology to monitor health indicators such as sugar levels and medication intake. 
Indonesia, Southeast Asia's most populous nation has confirmed over 78,000 COVID-19 cases to date, with its death toll inching towards the 4,000 mark. Media reports have stated that the country has a shortage of protective gear, and medical practitioners – only three doctors for every 10,000 Indonesians – and limited healthcare facilities. It was reported that as of April, there are under 4,000 hospital beds for seriously ill COVID-19 patients in a country of 270 million people. This has put an immense pressure on Indonesia's healthcare system.
To lessen the strain, the government of Indonesia has directed its citizens to telehealth firms through which they can access verified medical guidance, get consultations via telephone or text, and even have medication prescribed and delivered to them, according to a media report.
"Because there are limited healthcare facilities, especially in my district, our people need more information that is easy to use without the need to go to the hospital," explained Dr Mohammad Risandi Priatama.
Some of the archipelago's telehealth firms such as Halodoc and Alodokter have seen usage skyrocket in recent months. 
"As hospitals are already packed, the government wants to ensure only priority patients are going to emergency rooms and that patients who don't urgently need hospitalisation can be helped online," said Nathanael Faibis, CEO of Alodokter.
Telemedicine
Telemedicine software company, Chiron Health has stated that telemedicine is a subset of telehealth that refers solely to the provision of health care services and education over a distance, through the use of communications technology. 
"Telehealth is different from telemedicine because it refers to a broader scope of remote healthcare services than telemedicine. While telemedicine refers specifically to remote clinical services, telehealth can refer to remote non-clinical services," explained Chiron Health.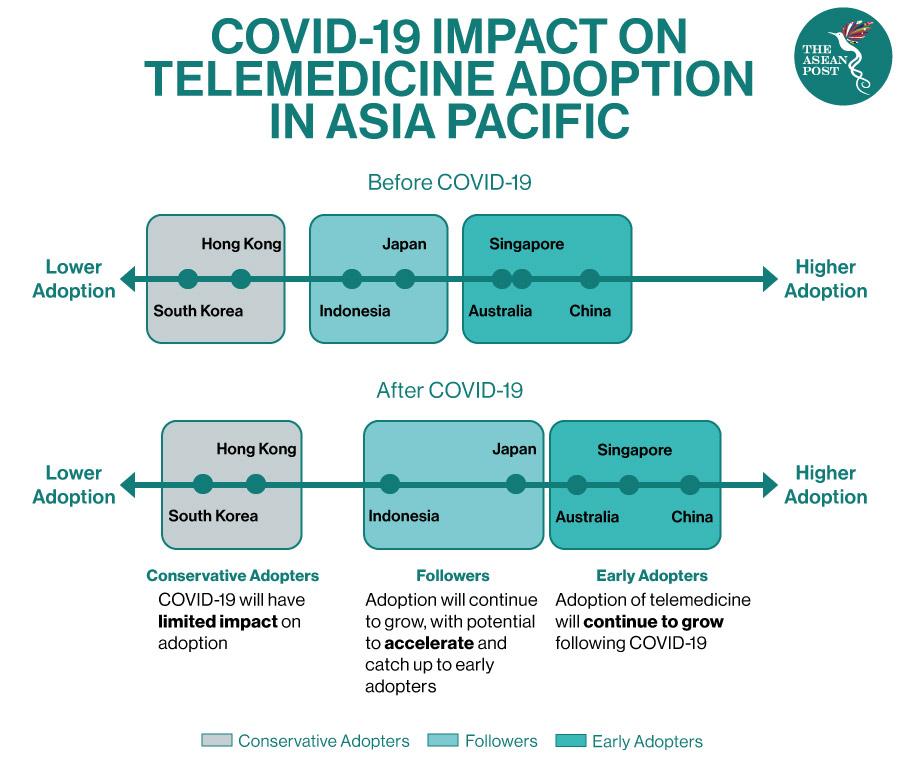 According to Health Advances, a strategy consulting firm that focuses on the healthcare industry, China, Singapore and Australia are considered adopters of telemedicine in the Asia Pacific region. Prior to the coronavirus crisis, these countries were already characterised by strong telemedicine platforms and government support. Whereas telemedicine followers Japan and Indonesia have the potential to accelerate adoption in telemedicine following the COVID-19 pandemic, said Health Advances. 
A recent report titled, '30 Consumer Behavior Shifts' projects that telemedicine start-ups in Indonesia will grow faster after the coronavirus pandemic and the competition to create the best service will be tighter. 
"Once consumers get a satisfactory user experience that's convenient, less costly and time-efficient, the service will enter into a mainstream phase with a bigger market," stated the report. "Under such conditions, there is a possibility for the market leader in this type of service to be the next unicorn."
Another ASEAN member state that has recently jumped on the telehealth bandwagon is Vietnam. Last April, the country launched its first telemedicine app amidst the COVID-19 outbreak. According to local media, the platform provides six remote healthcare services as prescribed by the Ministry of Health which include medical consultancy, consultation on medical examinations and treatments, and consultation on surgery anatomy, among others.
Related Articles:
The Potential Of Digital Healthcare