In the first quarter of 2018, Southeast Asia saw a 9.4 percent increase in tourist arrivals, which is the largest number recorded amongst all regions at the time. This figure exceeds the already robust six percent average growth for global tourism during the same period.
Within the Southeast Asian region, Thailand recorded the highest number of foreign tourist arrivals in 2017 at 35 million. The country also ranked fourth highest among global earners for tourism in 2017 at US$81 billion, behind the United States (US) at US$299 billion, Spain at US$96 billion and France with US$86 billion. Much of this is attributed to the longer length of stay by tourists in Thailand compared to the time spent by tourists in other neighbouring countries, as well as a higher average earning of US$1,624 from each tourist.
An emerging regional star in the tourism sector is Vietnam. In 2017, Vietnam recorded the largest increase in tourist arrivals for the region, with each tourist spending an average of US$685. The country is expected to record an even bigger increase in 2018 as it recorded a 25.2 percent growth for tourist arrivals in the first quarter of the year, compared to the same period in 2017. Other countries in the region that saw double-digit growth include Thailand, Indonesia, the Philippines and Cambodia.
The United Nations World Tourism Organisation (UNWTO) credited this to the sector's resilience and relentless growth trajectory. Its Secretary-General, Zurab Pololikashvili, said that the increase in tourism for the region could be down to countries beginning to understand its importance as a contributor to socio-economic development, supported by an upswing in the global economy.
"It is also a reflection of growing regional integration and air connectivity, and reflects a strong demand from Northeast Asian source markets, particularly China and the Republic of Korea, but also from Australia, Russia and Western European markets," Pololikashvili added.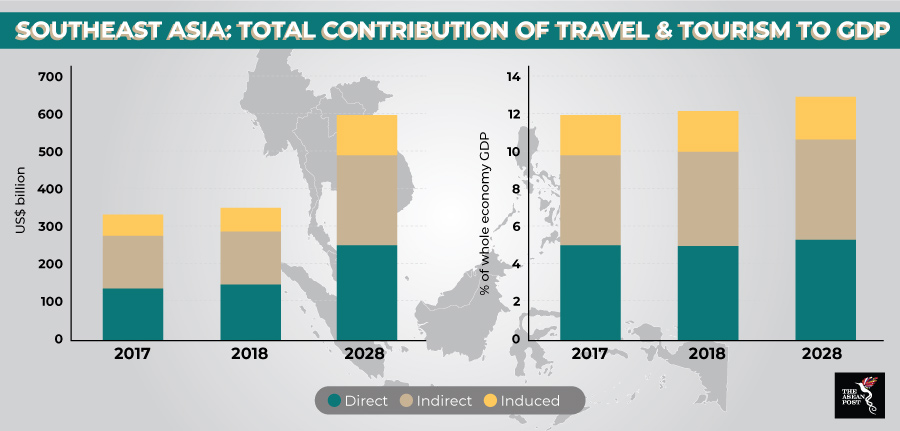 Source: World Travel and Tourism Council
Concerted national efforts
Vietnam's rising star is the result of a concerted effort by the government there in nurturing an attractive tourism sector, as well as understanding and solving the challenges faced. According to an article in the government's mouthpiece People's Army Newspaper, the effort was kicked off with a resolution issued in January 2017 by the Politburo on developing tourism into a key economic industry. This was then translated into action plans and actions involving all levels of Party Committees, the Ministry of Culture, Sports and Tourism, as well as other ministries, departments and local authorities.
"Firstly, the attention of the Party, the Government, the Prime Minister and the National Assembly on tourism development creates a favourable environment for the tourism sector to develop. Secondly, the great efforts of localities and enterprises over the past years have established a technical and infrastructure system for the tourism sector.
"Thirdly, the effective close cooperation in tourism development including connecting land-air transportation, simplifying tourism visa procedures, adjusting electricity prices and input services to increase support for the tourism enterprises, and ensuring security, environmental sanitation and food safety in localities. Vietnam has also been focused and determined in promoting its trade and culture to other markets. In 2017, a lot of tourism promotion programs were carried out in both scope and scale," it said.
In 2017, 90 tourism accommodations were recognised as three- to five-star hotels in Vietnam, of which 13 are in the five-star class, 31 are in the four-star class and 46 in the three-star class. Currently, the country has 25,600 tourist accommodations, offering more than 508,000 rooms. This is an increase of 12 percent total accommodations and 11 percent total rooms compared to 2016.
In moving forward, Vietnam has identified barriers to incoming tourists that need to be solved to improve its attractiveness to foreign arrivals. These include a limited visa policy compared to other countries, which was ranked by the Global Tourism Competitiveness Report at 116 in terms of visa requirements, the lowest among ASEAN countries.
Affordable air travel is making far-flung places more accessible, while shifts in life priorities amongst millennials who choose to travel more compared to making other major purchases continues to push growth in the sector. Vietnam and Southeast Asia in general need to take advantage of this growth and position themselves as some of the best destinations for international tourism.
Related articles:
Enhancing the tourism industry in ASEAN