In Southeast Asia, traditional weddings have become national identities, with cultural dresses worn for ceremonies. Although every country has its rituals – from the silk woven brocade or 'songket' worn by Malaysian bridal couples to the threads tied around the wrists of Laotian brides and grooms – wedding ceremonies are an important way for Southeast Asians to share their values and cultural heritage with the world.
But the internet's abundant images of wedding inspirations have changed the way couples in the region plan for their big day. Across the region, weddings are getting more expensive, yet, there are still many couples who are willing to spend their savings or take out a personal loan to fulfil their wedding dreams. 
Increasing demand
A Malaysian wedding can cost an average of RM50,000 (US$11,900) but can easily reach up to a whopping RM200,000 (US$47,800). Cambodian weddings are very elaborate affairs lasting three days and involve multiple changes of clothing for the couple. Cambodian catering company, Seng Hok Heng, puts the average cost to cater a wedding party at US$15,000 to US$20,000. Here, guests are expected to bring monetary gifts, usually US$20 to US$35, depending on how well you know the bride and groom.
According to mybridesmade, a wedding e-commerce start-up, the cost of weddings in the Philippines could be in the range of P247,750 (US$4,800) to P975,000 (US$19,000). Millennials are spending more on their big day, and the wedding industry is facing a generational challenge to keep up with their increasing demands.
The average cost of weddings in Indonesia is around Rp116 million (US$8,200) which is triple the average annual income in the country, according to financial consulting website, HaloMoney. For the same price, newlyweds can put a down payment on a three-bedroom house on the outskirts of Jakarta. Due to financial constraints, many Indonesian couples only marry under Islamic law, which is a union not considered official in Indonesia. A legally recognised marriage there gives parents and children access to public services such as healthcare and education.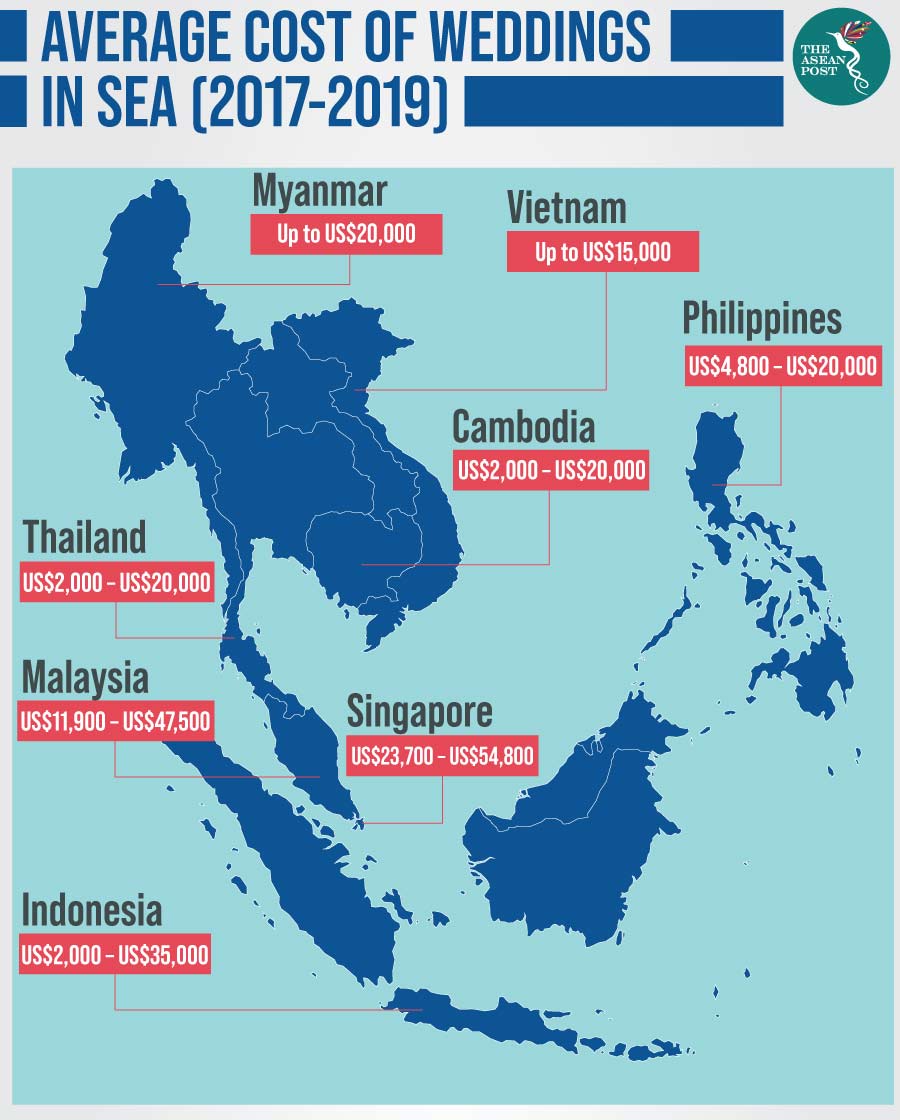 Source: Various
A ValueChampion study revealed that the cost of a wedding dinner in Singapore has increased 50.8 percent from 2011 to 2019. The study also claimed it is difficult to find a definite causal factor for the rising costs of weddings in the island state but one plausible explanation could be the rise of median monthly household income in Singapore, which has increased by 32 percent in the past eight years. Perhaps rising affluence leads to a higher willingness to spend more on expensive banquets.
The report also found that Singaporeans are getting married later in life with the median age of first marriage for grooms increasing gradually from 30.2 years in 2007 to 30.8 years in 2016. For brides, the median age for first marriages increased from 27.6 years to 28.7 years.
Wedding loans
Wanting to be on-trend, and paying for the high prices of venues and dresses, many couples take out personal loans to pay for their nuptials, unless they can get sufficient financial support from their parents. That in itself isn't the problem, rather, it is when they are unable to cope with their debts that problems begin to surface. And unfortunately, not everyone manages their finances perfectly. 
Money has been blamed as the top reason why marriages disintegrate and it is no secret that enormous wedding expenses strip most couples of their savings, leaving many in financial debt. Research by two economists at Emory University in 2015 titled, 'A diamond is forever and other fairy tales: the relationship between wedding expenses and marriage duration,' found that among couples of the same income, education and race, those who had married on a higher budget were more likely to get divorced, citing stress about paying off their wedding debt as a factor. The study was aimed to debunk the wedding industry's constant lure to link wedding spending with long-lasting marriages. 
Malaysia's Insolvency Department in 2017 revealed that Malaysians between the ages of 25 and 44 form the bulk of those labelled bankrupt, from the 94,408 cases between 2013 and August this year. Abdul Rahman Putra Taha, Director General of the Malaysia Insolvency Department at the time said that one of the factors that led to filing for bankruptcy was marriage. Some Malaysians even had to delay childbearing to repay their wedding debts first. 
The most recent survey published by the Philippine Statistics Authority reported the average amount that couples are spending on their weddings had increased year on year for the past five years. The survey also stated that 77 percent of couples are now in the position of financial independence and can pay for their weddings which in turn is driving them to two extreme spectrums of budgeting – they either spend more sensibly or splurge on their big day.
Singles
Southeast Asia's population is ageing as couples are delaying marriage and birth-rates are falling. However, the Philippine Statistics Authority found that there has been a consistent decrease in couples getting married in 10 years, which could just be millennials choosing to marry later in life. With so much focus now being on career advancement and other big life moments, couples are not necessarily getting married at a young age. 
The number of Singaporean singles has risen across all age groups, compared with a decade ago. This trend could also be observed among Thais. More than half of all Thai women now hold undergraduate degrees and are in the workforce, which reduces their urgency to find partners.
"I don't see how I have to be married and rely on a man for my needs," said Jennifer Lim, a 35-year-old who works in childcare.
When it comes to a lifelong commitment like marriage, it is important to ensure the next stage in life begins with financial wellness. Luxurious nuptial is often not a guarantee of everlasting bliss. But at least it makes for a great Instagram-able album. 
Related articles:
Ageing Southeast Asians need homes