Indonesia just recently held the world's largest democratic election. While official results are still weeks away, the "quick count" places incumbent president Joko "Jokowi" Widodo at a comfortable position against his rival, former army general Prabowo Subianto.
If Jokowi does end up becoming the victor, it will be his second term serving as the country's president. Indonesia's 2008 Presidential Election Law dictates that any presidential candidate must have never previously served as president for two terms, meaning that even if Jokowi does win, it will be the last time he will be president.
By now, anyone even remotely following Indonesia's politics would be aware of the fact that Jokowi had chosen a 75-year-old conservative cleric - Ma'ruf Amin - as his running mate. This was largely seen as a means to appease the conservatives who had largely supported Prabowo back when he and Jokowi challenged each other for the first time in 2014. 
Whether Ma'ruf served that purpose or not will likely be up for debate in the coming months. But another (and in some ways even more) interesting character in Indonesian politics is Prabowo's own running mate, Sandiaga Uno.
Out of the four candidates, Sandiaga, who was born on 28 June 1969, is the youngest at 50 years old this year. Some suspect that while Jokowi had chosen Ma'ruf to appease the conservatives, Prabowo – who is widely seen as a more conservative and sterner politician than Jokowi – chose Sandiaga to appease the more progressive moderates who had given Jokowi their vote in the previous election.
Therefore, not only is Sandiaga a relatively young politician, he is also moderate and progressive. But much more than this, Sandiaga is wealthy. Some reports say that he had spent close to US$100 million of his private equity fortune to help Prabowo defeat Jokowi. In spite of the fact that he was listed as the 47th richest man in Indonesia by Forbes in 2013, US$100 million is still a hefty amount and, being the businessman he is, it is likely he will not want to see that money going to waste if Prabowo is defeated. 
It was Sandiaga himself who revealed that he had used somewhere around US$100 million on Prabowo's campaign.
"I've lost maybe a third of my net worth," he told the media.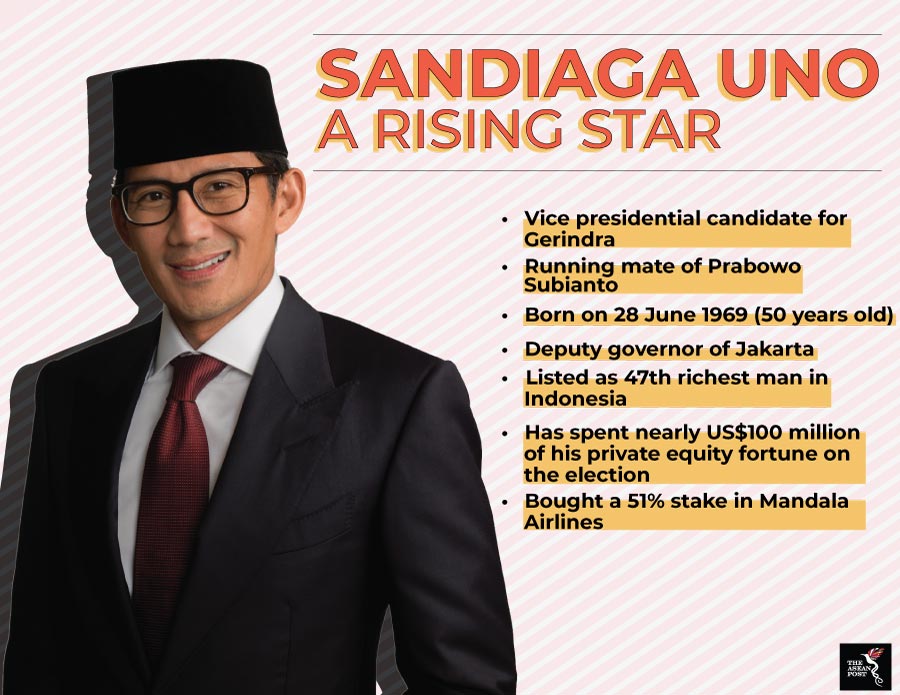 Source: Various
This fact is important because many observers believe that Sandiaga had used this election to get his feet wet before taking a more serious shot at the presidency in the next presidential election, slated for 2024.
"Sandiaga Uno clearly has ambitions to run for the highest office and he has used his vice-presidential campaign to build an impressive national profile that will support any later run for the presidency," Ben Bland, director of the Southeast Asia project with the Lowy Institute in Australia, told the media. 
"After a successful business career, he has that other all-important political commodity in Indonesia: the money to fund a campaign, as he is doing for Prabowo."
While Sandiaga had claimed that all of his focus was on the recent 17 April election, it would not be too hard to see Sandiaga running for the presidency in 2024 as he has all the factors working for him: he's young, he's progressive, and he has the money. He is also popular among the ladies as according to a report last month, during a weekend campaign rally, one supporter asked him if she could be his "second wife".
In a country where the youth make up the largest portion of the people with many reaching the voting age in 2024, there is little reason to doubt Sandiaga's ability to capture the hearts of this potential vote-bank. What's more, he will no longer have to contend with potential two-time winner Jokowi.
Unless someone pops up before 2024 who has as many things going for him as Sandiaga does – which now also includes experience – there is a very real likelihood that while Sandiaga may have possibly joined the losing team this time around, he will also be Indonesia's next president – if he really wants it.
Related articles: