Every industry across the world has been affected by the coronavirus pandemic – some even more so than others. Those in the e-commerce and technology sectors have probably seen their businesses booming in recent months, while those in tourism and hospitality have probably seen thousands of colleagues being laid off.
In the sex industry, workers have also expressed difficulties in getting clients as coronavirus restrictions are imposed in many nations. Thailand has gained a reputation among travellers for its sex tourism despite prostitution being illegal in the kingdom. However, without international tourists coming into Thailand since the pandemic began, sex workers have suffered greatly.
When Thailand announced its state of emergency in March 2020, an estimated 300,000 sex workers were out of work. Night clubs and massage parlours in the ASEAN member state's red-light districts were shuttered due to the COVID-19 virus.
Therefore, it is not a surprise that the pandemic has led to an increase in the number of sex workers using online platforms to find work. Technology and easy access to an internet connection has given sex workers the opportunity to continue their work and to earn an income despite the health crisis.
According to a Cambodian news agency, these workers have utilised different dating and chatting applications such as Facebook, Instagram, and Badoo in order to survive. 
Lala (not her real name), a 24-year-old Cambodian told the media that she markets herself by posting nude photos in the apps. Then if a customer asks for more pictures, she edits them and charges them up to US$100.
OnlyFans
COVID-19 has pushed millions around the world into debt and poverty. With job losses and furloughs reported across the globe, many have become increasingly desperate for a source of income. Some people have turned to producing adult content for British social media platform, OnlyFans.
"I've used almost all my savings to keep this shop alive. What else could I do, if I didn't turn to OnlyFans?" said a Thai content creator who was almost forced to give up his T-shirt shop in a tourist-reliant Chatuchak market.
On the platform, a visitor must subscribe to each creator for a monthly fee in order to see their pages' content. Moreover, visitors can also tip them directly, of which 80 percent goes to the recipient.
"From October onwards, I earned around 200,000 baht (US$6,672) a month just by posting nude photos," said the Thai man.
It was reported that American actress Bella Thorne earned more than US$2 million in just a week from her OnlyFans account. More celebrities and social media figures have since joined OnlyFans. Nevertheless, this move has received criticism from some media and activists as traditional sex workers see their rankings go down on the platform as a result of celebrities and influencers crowding the platform.
When it was first introduced in 2016, OnlyFans was created as an online platform to give fans exclusive access to their favourite content creators based on a paid subscription. It is also one of the few platforms that allows explicit content.
OnlyFans has seen a surge in popularity during the COVID-19 pandemic. A media report stated that as countries went into lockdown and businesses went bust, many turned to OnlyFans and other independent-creator platforms in hopes to make up for lost wages.
Sugar Dating
Recently, there has been an uproar regarding the issue of "sugaring" in Malaysia. This comes after Sugarbook claimed that an increasing number of public and private university students in the country have been using its app to look for "sugar daddies" to earn easy money to solve their financial problems, especially during the COVID-19 pandemic.
To note, Sugarbook – which was recently blocked in Malaysia – is an online dating site for "sugar daddies" and "sugar babies" to build relationships, discuss allowances, and to get paid. 
Some have argued that a sugar baby is quite like a prostitute, while some disagree as prostitution is defined as "the act of a person offering their body for sexual gratification for hire whether in money or in kind."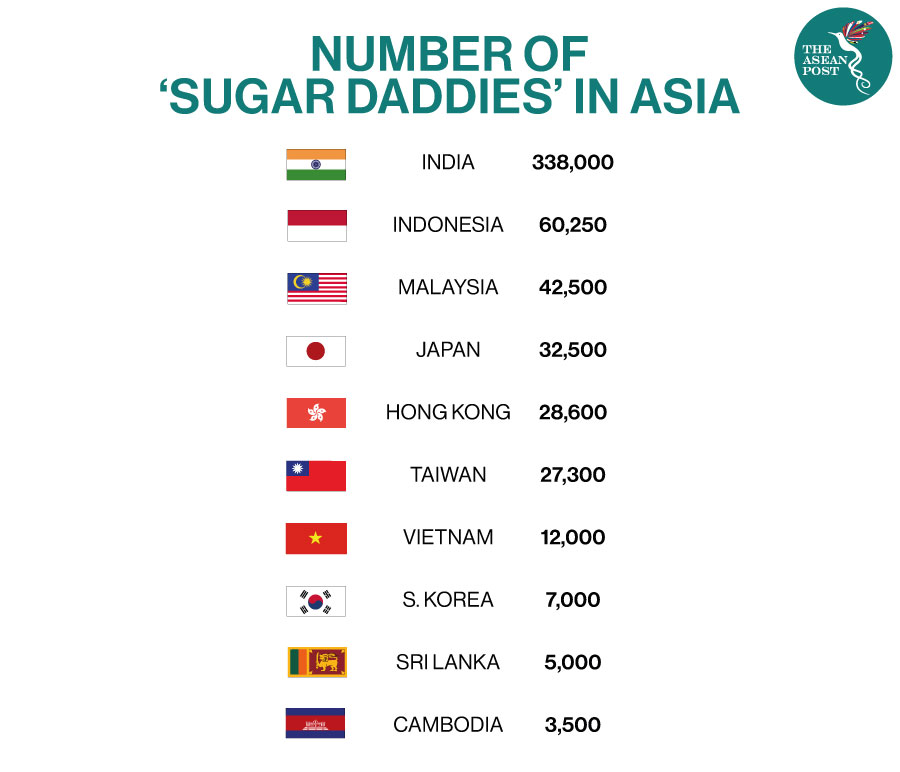 Whereas "sugaring" is a mutually beneficial relationship between two parties, said Darren Chan, founder of Sugarbook. In an interview with Malaysian media, he explained that the two parties would discuss and agree on their list of wants and needs such as monthly allowance expectations, companionship for dinner or concerts, and any form of emotional and financial support. It may, but not always, include sex.
According to a study released by SeekingArrangement, an American-based website for "sugar dating", ASEAN member states Indonesia, Malaysia, Vietnam, and Cambodia ranked in the top 10 Asian countries with the greatest number of "sugar daddies" registered on the platform. 
"The average sugar baby gets up to RM2,500 (US$619) in monthly allowances. It's a great help to struggling university students, especially during these trying times," said Chan.
Related Articles:
Thai Sex Workers Hit Hard By Virus Lockdown