Over the years, Thailand has gained a reputation among travellers from many countries for its sex tourism. According to Empower Foundation, an organisation advocating for the rights of sex workers across Thailand, entertainment places earn around US$6.4 billion a year in revenue and sex workers create roughly four to 10 percent of the kingdom's gross domestic product (GDP).
It was reported that sex workers can earn up to BHT5,000 (US$150) a night – nearly 20 times the minimum wage in Thailand of BHT300 (US$9) a day. The primary tourist 'prostitution zones' of Thailand are often identified as the red-light districts of Bangkok and Pattaya, as well as Patong Beach on Phuket Island. According to media reports, the city of Pattaya alone in Chonburi Province has around 27,000 prostitutes. 
Despite the popularity of the sex industry in Thailand, prostitution has been illegal in the kingdom since the 1960s.
"Any person, being over 16 years of age, subsists on the earning of a prostitute, even if it is some part of her income, shall be punished with imprisonment of seven to 20 years and fined of 14 thousand to 40 thousand Baht, or imprisonment for life," according to Thailand's Penal Code Amendment Act.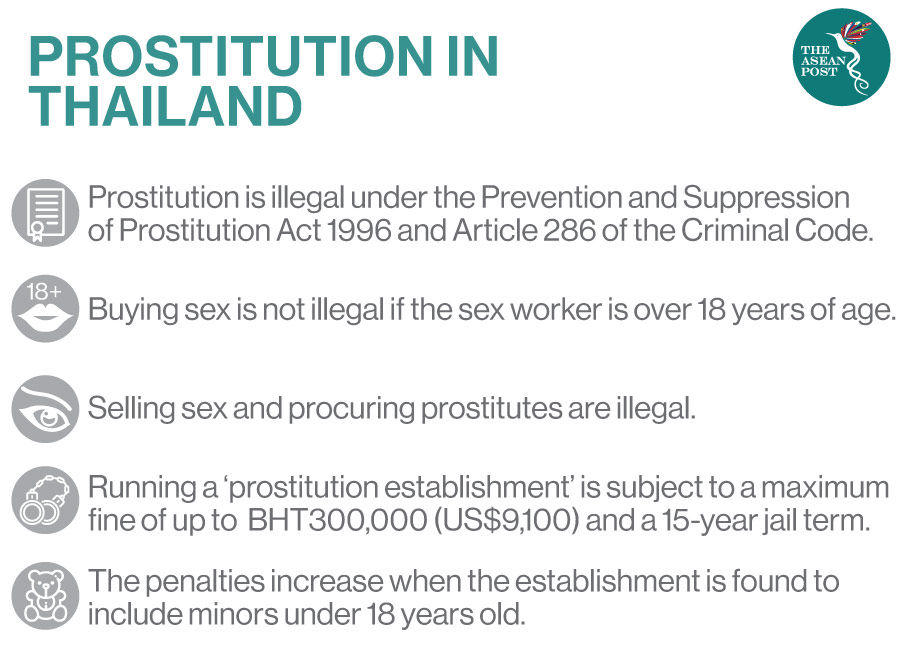 Nevertheless, although authorities in Thailand have implemented laws against sex work and conducted numerous crackdowns at clubs and karaoke bars – the industry has continued to thrive.
That is, until the deadly COVID-19 virus hit the country.
State Of Emergency
As of 13 April, Thailand has recorded more than 2,500 confirmed cases of COVID-19 with 40 fatalities. The new coronavirus which first emerged in the city of Wuhan in China has infected close to two million people worldwide. This has prompted governments around the world to impose drastic measures to curb the virus from spreading such as citywide lockdowns and travel restrictions. 
On 26 March, a state of emergency came into force in Thailand with the hope that it would help break the chain of infection. It was reported that entry into the kingdom had been barred except for diplomats and returning Thais who have health certificates. The Royal Gazette also announced that authorities would "close all checkpoints and gates" for its land borders, while entry by air and ship would also be halted. Other than that, mass gatherings are also prohibited during the state of emergency, which is to end on 30 April.
The strict measure is a blow for Thailand's tourism industry, one of the country's main economic sectors. Thailand anticipates the loss of five million tourists this year, taking with them "250 billion baht (over US$8 billion) in revenue", according to Don Nakornthab, Director of Economic Policy at the Bank of Thailand.
Moreover, according to media reports, Thailand has also implemented a night curfew in a bid to control the spread of the coronavirus. The curfew began on 3 April, from 10pm to 4am daily and forbids anyone in the country from leaving their homes. Authorities also warned that those who violate the order will face a two-year jail term.
Walking The Streets 
The state of emergency in Thailand has shuttered the country's party scene and has left an estimated 300,000 sex workers out of work. Night clubs and massage parlours in the kingdom's red-light districts have also been required to suspend business. Some sex workers have had no choice but to walk the streets in order to find customers – potentially exposing themselves to the virus and also risking getting caught by the police. 
"I'm afraid of the virus but I need to find customers so I can pay for my room and food," Pim, a transgender sex worker told the media.
"We're more afraid of having nothing to eat than the virus," says Alice, another Thai sex worker.
According to Pim, she has not had a single customer for 10 days and as businesses shut down, her income has stopped as well. 
"We are doing this because we're poor. If we can't pay our hotel, they will kick us out," she explained to reporters. 
It has been reported that Thailand has passed a BHT1.9 trillion (US$58 billion) stimulus package. The Thai Cabinet has also rolled out a package of measures to assist workers, employees and independent professionals, small enterprises and other businesses affected by the pandemic, based on local media reports.
Nevertheless, concerns have been raised by organisations and sex workers that a Thai government emergency scheme to give BHT5,000 (US$150) to newly jobless citizens will exclude sex workers as they are unable to prove formal employment.
Empower Foundation has even sent a letter to the government of Thailand requesting for help. 
"Many are mothers and main family providers and carers. Due to COVID-19, the government has ordered closures of entertainment places which means that over 100,000 sex workers across Thailand are out of a job. In emergencies women are often the ones who do the work of caring for others. Yet this work is not recognised, nor compensated or supported."
It was reported that as of 1 April, the organisation has yet to receive a response from the government. 
Reacting to the issue of the emergency scheme, Alice told the media that "they (the government) don't care about people like us who work in the sex industry."
Related articles:
Is crime on the rise in Thailand?