A recent survey in Thailand showed that Thais are more concerned about their safety than ever before and most say the economic slump the country is going through is the cause for this.
The survey by Suan Dusit Rajabhat University, or Suan Dusit Poll, was conducted from 15 to 18, January on 1,365 people throughout the country following a spate of serious crime news – including rapes, robberies and drug dealing – culminating in a gold shop heist in Lop Buri province.
On 9 January, a man shot and killed three people, and injured four others during a gold shop heist in Lop Buri. The robber, who wore a ski mask, army boots and camouflage clothing, was armed with a 9mm pistol, silencer and a long knife. 
There were numerous CCTVs that captured the man during his brief rampage where he casually strolled into the shop and shot customers and staff. One of the people killed was a two-year-old boy who was shot in the head as he was walking past the shop with his mother.
67.6 percent of those polled by Suan Dusit revealed that they have become more serious about their personal security over the past year, adding that this was a result of the economic slump, deteriorating social conditions and low moral standards.
In August last year, the Thai government revealed that the country's economy grew at its slowest rate in nearly five years in the second quarter of 2019. It added that slowing exports, a struggling farm sector and rising United States (US)-China trade tensions had taken their toll on Thailand.
The Thai government also blamed flagging domestic demand and weakening export performance for the slowdown. The Thai baht had been one of Asia's strongest performing currencies in 2019, hurting the competitiveness of Thai exports and its key tourism sector, which generates more than a fifth of the country's gross domestic product (GDP). To compound matters further, the farming sector is currently in the grip of a drought. 
Thailand said in August that second-quarter agricultural output fell 1.1 percent, exports dropped 6.1 percent, and imports fell by 2.7 percent year on year.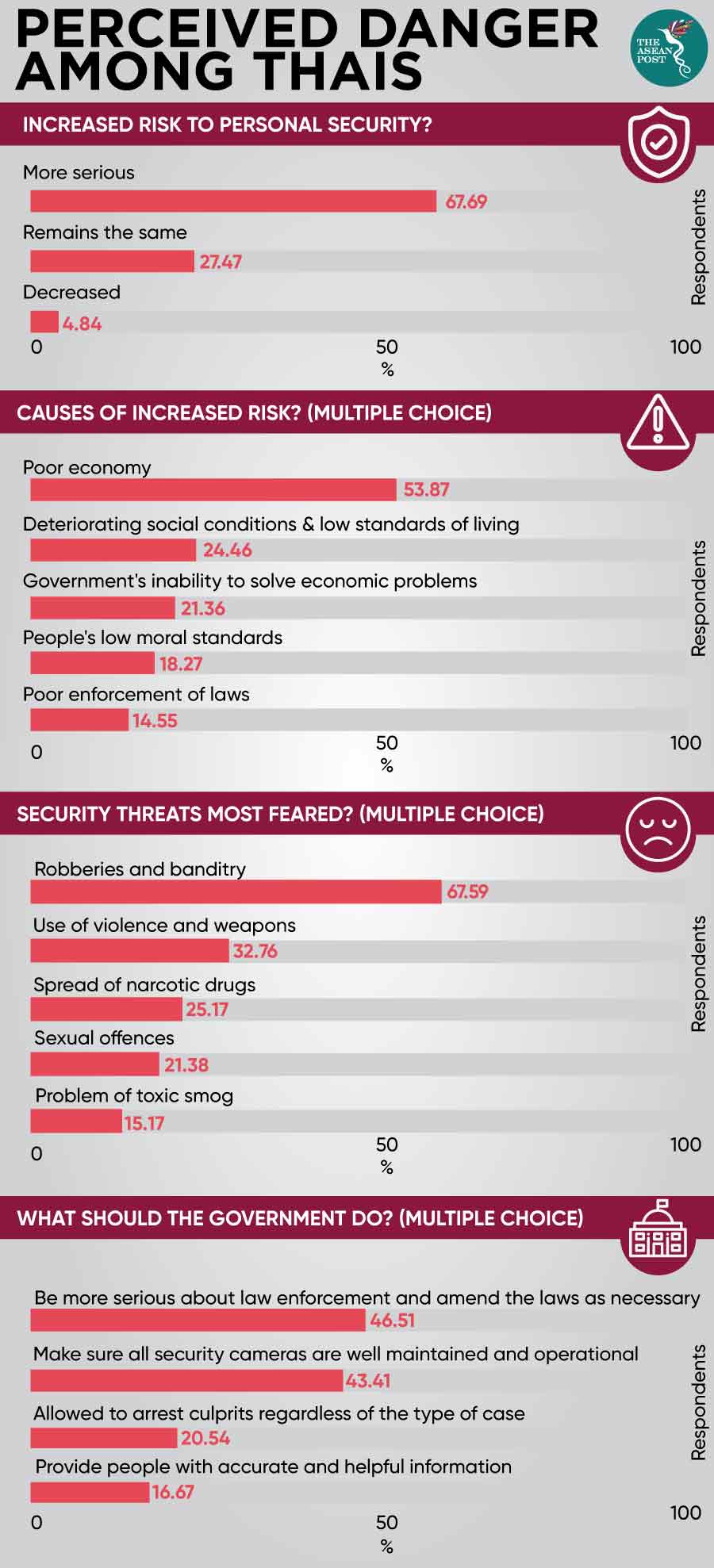 When Suan Dusit asked respondents what caused a risk to their personal security, 53.8 percent pointed to the poor economy; 24.4 percent cited deteriorating social conditions, social disparities and a low standard of living; 21.3 percent cited the government's inability to solve economic problems, forcing people to help themselves; 18.2 percent said it was caused by the people's low moral standards; and 14.5 percent cited poor law enforcement.
When asked to identify security threats they most feared, 67.5 percent pointed to robberies and banditry; 32.7 percent said the use of violence and weapons such as guns and knives; 25.1 percent cited the spread of narcotic drugs; 21.3 percent pointed to sexual offences; and 15.1 percent said the problem of toxic smog.
Bad economy and crime
The debate whether a slowing economy leads to more crime continues today with some agreeing that it does and others saying that this is not necessarily the case.
In 2015, the World Economic Forum (WEF) published an article titled "Do recessions increase crime?" In that article, the authors quoted American economist, Gary Becker's seminal work on criminal choices from 1968 in which he said low expectations on returns to legal activity may lead to initial involvement in crime and subsequently to a first encounter with the criminal justice system. Knock-on effects can then lead to criminal careers for the young.
The article was written by Brian Bell, a Research Fellow at LSE Centre for Economic Performance; Anna Bindler, a PhD candidate in Economics at the University College London; and Stephen Machin, a Professor of Economics at the University College London.
The authors remarked that recessions not only lead to short-term negative outcomes on the labour market, but can produce career criminals as well. 
"We find robust evidence of an initially strong and eventually long-lasting detrimental effect of entering the labour market during a recession for individuals at the threshold of criminal activity. These effects are economically substantial and potentially more disturbing than short-run effects."
Whether or not an economic slump necessarily leads to an increase in crime is still up for debate. However, in Thailand, many people believe it is the case. Either way, the Thai government must continue efforts to address the economic slump to prevent further deterioration of public order. 
Related articles:
Thailand's social media serial killer