We've written about it time and time again. While it is undeniably exciting that the world is witnessing technological advancements at a rate never before seen in the past, there are real dangers associated to these developments as well. As the world becomes more technologically advanced, so do organisations, governments, and – unfortunately – criminals. 
This was, in fact, highlighted in a recent article by The ASEAN Post on deepfake technology and how it may have made things very difficult for one popular Malaysian actor. Even more recently, however, another piece of news – this time coming from Thailand – showed how technology has resulted in the loss of life. 
When the word "serial killer" is used, many names and faces pop up but it's more than likely that we usually picture someone from an era gone-by. It's more than likely this was an era where serial killers still stalked their prey on the streets or in bars as was the modus operandi of many infamous murderers like The Zodiac, or even Jack the Ripper. Today, however, stalking – before acting – can happen from the comfort of an armchair. 
Local Thai media recently reported that a paroled serial killer dubbed "Thailand's Jack the Ripper" had managed to "pick up" his latest victim through popular social media platform Facebook. Police investigators said he did this by claiming to be a lawyer.
According to reports, Police Colonel Khajonrit Wongrat, chief of police in Kranuan, a district of Khon Kaen Province, in north-eastern Thailand, said on Tuesday that Somkid Pumpuang got to know Ratsami Mulichan, 51, via Facebook. He then moved into her house in Kranuan district on 2 December – 13 days before she was murdered.
"The investigation has made much progress... I am confident that he will be arrested soon," Khajonrit was quoted as saying.
He revealed that the latest victim, Ratsami, died of suffocation. Her wrists and ankles had been tied. An electric wire was fastened around her neck, held with transparent adhesive tape. A blood stain showed that the victim was either punched or slapped on her face.
Jakkrit Chueakprom, the victim's 25-year-old son, said his mother had earlier told him her new lover was a lawyer who handled cases nationwide, and planned to move in to live with her. The man also offered to buy her a new car.
Jakkrit, who does not live with his mother, said he chatted with her over Facebook on Saturday, and nothing she said suggested anything untoward was about to happen to her.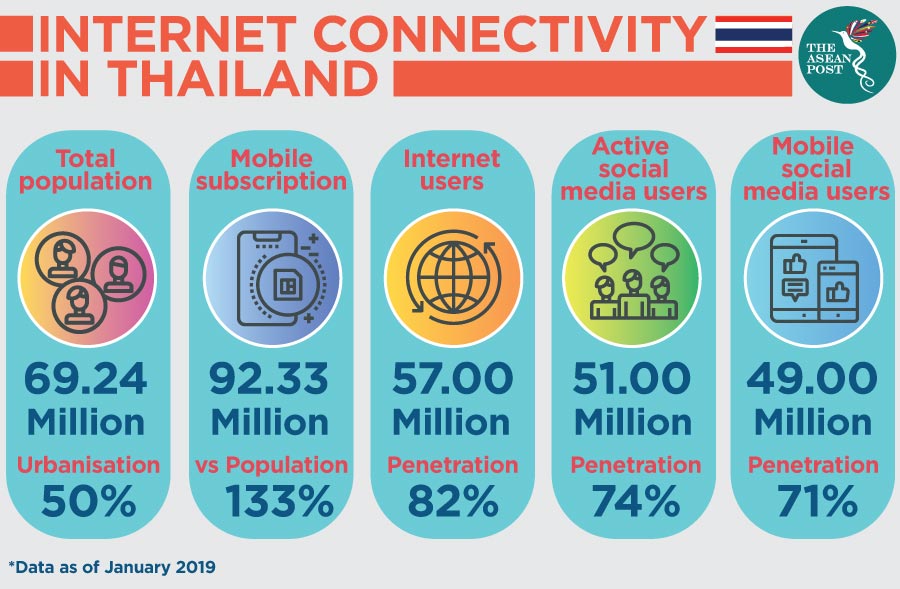 The wanted suspect, Somkid, 55, is a native of the southern province of Trang. He was convicted and sentenced to life imprisonment for the murder of five women – nightlife singers or masseuses at hotels in Mukdahan, Lampang, Trang, Udon Thani and Buri Ram provinces in 2005. 
One victim was killed in January, and the other four in June that year. The serial murders led to the Thai media dubbing him "Jack the Ripper of Thailand".
Somkid was released on parole on 17 May, this year after serving around 14 years in prison for the 2005 killings.
Implications
Stalking victims on social media platforms is nothing new. In fact, this is particularly prominent among paedophiles. The fact that it was a 51-year-old woman that fell prey this time, however, just proves to show how dangerous the internet can really be and that no one is safe from such dangers. But what does this mean for Thais in particular?
Last year, Google and Temasek found that while on average, consumers in Southeast Asia spend 3.6 hours per day on mobile internet, Thais led the region with an average of 4.2 hours spent per day online. In layman's terms, Thais are online at least 4.2 hours a day regardless of where they are.
As such, it is of extreme importance, that while online, Thais are always wary of what they are looking at and – especially – who they are talking to. This goes for children as well as adults. Being an "aging" country does not exclude Thailand from the potential dangers associated with the internet. 
The best way for Thais to inculcate a sense of caution at all times is through education. At the rate of internet and social media penetration Thailand is facing, it is of utmost importance that Thais be taught best online practices and that these practices become habits. Nevertheless, this should be practiced not only in Thailand but the rest of the world as well. As stated earlier, the internet is fast becoming a dangerous place.
Related articles:
Malaysian actor in "porn" video blames deepfake