The resort town of Sihanoukville is producing so much rubbish that it has to rope in the World Bank to help solve the smelly situation.
Indiscriminate littering, poor public awareness of proper waste disposal methods, a lack of garbage trucks and an exodus of garbage collectors for better paying jobs have all contributed to residents in the once-sleepy Cambodian coastal city waking up to the smell of garbage on their streets.
Other issues such as damaged roads and traffic jams have reduced the amount of trips garbage trucks can make each day, which only worsens the problem.
However, the main source of all this garbage is Sihanoukville's unchecked growth, which has led to the amount of rubbish being produced ballooning from 100 to 200 tonnes per day in 2015 to 1,000 tonnes per day in 2019.
Housing Cambodia's only deep-water port and four Special Economic Zones (SEZ), Sihanoukville is a key cog in China's Belt and Road Initiative (BRI) and the city has seen a spike in Chinese interest in recent years.
Sihanoukville is home to a sizable Chinese business community, and its beaches, casinos and hotels have made the city a popular destination for Chinese tourists. 
By some estimates, there are about 80,000 Chinese currently in Sihanoukville – and their population is now estimated to equal the number of locals.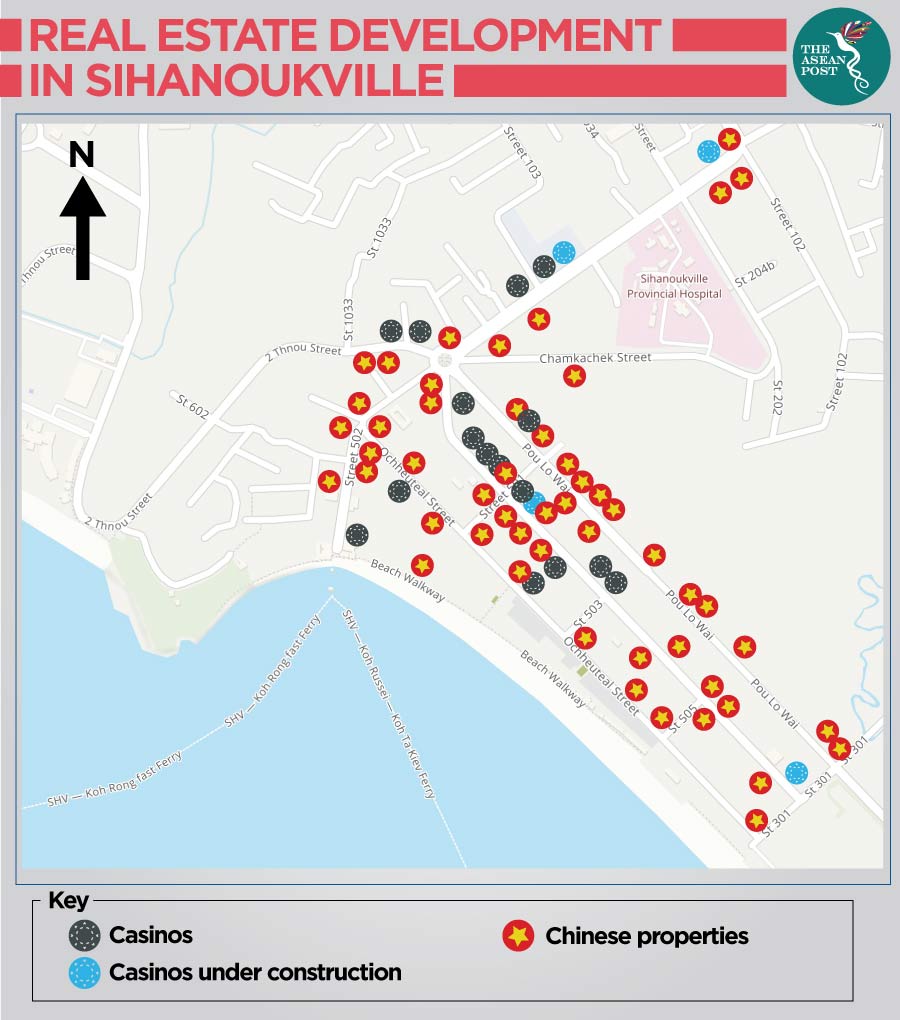 But with no land use plan to guide development and a construction industry full of shady practices, the explosion of new buildings – not to mention the visitors and residents who come along with it – has put an unbearable strain on the city's solid waste management services.
Like most Cambodian cities, solid waste management in Sihanoukville is outsourced – as such private companies have various levels of coverage and service standards. 
Waste was left uncollected for half a week in April this year as up to 40 waste collectors quit their jobs, leading to piles of rubbish scattered on Sihanoukville's streets.
This prompted provincial governor Kuoch Chamroeun to seek technical assistance from Grace Smith, an environmental consultant at the World Bank, to build a waste barrier and treatment plant to prevent garbage from flowing into the sea.
Smith said the governor also requested assistance in drafting an action plan to introduce alternatives to process waste and help to create behavioural change campaigns to reduce consumption of single-use plastics.
"I came to the meeting confident that the governor is a good leader dreaming big, with an understanding that systemic change is needed," Smith told local media.
Sihanoukville is vulnerable to rising sea levels and floods, and as the World Bank noted in its 'Cambodia - Achieving the potential of urbanisation' report published last August, flooding is worsened by the lack of adequate drainage, sewerage and solid waste management.
Poor record
Cambodia has a poor record when it comes to solid waste management – an area which is severely underdeveloped and has dire effects on public health, the environment and the economy. 
Population growth; increased living standards; and increased economic activities in tourism, construction and industry have resulted in rapid increases in waste generation, and the World Bank estimates that Cambodia generates roughly 2.7 million tonnes of municipal solid waste each year – with the volume expected to grow to 3.5 million tonnes per year in 2030.
Weak solid waste management systems; inefficient operations for collection, segregation, and intermediate treatments (such as composting); and a lack of community participation in 3R (reduce, reuse and recycle) results in roughly half the waste not being collected at all. 
Urban populations not covered by the existing waste collection system – which is estimated at 42 percent – commonly practice open burning without prior waste segregation; releasing hazardous toxic gases and particulates into the atmosphere. 
The issue was highlighted once again in local media last week when the owner of a high-rise construction site in Sihanoukville, believed to be a Chinese national, was accused of having "secretly burned huge amounts of plastic day and night."
Other uncollected waste is either dumped in open public areas or illegally discharged into waterways.
Apart from worrying about its own rubbish, Sihanoukville also has to deal with overseas imports.
Officials at the Sihanoukville Autonomous Port discovered 83 containers filled with plastic waste illegally imported into the country from the United States (US) and Canada in July, and weighing nearly 1,600 tons in total. The news soon created headlines across the world. 
Cambodia insisted it would send the waste back to the two countries, becoming the latest ASEAN nation to take a firm stand against illegal plastic waste imports.
While a spokesman from the Ministry of Environment later stressed that Cambodia "is not a dustbin," the rubbish piling up on the streets of Sihanoukville paint a very different picture.
Related articles:
Flood control in Southeast Asia
Construction workers risk lives for ῾riches᾽