Sihanoukville, Cambodia was once known for its quiet, cosy beaches. An atmosphere that mostly attracted families, individual travellers, and backpackers. That was until the Chinese investment flooded in, driven by the Belt and Road Initiative (BRI).
By 2018, the once-tranquil city was transformed. Sihanoukville today is an enclave of Chinese investments and is peppered with Chinese-run, -operated and -patroned hotels, apartment towers, restaurants and gambling dens. The area is also dotted with Chinatowns, festooned with neon signs in Mandarin taking the place of Khmer and English language signs.
In early July, a report from Sihanoukville provincial authorities revealed that as much as 90 percent of Sihanoukville businesses are now owned by mainland Chinese. 
The Chinafication of Sihanoukville has been extensively reported and written about not just by The ASEAN Post (TAP) but other media outlets as well. One important point to note, however, is that it isn't just investments, tourists, and businesses that China seems to be bringing into the now transformed city. 
Recently, two Chinese nationals were arrested for allegedly shooting their compatriot to death in Preah Sihanouk, the capital city of the Sihanoukville province. Meanwhile, another was placed in pre-trial detention by the Preah Sihanouk Provincial Court for an unrelated murder of a Chinese man in Sihanoukville's Commune IV.
According to reports, Suth Sam Un, the provincial police's serious crimes bureau chief, said the two Chinese nationals – one of which was a woman – were suspected of shooting their victim in a car and dropping his body off on a road in Sihanoukville's Commune II. He said that after inspecting the crime scene and examining the body, police determined the suspects' identity and arrested them just hours after the murder.
In the separate case in Commune IV, Sam Un was quoted as saying that 29-year-old Zhou Ya Yun had been sent to court after allegedly killing his compatriot and dismembering the body into three pieces on 30 September.
Early in 2018, the then Sihanoukville governor Yun Min complained that the crime rate in the province was increasing. According to the governor, part of the reason for this was due to the influx of "Chinese mafia who disguise themselves to commit various crimes and kidnap Chinese investors … causing insecurity in the province".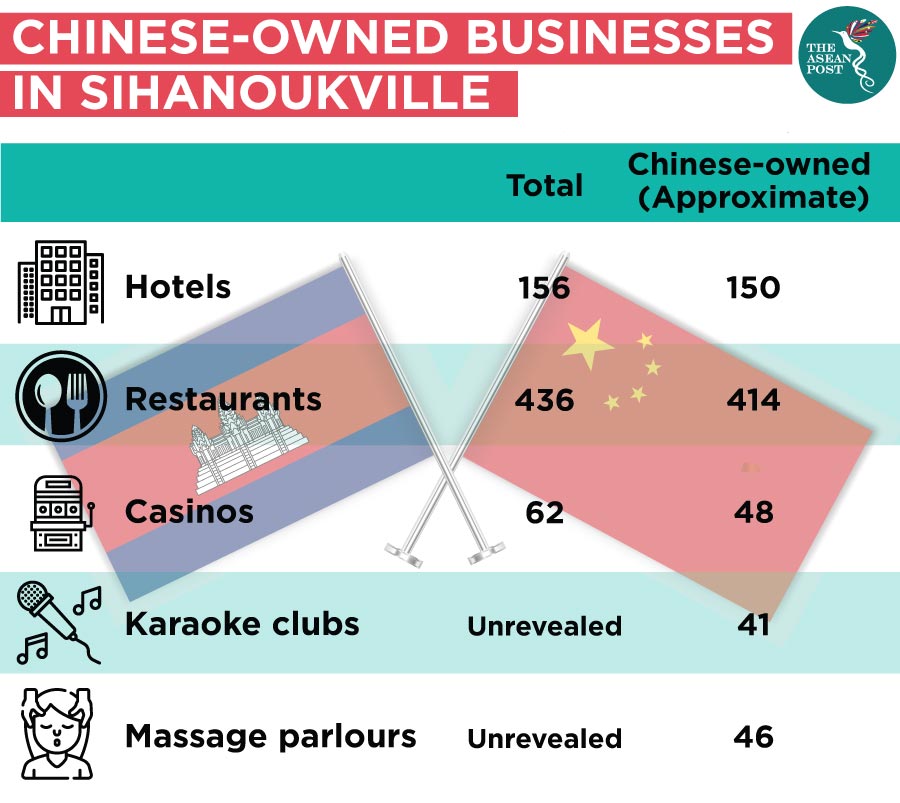 Imported crime
In May, it was reported that the Chinese embassy in Cambodia was investigating a video of a gang, supposedly from Chongqing, threatening to seize control of the city of Preah Sihanouk. In a video circulated on Facebook, a Chinese man speaks to the camera while surrounded by about 20 other Chinese men, some of them sporting tattoos and cheering.
"Kampong Som, in the next three years, whether it will be safe or chaotic is under my control," the leader said in Mandarin, referring to Preah Sihanouk by its alternative name.
The video was released mere days after a 7 May report from Cambodia's Ministry of Interior which had identified Chinese nationals as the most criminally active foreigners in Cambodia. In the first quarter of 2019, 341 foreigners were detained, 241 of whom were Chinese. Vietnamese were next most likely to be arrested, with 49 detentions.
Earlier, in August 2018, it was reported that about 50 Chinese nationals had been detained in Cambodia as part of a crackdown on prostitution rings in Sihanoukville. A police report said police had confiscated leaflets offering sex services, featuring naked women and phone numbers, during raids at massage parlours.
Yun Min said then that Chinese investment in the province had topped US$1 billion but the money came with a rise in illegal sex services provided by and for Chinese nationals in the area.
Investments from China provided Cambodian Prime Minister Hun Sen to defy Western criticism of a crackdown on his political opponents in the lead-up to a general election in July last year. While the West attempted to place sanctions on Cambodia in retaliation for what was allegedly a "rigged" election, China was ever-eager to make up for lost money. 
The question Cambodia, and other ASEAN members need to be asking as the US-China trade war rages on, is whether China's helping hand comes at a cost and if so, is ASEAN willing to bear it?
Related articles:
Does Sihanoukville belong to China?