Recently, a Vietnamese court sentenced an anti-corruption activist to 30 months in jail for causing public disorder. According to the state-owned Tien Phong newspaper, activist Ha Van Nam was accused of inciting drivers to repeatedly block a highway toll station in Bac Ninh province to protest against newly applied fees that Nam considered to be unfair for local residents.
The disturbance caused a traffic disorder on the highway connecting Hanoi, the capital, and Ha Long Bay, a popular tourist destination in northern Vietnam.
Nam was arrested in March. Before his arrest, however, he had been vocal on matters involving corruption which he highlighted on regular livestreams on his Facebook account. Unsurprisingly, human rights activists believe that there is a darker agenda and his arrest is not for simply committing public disorder as the courts claim.
On 29 July 2019, a day before Nam's trial, Amnesty International issued a press release calling for all charges to be dropped against the Vietnamese activist. 
"Yet another Vietnamese activist is being unfairly punished for speaking out on Facebook. Ha Van Nam's alleged crime was simply to criticise rampant corruption," said Joanne Mariner, Amnesty International senior crisis adviser.
"Ha Van Nam was peacefully reporting allegations of injustice, human rights violations and corruption in Vietnam. This vindictive prosecution simply proves his point. The authorities must immediately and unconditionally release him, and drop all charges against him."
In the same statement, Amnesty International pointed out that Nam has repeatedly faced harassment and intimidation in connection with human rights work, highlighting the possibility of foul play.
According to the statement, in January this year, he was abducted by unidentified men, who dragged him into a car and drove him to an unknown location where they beat him and warned him to stop what he was doing. The assault resulted in serious injuries to Nam. 
"He immediately filed a complaint with the local police. However, the police never launched an investigation and to date no-one has been held to account for the attack. In February, he found blood smeared all over his car, as well as chicken heads placed on it in an apparent death threat," the statement read.
Earlier, on 13 May, Amnesty International claimed that the number of prisoners of conscience unjustly jailed across Vietnam had surged by one third to 128 compared to 97 last year. The human rights group said that among these prisoners are an increasing number of people jailed for comments made on social media platforms such as Facebook, who now represent almost 10 percent of those jailed. 
"With a new and deeply repressive Cybersecurity Law having taken effect on 1 January 2019, the use of invasive surveillance methods to target perceived critics is likely to intensify."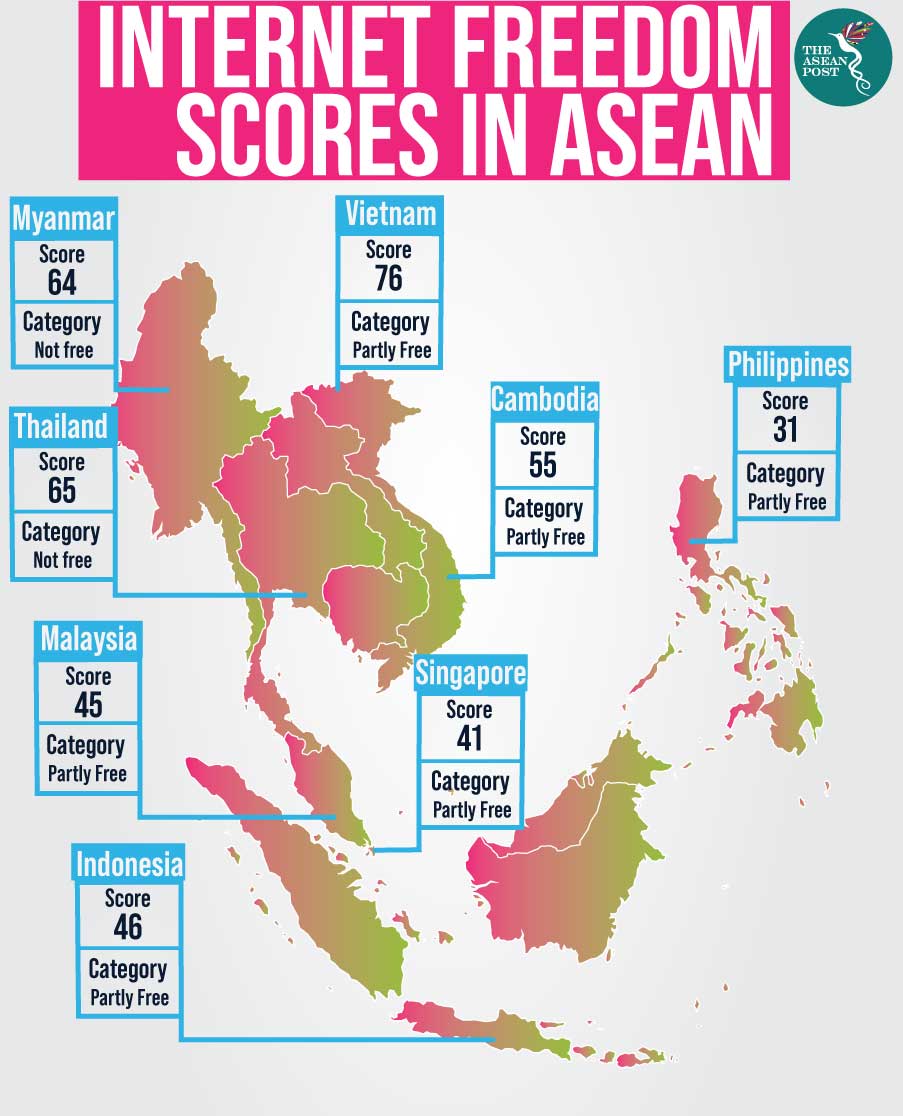 Source: Freedom House
Lack of freedom
Being a one-party Communist state, Vietnam doesn't win any medals when it comes to freedom of speech or expression. This has been concurrent with numerous indices including two separate ones from Freedom House.
Freedom House's Freedom on the Net 2018 Index gave Vietnam a score of 76 out of 100, where a lower score is better. Meanwhile, its newer Freedom in the World 2019 gave Vietnam a score of seven for Political Rights and a five for Civil Liberties. For Freedom in the World 2019's scoring system, one represents the greatest degree of freedom while seven represents the smallest.
Reporters Without Borders' 2019 World Press Freedom Index didn't paint a very pretty picture for Vietnam either. It gave the country a ranking of 176 out of 180 countries, even worse than fellow communist state and ASEAN member Lao which was placed 171.
Human Rights Watch also reported a lack of freedom of expression present in Vietnam in its World Report 2019.
"Vietnamese rights bloggers face regular harassment and intimidation. Officials often arrest political critics for their posts on the internet. In 2018, Vietnam put on trial at least 12 people for "conducting propaganda against the state." Sentences ranged from four to 12 years in prison," the group noted.
"Activists and bloggers face frequent physical assaults by officials or government connected thugs, who are not punished for these attacks."
With the lack of freedom apparent in Vietnam, it would not be too far a stretch of the imagination to think that Nam was indeed arrested more so for being vocal on corruption as opposed to "causing public disorder". However, if these practices are to stop in a Communist state like Vietnam, then it is more than likely that there would have to be some form of foreign pressure to support local activists in the country.
Nam was one of seven others. Six other defendants were handed sentences ranging from 18 to 36 months in jail on the same charge.
Related articles:
Cybercrime laws and conflicts of interest